Nigeria now ranked 13th global highest rice producer, 1st in Africa – FG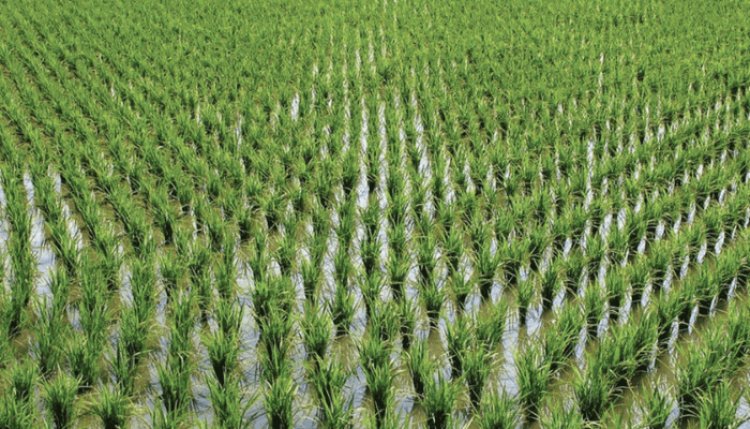 Rice fsrm
The federal government on Thursday said Nigeria is now ranked the thirteenth-highest producer of rice in the world and the first in Africa.
This revelation came from the Minister of Agriculture and Rural Development, Muhammed Sabo Nanono, earlier in the week at the commissioning of the Agribusiness Incubation Centre of Federal University Dutse, Jigawa State.
Minister Nanono in a statement issued by Ahmed Aminu, his
Technical Assistant, said Nigeria has managed to attain this status from a net importer of the commodity to a sizeable producer moving towards self-sufficiency in rice production.
He said the agricultural revolution being pursued by the present administration has given an attestation that Nigeria is capable of attaining any goal it sets for itself as part of efforts to attain food security and wealth creation for the populace.
The Minister said the rice production drive as championed by President Muhammadu Buhari administration has triggered off massive industrialisation with the springing up of countless rice milling facilities across the country generating tremendous job opportunities down the rice value chain as well as creating sizeable wealth for many.
Sabo Nanono disclosed that in Kano State alone there are 14 integrated rice mills with the capacity of producing between 180 and 400 metric tonnes of the commodity per day. Another 32 integrated mills also abound in Kano with a combined production capacity of another 100 to 120 metric tonnes per day.
Thousands of rice milling clusters can also be found all over the federation, especially in the northern part, which adds up towards the attainment of tangible self-sufficiency in the staple food item as would enable Nigeria to sell rice to our neighbours in the not too distant future
Minister Nanono expressed concern regarding what would have happened to the country if the rice production drive has not successfully taken off especially in view of the devastating economic effect occasioned by the outbreak of COVID 19.
The pandemic, according to the Minister, caused unprecedented oil glut in such a way that we could not have afforded to import rice even if we wanted to.
The Minister, therefore, called on Nigerians, particularly the youths to key into the massive agricultural drive to ensure the much-needed food security for one and all.