KONA: Nigeria joining global electric vehicle race – Jelani Aliyu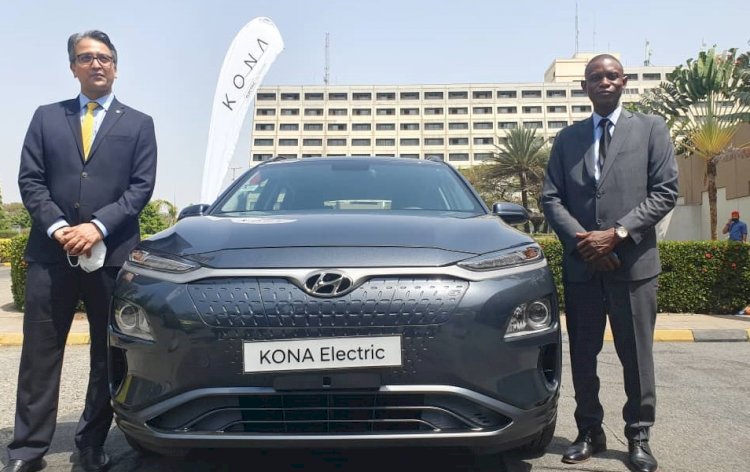 The Director-General of the National Automotive Design and Development, NADDC, Jelani Aliyu, has said that with the recent assembly of an electric car, Nigeria has automatically joined the global race for electric vehicles.
Recall that on February 5, Mr Aliyu, in collaboration with the Stallion Group, had unveiled the first locally-made electric car, Hyundai Kona, in Abuja.
The car has a price tag of N24 million per one, with 5 years battery and manufacturers' warranty, 100 per cent electric, zero-emission and Hassle-free charging at home and workplace.
Speaking on Tuesday while presenting the vehicle to the Chairman, House Committee on Public Account, Wole Oke, at the National Assembly complex, Abuja, the NADDC Boss expressed happiness that more and more Nigerians are endorsing the electric vehicle.
According to Mr Aliyu, the electric vehicle is proof that the National Automotive Industry Development Plan, NAIDP, is working towards creating a comprehensive ecosystem for the production of vehicles in the country.
He added that the plan, initiated by the NADDC under his leadership, is in line with the 2016 Paris Agreement aimed at reducing carbon emissions from vehicles as part of solutions to environmental challenges.
"NADDC is also into technology transfer, we are collaborating with the University of Nigeria Nsukka, the University of Lagos and Usman Danfodio University Sokoto to develop electric vehicle charging stations pilot program.
"We are also doing this to be able to understand the challenges, the opportunities, help the technology transfer and bring more private sectors to expand the achievements," he added.
Mr Aliyu further disclosed that the Council is in collaboration with Jaiz Bank, Zenith Bank and Wema Bank to provide a single-digit financing scheme to enable people buy made-in-Nigeria vehicles.
Responding, the lawmaker commended Mr Aliyu and the entire NADDC for developing the country's automotive industry.
According to Mr Oke, KONA Electric vehicle and other projects of the NADDC are testimonies that the country's automotive industry is thriving.