Why parents of 9 abducted Kano children deserve arrest–Emir Sanusi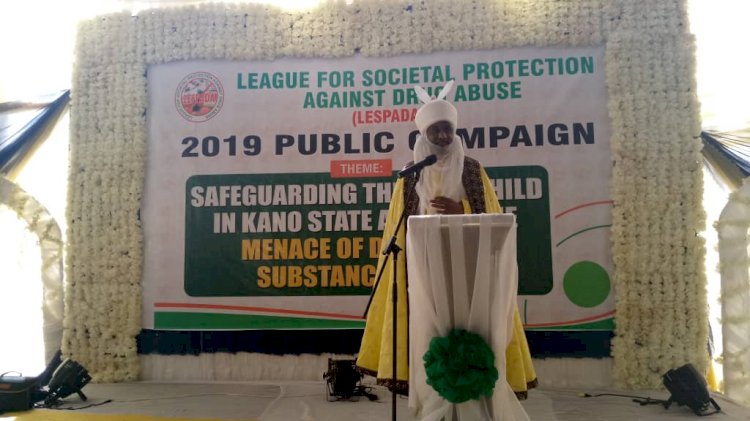 Emir of Kano Muhammad Sanusi II has said parents of the nine Kano children who were abducted, forcefully converted to Christianity and sold in Anambra state, deserve to be arrested by the police for negligence.
By Mukhtar Yahya Usman
Kano Focus recalls that Kano Police Command had rescued nine missing children and paraded six Igbo persons who have confessed to abducting the kids, renaming and forcefully converting them to Christianity before selling them in Onitsha, Anambra state.
Breaking his silence on the issue for the first time, Mr Sanusi said when the abductions were first reported to him at his palace, he had asked his aides to find out from the Kano Police Command if there was any law on negligence.
The Emir spoke on Saturday at the 2019 public campaign on drug abuse organized by League for Societal protection against drugs abuse (LESPADA) held in Kano.
"People are talking that Igbo kidnapped our children, yes they did, but do they enter your house and steal them? Or you left your 3-year-old child roaming the street without knowing their whereabouts until they were missing?," he asked rhetorically.
He said it is only in Hausa land that people abandon their children to roam the streets without taking care of them and when they are kidnapped, they would blame the government instead of themselves.
"Let's tell ourselves the truth, I could remember when the case started and complaints were filed at the palace of missing children, what I said at that time was if I am the government I would have ordered the arrest of the parents for their negligence.
"I even asked to find from the then commissioner of police if there is any law on negligence. How can someone appear before the emir and say his 3-year-old or 4-year-old child was missing? All he he deserves is to be arrested," the Emir added.
Mr Sanusi, who has been criticized for being silent on the abduction saga, however said he has been in contact with his counterpart, the Oba of Onitsha since the case began.
"I was in contact with Oba of Onitsha since the beginning of the saga, and we have discussed a lot and have made progress, we know what is going on and we are following the matter" he said.
In her remarks, coordinator of LESPADA Maryam Hassan lamented the deteriorating social condition of the girl-child, saying parents must admit their failure and embrace change.
She said more women and girls are into drugs misuse as a result of forced marriages or marriage pressure.
Mrs Maryam advised parents to stop forcing their children into unintended and/or unwanted marriages in order to reduce societal problems.
She also called for collaboration between LESPADA and the Kano emirate, government, security agencies, community groups as well as individuals in the fight against drug abuse.