Pantami Positions NITDA on the Path of Sustainable Development, Unveils Employee-Centric Condition and Scheme of Service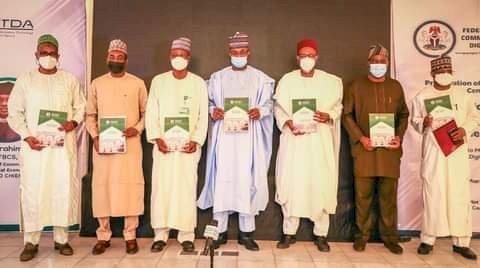 On 4th October 2016 during his inaugural address as the Director General, National Information Technology Development Agency (NITDA), Dr Isa Ali Ibrahim Pantami FNCS, FBCS, FIIM disclosed his vision of transforming the Agency into a modern driven public service institution that will create the enabling environment where Nigerians develop, adopt, and derive value for digital technology.
4 years down the road, the Honourable Minister of Communications and Digital Economy, Dr Isa Ali Ibrahim Pantami FNCS, FBCS, FIIM has matched his words with action and lived up to the pledge made.
In an epoch-making event held today in Abuja, Dr Pantami officially unveiled NITDA's first-ever Career Structure (Scheme of Service) and Conditions of Service conceptualised during his tenure as the Chief Executive Officer of the Agency. Both the Scheme of Service and Conditions of Service were approved by His Excellency, President Muhammadu Buhari, GCFR on the 12th of February, 2021.
In his address, the Honourable Minister, Dr Pantami extended his heartfelt gratitude to His Excellency, President Buhari for the great support his rendering to the digital sector in Nigeria which is yielding positive result, as according to (Q4 2020) Gross Domestic Product (GDP) report recently released by the National Bureau of Statistics (NBS), the ICT sector recorded a 14.7% growth rate, making it the sector with the highest growth rate in Nigeria and the only sector with a double digit growth rate.
"This Scheme of Service will serve as a veritable tool for making the Agency more functional as it develops into becoming one of the most strategic government institutions in Nigeria", Pantami said. Adding that, "The Conditions of Service is to re-engineer the operations and structure of the Agency to provide an enabling environment for effective strategy development and execution".
Pantami further charged the Board and Management of NITDA to ensure that there is a significant improvement in the performance of the Agency, stressing that, to who much is giving, much is also expected.