Brief Memoir of Adamu Garba II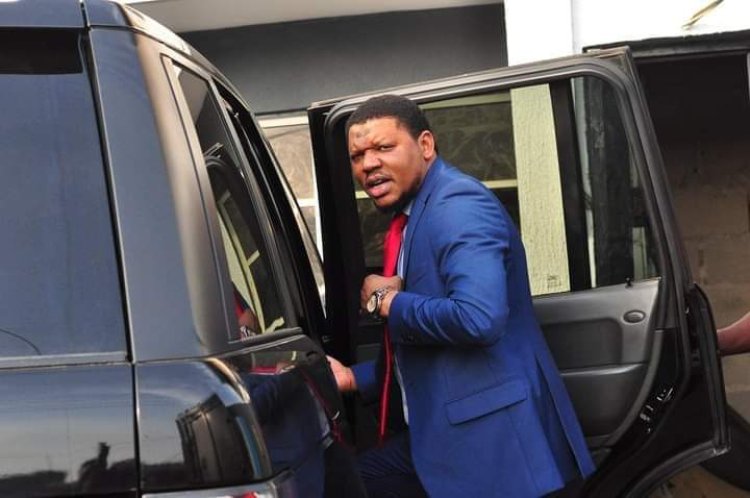 I was born 40 years ago into the family of Alhaji Adamu Jauro Garba and Hajiya Hadiza Garba at Luggere ward in Jimeta, Yola-North Local Govt of Adamawa State, Nigeria. It was pretty adventurous growing up in Luggere and rural Jambutu wards. We did everything children did, going fishing, fetching firewood, plucking some fruits and vegetables from bushes and bringing back home as staples. Playing local hockey, football, kite etc. I started elementary school at Jambutu primary school as one of the pioneer students in 1990. Our classrooms weren't ready when the school was established and we used to study under trees. At primary 4, I was transferred to Luggere Primary school when my parents moved me to a maternal uncle's house where I continued till I finished my secondary school education at GDSS Doubeli in 2001.
Throughout my primary and secondary schools, I have been in various positions of leadership. We formed Luggere Youth Association (LYA) where I served as the secretary general when I was in JSS 3 in 1997. I also served as the General Prefect, a post I held in both primary and secondary schools, Other positions of leadership include- secretary of press club, PRO of MSSN, Secretary of Rotary Club and Commandant of Man 'o 'War society of Nigeria amongst others.
Immediately after my secondary school, we formed an association called Jimeta Youth Progressive Association in Yola-North local government with the sole aim of encouraging the youth to participate in governance. I was the president of the association from 2001 to 2004. From that point, I began to nurse ambitions of becoming the President of the Federal Republic of Nigeria.
I then got admission into Kano University of Technology through a pre-degree program to study electrical engineering. We formed an inter-school association called National Youth Coalition for Sustainable Democracy (NYCSD) which I emerged as its First President. The sole aim of the association was strengthening democracy in Nigeria. Students discovered some of my leadership skills and then asked me to join student's politics and contest as president of Student Union. I campaigned on the principle of one Nigeria, equal treatment for all, irrespective of state/tribe or religion one hails from. It was hugely successful as nearly all students bought the idea and it made me immensely popular. We had a movement then called Vision 2007 to 2019 anchored by NYCSD where we planned to make Nigeria amongst the first world countries when I eventually emerge as the President of the Federal Republic of Nigeria come 2019. All students during my time at the institution knew about our vision and my aspiration to contest for the office of the president of this country come 2019. The vision was conceived in 2004. It was a state university and the school's management was curious about what our plans were. According to some sources, "non-indigenes" may take over a kano state university. An incident occurred at school and a student riot broke out while I was away at BUK attending our weekly laboratory practice because we lacked those equipment at KUT. I was then rusticated out of school because of a riot I wasn't involved in simply because most of the members on the riot were my supporters. Even though I have never advocated for violence or riot in any form.
Throughout my student years at the university, I was worried that most of the things being thought had no practical application outside school. You could ask same questions to different people in your field of study who are practicing, and they would respond with different answers. I asked lecturers and most of them appeared not to also have practical experience on what they teach us. I opted for engineering because I needed something more hands-on, yet I ended up with a lot of calculations with no real industry application. I thought I was wasting my time.
The rustication gave me ample opportunity to shift focus to a more practical field. I joined NIIT in Kano to study Microsoft Systems and technology under their MSCE program. As at that time in 2005, I had never touched or used a computer. Considering its real-life applications, I fell in love with computers and become more inquisitive about it until I built a carrier in it, the result of which is what I am today.
I had the opportunity to start my business early, especially in the area of enterprise computing where you deal with senior company executives, my age and experience was always called to question by these executives. Most of them will see risk in allowing a young man of 26 years old handle their critical IT infrastructure worth millions of Naira. A lot of checks and tests would be made and some will even delay my payment until the job is satisfactorily delivered. Sometimes I trekked to work in far places, from Surulere to Samuel Manuwa around 1004 estate and trek back because I didn't have transport fare. That was a huge challenge for me then and to my resolve in ensuring I built my business. I decided to remain extremely focused, not desperate, be professional and derive joy from successfully delivering my job, I was able to overcome these challenges as time went by and as I grew older in the line of the business.
I had opportunities to work in different places for a few years before I started IPI. I started IPI precisely on 1st September 2008 after submitting my registration with CAC with just two customers. I had only N52,000.00 when I started. As is the norm in our market, early startup companies dabble into selling everything IT, I was extremely focused on Microsoft Solutions with the desire to build a company capable of handling high-end enterprise level Microsoft technology solutions. I loved passionately Microsoft technology solutions because of the level of democratization built in the technology architecture. Also, when I started, I had no office.
I had and still have an ardent desire to run a company that is highly competent with a fully motivated and energetic team. I decided not to participate in the patronage system of getting jobs because you knew someone, I was driven by the fact that our competence and effective service delivery at IPI will always be our most unique selling proposition. Despite the counsel from senior colleagues and friends, I refused, under my management to compromise on professional approach to IT service delivery.
With this principled stand, it was clear to me that government agencies, mostly driven by patronage would not be the best place for us to compete since you have to know someone in authority to get your contracts signed. I focused almost exclusively on the private sector. Up until late 2017, IPI Solutions, under my leadership has never engaged in any government related contracts. Though we bided for several jobs, but since, in most cases with Nigerian government work, professionalism isn't what was considered for jobs but patronage network, so we hardly ever emerged winners in our biddings.
Our exclusive focus on Microsoft solutions helped our team to develop high professional skills that qualified our company to emerge as one of the global top 5% of Microsoft Elite Partnership in Gold Category. We have six Gold Categories with Microsoft in About 6 Different specializations Including Gold in Datacenter, Cloud Productivity, Applications Integration, Small and Mid-Market Cloud Solutions, Messaging and Cloud Platform competencies.
In September 2016, IPI Solutions emerged the pioneer Microsoft 1-Tier CSP Partner in Nigeria and other 15 African countries. Because of our professional service delivery and competencies, we were licensed by Microsoft to provision, sell and deploy Microsoft Cloud Solutions in 16 African countries. It was an incredible upgrade to our business and a reward for focus.
Our high level, result oriented delivery in our solution implementation made most of our customers recommend our services to their peers. This became a central theme in our marketing efforts. In addition to that, international organizations began to realize our modern business processes aligned with the current global industry order, which in turn makes us highly efficient in our service delivery. We received several awards and recognitions both locally and internationally viz:
1. Africa's most Valuable Business Technology Solutions Provider 2016 by African Quality Institute.
2. Award for Excellence in Enterprise Audit and Disaster Recovery by Institute of Governance Research 2016.
3. Listed by CIO Review Magazine, in Fremont, California as Top 100 Most Promising Microsoft Solutions Provider 2016 in the World.
4. Listed by Silicon Valley Magazine, A Silicon Valley publication as 30 Fastest Growing Microsoft Solutions Provider in the world 2016.
5. Microsoft Partner of the Year 2016, Nigeria.
6. Quality of Service Delivery Award by Business Initiative Directions (BID) New York 2017
7. Quality of Service and Operations License by European Business Assembly, Switzerland, 2017.
8. Listed as Elite Member of World Confederations of Businesses, Houston, Texas, 2017
9. Listed as Top 10 fastest growing Microsoft Solutions Provider 2017 by Silicon Review Magazine, A Silicon Valley publication.
10. Awarded, by African Brand Congress as Africa's Premium Microsoft Products and Services Company of the Year 2017
11. Awarded Microsoft CSP Partner of the Year 2017 by Microsoft
12. Listed as Top 20 Most Valuable Microsoft Solutions Provider 2017 by Insight Success Magazine, Dublin, Ohio, United States.
As part of our corporate social responsibilities, our company is committed to building the workforce for tomorrow. Hence, we are conducting regular internships by allowing select students, just graduating from school to be mentored by the company. As a young company, we usually pick 3 graduates at a time, 2 technical and 1 administrative. We graduate them mostly after one year some of which start working in the company after graduation.
Two things motivated me to keep moving forward.
One: Myself. I have so much confidence in myself that provided I have me, I believe I would be able to achieve anything humanly possible. The confidence I have in myself, makes me believe the greatest real asset I have is myself and that whatever I need, I should diligently work for it. From day one, I never believed something will influence being what I wanted to be more than myself, not even family, nor religion, nor tribe, nor environment nor any certificates. I am, in all cases, driven by the facts. I asked more questions than I have answers for, I am always for the why and the how. My decisions have never been driven by emotions or sentiments, it is always driven by reasons and facts. I categorize myself as someone with high degree of emotional stability. I never push blames on anyone or anything on my successes or failures, I always look inwards, within myself for reasons, which, in all cases, I find it right there.
Three principles drive me in my dealings with people, (1) I am a humanist. I value humanity above all other things. I believe in the power of man and his/her capacity to achieve all the greatness desired. I believe life is sacred and all human being deserve the basic things in life. (2), I am a moralist, I bring my moral conscience in all my dealings. I always connect with people first as a common human like me, put myself in his/her position before I make my judgments. When I have power to take any decision that may affect others, I do that to the satisfaction of my moral conscience. Keeping my conscience clean is the best personal checks I have upon myself. (3), I am a capitalist. I believe there should be value for labor and I don't believe in subsidizing consumption or incentivizing non-productivity. I believe that everyone needs to work to earn a living and that people should be compensated in proportion to their overall contributions to the institutions they work. I believe in a free market economy and I also believe that intellectual asset or property right should be absolutely protected. I believe in fair competition and never subscribe to monopoly. I believe competent private companies should be allowed to invest and run country's assets for profit and general wellbeing of the citizenry.
Second: I usually don't believe in just saying things, but also acting them. In my entire adult working life, I worked to symbolize most of the things I say. I worked hard to build my company professionally by actively pursuing competence and customer value as the key drivers. I do not compromise quality of service delivery for anything else. I believe strongly that Nigeria is one of the greatest nations on earth with the right leadership and I also believe young Nigerians can achieve anything they wish for within Nigeria, without the need for them to travel abroad with their talents. In 2010, I had some friends that gave up on this nation and traveled to the west for a better economic standing, I made a vow that I will never step outside the shores of this country, but I will still succeed and will even attract foreign institutions to recognize our successes. Seven years down the line, I never traveled to any country, I run a company with 40 staff and several international recognitions. As a person who believes in symbolizing what I say, my story is a true corroboration of what Nigeria can possibly be when we do the right thing and focus on the right policies.
I began to make adequate preparations for the position of Nigerian President in 2007. I began to study the trend lines in the country, where we got it right and where we are failing especially towards the end of Obasanjo's era. I read several reports about Nigeria from both national and international journals. I followed the backpage column of Thisday Newspaper every Sunday with Simon Kolawale and Thursday with Olusegun Adeniyi very closely, because of their fair rapporteur on the Nigerian state. I also read books from Nigerian political actors, such as Olusegun Obasanjo's My Command.
In 2014, I started reading about the international view of Nigeria about Nigerians, I started getting information as far back as the reasons why Africa was colonized and key reasons/actors behind these events, strategic importance of Africa to the world's economy particularly Nigeria. The international view on oil business and politics etc. I studied as much as 72 books from Henry Kissinger's World Order to Richard Haass 'World in Disarray"; from Lew Kwan Yew's From Third World to First to Daron/James' Why Nations Fail; from Gideon Rachman's Easternization to Graham Alisson's Destined for War. Blackwell/Haris' War by Other Means to Cole's China's Quest for Great Power. Geithner's Stress Test to Schultz's Learning from Experience. From Khanna's Connectography to Marshall's Prisoners of Geography, from Obasanjo's My Watch to Falola/Heaton's History of Nigeria etc.
I have since enrolled into several institutions of statecraft and how to make greatness in every nation. All these preparations are in a bid to makes my nation, Nigeria, one of the best place to live, work and play, eliminate poverty and desperation and make us live better, longer, prosperous and fulfilled lives.
I look forward to Nigerians giving me the opportunity to steer our nation to greatness.
Thank you,
Adamu Garba II