WHO IS SANUSI LAMIDO SANUSI, THE NEWLY ELECTED PRESIDENT GENERAL OF TABBITAL PULAAKU INTERNATIONAL?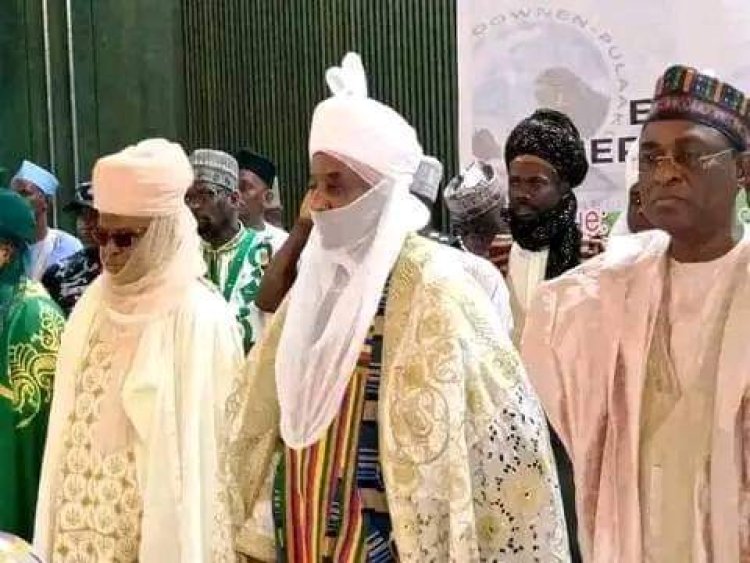 HRH Muhammadu Sanusi II (Sanusi Lamido Sanusi) was born on 31 July 1961 in Kano to a ruling class Fulani family of the Sullubawa clan. His father, Aminu Sanusi, was a career diplomat who served as the Nigerian Ambassador to Belgium, China and Canada, and later served as the permanent secretary of the Ministry of Foreign Affairs. He was also the Chiroma of Kano. His grandfather, Muhammadu Sanusi I, was the 11th Emir of Kano from 1953 until 1963, when he was deposed by Sir Ahmadu Bello.
Education:
Sanusi was educated at King's College, Lagos, where he graduated in 1977. He then proceeded to Ahmadu Bello University in Zaria, where he received a bachelor's degree in economics in 1981. He received a masters degree in economics two years later from the university and lectured at the faculty.
Early Career:
In 1985, Sanusi was hired by Icon Limited (a subsidiary of Morgan Guaranty Trust) and Barings Bank. In 1997, he joined the United Bank for Africa, working in the credit and risk management division. He rose through the ranks to the position of general manager. In 2005, Sanusi became a board member and executive director in charge of risk and management control at First Bank of Nigeria. First Bank is Nigeria's oldest bank, and one of Africa's largest financial crisis institutions. In January 2009, he was appointed CEO. Sanusi was the first northern Nigerian to head the bank.
On 1 June 2009, Sanusi was nominated as governor of the Central Bank of Nigeria by President Umaru Musa Yar'Adua; his appointment was confirmed by the Nigerian Senate on 3 June 2009, during a global financial crisis
Accession to the throne of emir of Kano:
Mohammad Sanusi II was selected to succeed his granduncle, Ado Bayero, as the Emir of Kano on 8 June 2014.
He was crowned Emir Muhammadu Sanusi II on 9 June 2014, the 14th Emir of Kano and leader of the Tijaniyya Sufi order, the second-most-important Muslim position in Nigeria after the Sultan of Sokoto, leader of the larger Qadiriyya Sufi order.
On September 10, 2022, HRH Emir Sanusi Lamido Sanusi got elected to ssrve as the President of the Tabbital Pulaaku International, TPI, a Fulani socio-cultural organisation for a four year term.
HRH Sanusi II was unanimously elected by the representatives of Tabbital Pulaaku International (TPI) from 16 African countries and residents across Europe, Asia and the United States of America.
HRH Sanusi II succeeds the billionaire, El hadji Alpha Amadou Diallo from Guinea, Conakry, who served for eight years.
Members of the TPI acknowledged that "having Sanusi on the seat is not only deserving but meritorious; a round peg in a round hole, for the voiceless Fulbe to be given voice not only across Nigeria and African but the world at large".
HRH Mohammed Sanusi Lamido Sanusi is happily married to four of his beautiful wives and blessed with many children.
Honours Received by HRH Sanusi Lamido Sanusi:
Commander of the Order of the Niger
In 2010.
The Banker recognised him as the 2010 Central Bank Governor of the Year (worldwide) and Central Bank Governor of the Year for Africa.
In 2011, Time magazine listed him on the 100 most influential people of 2011.
In 2013, Sanusi was honoured at the third Global Islamic Finance Awards (GIFA) in Dubai for his advocacy in promoting Islamic banking and finance during his tenure as Governor of the Central Bank of Nigeria.
In 2015, Sanusi received the Global Leadership in Islamic Finance Award as the fifth GIFA Laureate, following Tun Abdullah Badawi (2011), Sultan Nazrin Shah (2012), Shaukat Aziz (2013) and Nursultan Nazarbayev (2014).
In 2018, Sanusi received an honorary doctorate from the Nile University of Nigeria.
In 2019, Sanusi received an honorary doctorate from SOAS University of London.
May Allah SWT guide and protect His Royal Highness, Sanusi Lamido Sanusi the leader of Tabbital Pulaaku International, Khalifa of Tijjaniya & 14th Emir of Kano.