Tinubu: Slow Walk To A Lifelong Dream Or Final Glow Of A Burning Star?
On March 29, this year, Asiwaju Bola Ahmed Tinubu will hope that when he wakes up and dons his iconic cap and sits down at…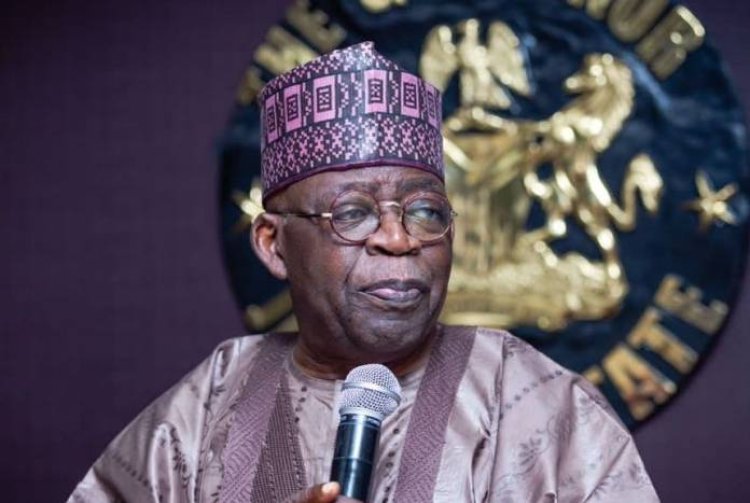 On March 29, this year, Asiwaju Bola Ahmed Tinubu will hope that when he wakes up and dons his iconic cap and sits down at his coffee table to flip through the newspaper, he will see adverts titled Happy Birthday, Mr President-elect. That day, he will turn 71 and exactly two months after, he would hope to be sworn in as president, this time that of the Federal Republic of Nigeria. It is what he has always wanted. The climax his political career has been building up to for close to four decades now. But will this be the reality or a whimsical, unattainable dream for the ruling All Progressives Congress' flagbearer?
Tinubu had been president before actually. That of the College of Accounting students' society of the Chicago State University, Illinois. But this was way back in 1978. It gave him a taste of politics.
Since then, he has taken small but sizeable steps in the Nigerian political arena. First securing a corner of Lagos as a senator in 1993, then the entirety of the state as governor under the flag of the Alliance for Democracy (AD) by 1999 after four years in exile. Four years down the line, he survived the Peoples Democratic Party's tsunami that swept away other AD governors in the South West and set about rebuilding the pan-Yoruba party in his image.
By the general elections of 2007, he was an undisputed regional overlord. He successfully installed his successor in Lagos State and helped several other party members to secure crucial electoral offices in the region. But anyone who knows Tinubu knows that his ambition was not meant to be contained in a bottle, even if that bottle is the size of Nigeria's South West region. When the chance presented itself in 2015 to form an alliance that would bring him closer to his goal, the presidency, he took it and centred himself as a nationally relevant political figure. Not without a painful sacrifice though.

Blacksmiths, tinkers endorse Tinubu
Cash crisis: Buhari urges patience, reaffirms support for Tinubu
His posturing to be Buhari's running mate was thwarted by party stalwarts who argued that Nigerians would not accept a Muslim-Muslim ticket. So, Tinubu brought a replacement, Yemi Osinbajo. And now with Buhari on his way out, Tinubu's conviction that it is his turn to govern Nigeria has given birth to one of the defining phrases of this elections circle—emi lokan.

Tinubu might be old and physically wobbly, with his health and numerous gaffes on the campaign trail increasing doubts over his fitness to govern, but it would be a mistake to underestimate the former Lagos governor.
The brutal savagery with which he decimated opposition at the APC presidential primaries in June 2022 should serve as a reminder of his political savviness. It is safe to say, powerful figures in the party, including President Muhammadu Buhari, party Chairman Abdullahi Adamu and Senate President Ahmed Lawan did not exactly want Tinubu to win the ticket.
Perhaps the only man who really could have stopped him was the president but Buhari's rather late, rather half-hearted, last-minute attempt to swipe aside his most significant ally in favour of Senate President Ahmed Lawan failed woefully.
Tinubu had seen the writing on the wall long before the primaries and brought a sledgehammer to a spoon fight—some will say that sledgehammer was in the form of cash, something it would seem now the new monetary policy might have been engineered to deprive him, so Tinubu's camp and some members of the APC have alleged—but it would be a mistake to ignore his uncanny ability to form alliances across divides.
For Tinubu, this moment has been some 30 years in the making and he seems intent on not letting anything, not the lethargic wave of a presidential hand or the firm grip of age or withering health, will stop the man once, not too long ago, called the Lion of Bourdillon.
Volkswagen to America
On the eve of the general elections in 2019, two bullion vans snaked their way through a dense crowd into the residence of Bola Tinubu on Bourdillon Street, Ikoyi, Lagos. When they drove off, they left in their wake conjectures and two-truck loads of questions. Did they bring ballots as some have speculated, or did they take money to, as they say in the Nigerian parlance, run the elections? "Is it your money?" Tinubu had queried journalists who asked what the vans were doing at his home. "Why are you drinking Panadol for someone's headache."
By and large, Tinubu himself, despite being in the public light for four decades now since his entry into politics in 1991, has been like a snowball gathering more questions than answers as he went along. Questions have continued to be asked about his identity. Not much is known about his father and his name is never mentioned but everyone knew who his mother was. The Iyaloja of Lagos, Abibat Mogaji. Long before she became the Iyaloja, the woman who had all the market women (and men) of Lagos secured in the knotted end of her wrapper, raised Tinubu by herself.
Details about his early years are flimsy. His father's absence—either through death or estrangement, is never explained. Although Tinubu has spoken fondly of his paternal uncles who played various roles in his life. As a child, Tinubu himself said he was a bit of a mischief-maker. Growing up in Lagos, he and his friends would stow away in the instrument truck of local musicians, Adeolu Akinsaya and Roy Chicago, as they travelled to events so they could watch them perform at occasions around Lagos.
But one day they climbed off the truck to find themselves in faraway Ado-Ekiti. With the band travelling on, the issue of finding their way back home to Lagos became even more expedient with no money in their pockets. In the end, they made it back by jumping on a cocoa truck heading in that direction.
"I admit that I played some pranks and got spanked while growing up," Tinubu said in an interview with journalists to mark his 60th birthday.
"Yes, I indulged in some pranks, like trespassing into other people's gardens to pluck oranges despite warnings not to do so. I would spend my allowance on bicycle renting. I told a couple of lies. For example, I would collect money from big uncles for the purchase of five books – Dic, Tion, Na, Ry –instead of one dictionary!
"It was the only one that I needed. I did that to have enough money to play around, rent bicycles and buy sneakers. I would play football, go and play at the lagoon, and turning out very dirty and rough in the evenings. There were so many such pranks.
"But the days of frolicking in the lagoon and stowing away on tour trucks were soon behind him and in his early 20s, it was not uncommon to find young Tinubu cruising around Lagos in a Volkswagen Beetle he had inherited from one of his deceased paternal uncles. It was the mid-1970s. What was a young man with a car supposed to do? Yet, it was at this time that his life would take a dramatic turn. Tinubu and his friends had been attending an event at a church and had gone out to get some soft drinks.
On their way back to meet up with his sister who was still at the church, there was a life-changing sound. "There was a sudden rain of bullets," Tinubu said. "And had we not been rushing to the church to ensure that we didn't miss what was going on there, I would have died. The young man that was standing with me was hit. He slumped and died.
"Alarmed by this development, Tinubu's mother, a trader, was convinced that she needed to get him out of the country since he had always wanted to travel. His uncles agreed and she sold her trinkets, added the money to what she had saved up and put it towards sending her son abroad. Tinubu sold his car and added the money to his mother's and hopped on the 'japa' train, long before it was called by that name.
In the US, he stayed with relatives and moved cities a couple of times until he was running out of money. So, in Washington, he and a friend bought an unregistered car and started driving a taxi at the airport. But it was in Chicago that his life changed for good.
"Immediately I got to Chicago, I went straight to Richard Daley College. It was very interesting," he said. The money he had saved up working as a taxi driver in DC would come in handy. "I was able to pay for my apartment and tuition fees at the Chicago State University," he said. He would also supplement his income by working as a security man at a construction site, a doorman and a dishwasher, albeit one who turned up for the job always fashionably dressed.
One of his childhood friends from Lagos, Tunde Badejo, with whom they will meet up at the Chicago State University, Illinois, recalls a very fashionable young Tinubu; one who wore three-piece suits, kept an afro and wore clean, starched shirts with his name monogrammed on the sleeves. It was also Badejo who would give us the first glimpse of the politician and strategist lurking inside the young fashionista.
"Every Sunday, Bola would not go anywhere," Badejo said. "He will be at home, host friends. We would bring drinks. But nothing will drag him away from watching his TV shows. He will be in front of his TV watching the political forum, especially if there are elections in Chicago, he would pay very close attention.
"After watching the coverage of the politics, he would watch [American] football, which is a strategy game." By this time, Tinubu was studying for a bachelor's degree in business administration (accounting and management) at CSU, Illinois.
Yet, Badejo in that interview, admitted to being a bit surprised when he first learned that Tinubu would be contesting in elections on campus for the president of the accounting students' association. Tinubu won and the political strategist was born.
Into the chaos
On January 10, 2022, in the briefing room of the presidential villa in Abuja, Tinubu made a statement everyone knew had been coming for the past seven years. That day, he met President Buhari and informed journalists that he had formally informed Buhari of his desire to run for president. It was not news, just only the first time he had confirmed it formally. But Tinubu's endgame could be seen from a mile away. He intended to be president of Nigeria and even though this was his first shot at the office, he had never pretended that wasn't his ambition.
Tinubu's brand of politics is calculated, deliberate and yet brutal. It has relied on a network of allies, alliances and his uncanny ability to strike deals with other politicians.
This is demonstrated in the way he rebuilt the decimated AD into the Action Congress which later merged into the APC that for the first time in the country's history ousted an incumbent government. He was the undisputed leader of the APC and the kingmaker, installing a succession of governors in Lagos and other states in the South West.
He has carefully bided his time and didn't run for president in 2007, because he knew the time and tide were not in his favour then. Neither did he in 2011. Not
long after the APC took office, it soon became clear that Tinubu's place as the party's presidential candidate-in-waiting for the 2023 elections was not guaranteed. He lubricated and serviced his relationship with President Buhari with regular visits to the villa but the threats to his ambition were there.
One was Buhari's ambivalence about his successor and the second was the rise of Yemi Osinbajo, the lawyer Tinubu had nominated to take his place as a vice presidential candidate because the polity would frown at a Muslim-Muslim ticket.
On the many occasions Buhari travelled out of the country and transmitted power to Osinbajo, the vice president acquitted himself well and was growing in popularity. Soon he was being touted as a potential successor to Buhari. It was a threat Tinubu decided to curtail early and by 2019, he had convinced Buhari to strip Osinbajo of the power his office exercised. Offices the vice president was overseeing were moved to the newly created Ministry of Humanitarian Affairs among others and several aides of the vice president were sacked.
The reach of his office as vice president was clipped and he soon became just another brilliant lawyer caught in the political webs of giant spiders. It was the same brutal efficiency that Tinubu brought to oust Governor Akinwunmi Ambode of Lagos who stepped out of line and his allegiance to Tinubu was questioned.
By the time Ambode realised he could not secure re-election with Tinubu dead set against him, his late appeals were just too late and Tinubu installed Babajide Sanwo-Olu as the next governor.
If there was any doubt about Tinubu being a kingmaker, at least in Lagos and a vast swathe of the region, and considering his influential role in bringing the APC to power, those doubts should have been rested. His mission this time is clear.
"I have never seen anywhere in the rule book that a kingmaker cannot become king," Tinubu had said inside the presidential villa. Those who tried to stand in his path at the APC congress soon learnt that shaky as he may seem, Tinubu was by no means a pushover.
The totality of his victory at the primaries was such that only the language of those violent video games can match. It was "Brutality!"
Questions of wealth and a questionable health
Amongst the many things challenging Tinubu's presidential ambition perhaps the biggest is Tinubu himself. The rapid, noticeable depreciation of his health in the last four years has been alarming. His slurred speech, wobbly stance, shaky hands, gobbled speech and gaffes on the campaign trail have been sad and painful to watch.
Some have found them amusing, others alarming. Attempts by the party and his campaign team to pass him off as being fit as a fiddle are not sailing through. Critics like Naja'atu Mohammed, a former APC stalwart, have claimed that Tinubu might be suffering from dementia. He is 70 now, and will be 71 by the time he is sworn in should he win.
That would make him slightly younger than Buhari was when he took the office eight years ago but Tinubu looks noticeably worse off.
Questions are being asked not only of his physical well-being, which his campaign once responded to by posting a video of the candidate plodding away on an exercise bicycle but about his mental capacity for the sensitive office he is vying for. Mostly, Nigerians are dreading a repeat of the power impasse in the Yar'Adua government when the latter's health crisis climaxed.
There have also been questions asked about Tinubu's wealth. Opponents have pointed to a drug case in Chicago from 1992 in which Tinubu was indicted for having proceeds of illicit drug trade deposited into his bank account by two suspects. Tinubu did forfeit $460,000 to the United States Government from the said amount, as confirmed by Bayo Onanuga, director of media and publicity of the APC campaign council in a statement when the news broke.
While lawyers have argued that an indictment is not the same as a conviction, many of Tinubu's opponents have continued to point to drugs as a source of his seemingly endless wealth. But Tinubu had in several interviews attempted to answer this question. He claims that due to his excellent academic record and being on the Dean's Honours students List at CSU, he had a choice of jobs to choose from when he graduated. One of the companies he worked for was the accounting firm Deloitte and Touche, where he said he made his first big break.
"At Deloitte and Touche, I chose to travel more than 80 per cent of my working years there. And that is because if staff chose to travel, he would make more money. After all, he would get travel allowances," he had said. "That got me into National Oil, which became the Joint Venture Partner of Aramco Oil in Saudi Arabia, which is like the Nigerian National Petroleum Corporation.
"We had gone there to set up their accounting and auditing system. It was while on that service that I got my financial break. When I returned to the United States, my employers gave me a huge bonus, which instantly turned me into a millionaire.
"The bonus was $850,000, before taxes. My salaries were also being paid into the bank and I was not touching them. At the time, my salary deposits in the bank had risen to about $1.8 million," he said.
Accusations have been made that Tinubu had gamed the system in Lagos so that a chunk of the state revenue is diverted to him, allegedly. However, Dele Alake, the Director of Strategic Communication of the APC Presidential Campaign Council who also served as Tinubu's commissioner of Information in Lagos, said those allegations were borne out of malice and not substantiated by any evidence. When questioned about it in a Channel's Television interview last year, Mr Alake went into a long diatribe about how Tinubu has made his money long before coming into politics.
"All this is to show you that the man has been spending money long before he became governor of Lagos," he said.
"What I know is that, right from his days in the corporate world, he has been buying stocks. Even in foreign currency […] he was buying stocks of blue-chip companies and all of that and has been making money and spending money."
Tinubu has also worked at the American company GTE, where after being passed over for promotion on account of his race, he decided to return to Nigeria in 1985 and worked for Mobil Producing Nigeria as a senior auditor before he retired as the company's Treasurer.
Perhaps the biggest controversy around Tinubu's candidacy was in his choice of his running mate, former Borno State governor, Kashim Shettima. The idea of two Muslims running for president and vice president on the ticket of the ruling party has been considered deeply offensive and insensitive to many Christians who feel the ticket excludes them. It has seen some party members leaving the party to support other candidates and has created a lot of furore amongst the electorate as well.
The APC may not admit this but concerns over Tinubu's health and his running mate choice have strengthened his rivals and won them more sympathy and support. With his health, there isn't much he can do about that other than quit the race. He is not going to do that.
As for the choice of his running mate, it is a calculated gamble Tinubu took; one he is confident will pay off on February 25. Will it though? Renewed Hope? Tinubu's 2023 campaign is running on the slogan of a nod to his former political ally, MKO Abiola, who had made a huge impression on a younger Tinubu when he began his political journey in the early 1990s.
Tinubu has fond memories of their first encounter in 1992. At the time, he had been running for Senate in the Social Democratic Party and with the disqualification of Shehu Musa Yar'Adua from running for elections, Abiola decided to join the race for president.
"Suddenly, I found him in my hotel room with Jubril Martins-Kuye," Tinubu said of his first encounter with Abiola. "I realised he was an accountant like myself and I told him he had been abused for being anti-Awolowo.
"When you talked to MKO about the country, you would see his vision and everything. If you were well-educated and serious about the country, you would be convinced that he meant well. If you were to do an analysis about who was likely to be less corrupt and whose vision would be consistent for the nation, then you would agree with MKO," he said.
Analysts have found shades of Abiola's 'Hope '93' manifesto in Tinubu's 'Renewed Hope '23.' Rival politicians like Dele Momodu have gone as far as calling it a plagiarism of Abiola's. In the document, Tinubu's centrepiece is the economy which he says he will optimise by stimulating jobs. "I will get Nigeria to work by launching a major public works programme, a significant and heavy investment in infrastructure, and value-adding manufacturing and agriculture.
"My administration will build an efficient, fast-growing, and well-diversified emerging economy with a real GDP growth averaging 12% annually for the next four years, translating into millions of new jobs during this period," he said.
Other aspects of the manifesto focus on education, harmonising the academic calendar, ending university strikes and finding "creative means of funding tertiary education by granting universities the financial autonomy to explore new sources of financing through grants, corporate sponsorship, tuition fees etc."
His campaign is also promising to triple education spending from eight per cent to 25 per cent in four years.
In the area of security, the APC candidate is promising an immediate "revamp and retooling of the police force, a review of the pay structures of all the security services and crucially, "I will commence the immediate constitutional amendment process and action on Community Policing at the state and local government levels."
The document also contains plans to decentralize government structures and "devolve more revenues and powers to the states and local governments to bring governance and decision-making closer to the people."
On paper, it looks good. But many Nigerians remember a similar document the APC pushed out eight years ago. Many people wonder if the APC remembers the promises it made back then. Many are worried Tinubu, in this state of health, might not remember the contents of this document. But it is not only in the title of his campaign that he is giving a nod to Abiola. In risking the Muslim-Muslim ticket, Tinubu is towing yet another path Abiola towed when he with Babagana Kingibe, another man from Borno, was believed to have coasted to victory at the '93 polls. The times have changed and the mood of the country is very different from what it was in 1993.
Will Tinubu's many gambles pay off? When the day breaks on March 29, will newspaper pages be screaming Happy Birthday, Mr President-elect for Tinubu, or will there just be felicitations for the Jagaban?