THE AKWANAJA MASSACRE AND OTHER RELATED KILLINGS OF PASTORALISTS IN BENUE AND NASARAWA STATES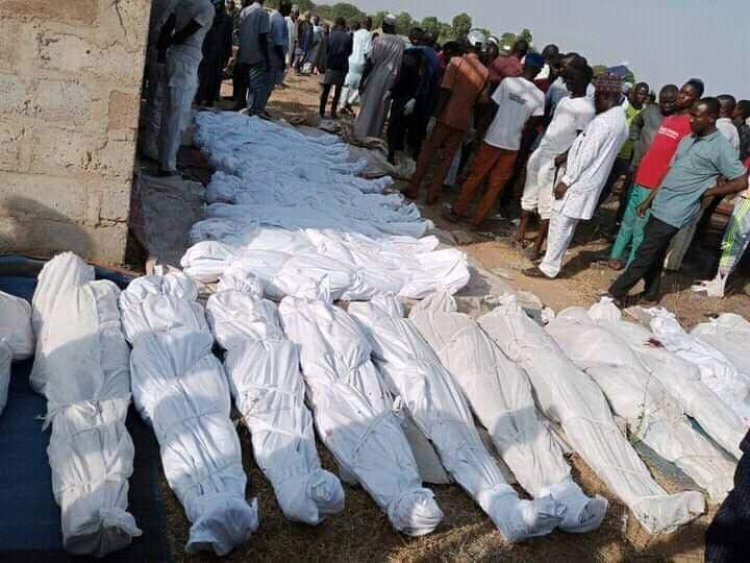 Dear Mr. President,

THE AKWANAJA MASSACRE AND OTHER RELATED KILLINGS OF PASTORALISTS IN BENUE AND NASARAWA STATES

With sorrow and pain, we write this open letter to yet again bring to your notice another barbarous act of killing innocent Nigerian pastoralists at Akwanaja, Doma Local Government Area of Nasarawa State, by drones of Nigerian Airforce on Tuesday 24th January 2023.
The killings have been reported by local and international media organizations. The notorious Benue State Livestock Guards is suspected to be linked to the massacre as since their formation the killing of pastoralists has become common in Benue State and across the boarder in the neighbouring communities of Nasarawa State.
While the Benue State Governor has not hidden his genocidal intentions and actions against Fulani pastoralists using the Livestock Guard militia which the he armed with military grade weapons, the unabated involvement of armed security agents of the Federal Government in the killings and human right abuses is the most shocking. That military jets and drones will be continuously used to target innocent civilians in a conflict free area of Nasarawa State questions the commitment of this government to human rights and its constitutional responsibility of protecting the lives and property of its citizens.
As at the last count of Tuesday 24th January massacre in Akwanaja, the Nigerian Airforce has bombed and killed innocent herders 5 times in Keana (twice), Awe (once) and Doma (twice) LGAs, all in Nasarawa State, killing thousands of livestock and dozens of herders in the process. From our records since 2017 when you permitted the Benue State Governor to enforce his Anti-Open Grazing Law in the State, over 600,000 pastoralists have been displaced from Benue State and over 300,000 cattle either killed or rustled. In the same period, over 3,000 herders have been murdered in cold blood with thousands more sustaining injuries, many incapacitating.
These crimes cannot continue unstopped by the Federal Government whose responsibility it is to protect the lives and property of all Nigerian citizens. It is with the hope of doing the needful that we address this letter to you, perchance our prayer for your constituting a judicial commission of enquiry to investigate the Akwanaja massacre and other killings of innocent pastoralists involving the Nigerian Airforce and the Benue State Livestock Guards will be heard. But before we submit the prayer, kindly allow us to briefly recount for you how the killings at Akwanaja last Tuesday took place.
The Akwanaja Massacre
On Tuesday 24th January 2023 at about 5:20pm in Akwanaja village of Rukubi Ward, Doma LGA of Nasarawa State, a fighter jet believed to belong to the Nigerian Airforce flew at low altitude and strafed a group of innocent Nigerians, majority of whom were herders offloading trucks of cattle freshly ransomed from the livestock detention facility in Naka, Gwer LGA of Benue State. In the attack, 47 Fulbe pastoralists and 15 Hausa drivers and truck assistants were murdered in cold blood. Another 62 sustained various degrees of injuries, some life threatening.
In the preceding five days, members of the armed Benue State Livestock Guards organized another of its now regular raids in Nasarawa-Benue border communities, this time in Rukubi ward of Doma LGA of Nasarawa State where a total of 1,254 cows were confiscated. As per its practice, the cattle so brazenly kidnapped were trucked to Naka, headquarters of Gwer East LGA of Benue State, one of the holding points for livestock kidnapped by the Guards. As usual, the herders went there to pay the ransom imposed by the government. A negotiated ransom of twenty-nine million naira (N29,000,000) was agreed between the Fulbe owners of the kidnapped cattle and Benue State government. Please see receipts attached.
After payments, the cattle were released to the owners and other community members and their leaders. The next challenge was moving the herds back to their homes in Nasarawa State. The herders who were not permitted to move the cattle on foot back to Rukubi or use the State Government's vehicles regularly deployed for the purpose started by renting 9 commercial trucks from Makurdi. The 9 trucks were loaded at about noon on Tuesday 24th January 2023 from Naka and headed to Akwanaja.
The trucks arrived Akwanaja at 4:50pm same Tuesday and offloading started. While this was happening, survivors narrated that they saw a fighter jet hovering over the area for several minutes. Since this is a usual occurrence in the area considering its proximity to the Nigerian Airforce Base in Makurdi and the fact that no civil unrest had occurred in the area in recent times, no one paid any attention to the aircraft as the business of offloading their cattle continued.
Things, however, took a turn for the worst. As the offloading the first truck was completed, survivors and neighboring communities reported hearing a loud explosion and what sounded like repeated gunfire. Over 60 people were instantly killed, some mutilated and incinerated beyond recognition (see attached photos) while several others laid in pools of blood with various degrees of injuries. Two of the trucks parked near the point of impact and their livestock content were completely burnt. Victims of this senseless inhumane violence have since been buried according to Islamic rites while the injured are treated in clinics and homes in the State.
Disappointment
That this extreme violence will be repeatedly committed by agents of government on its own citizens under your leadership is beyond our comprehension. That 2 days after this tragedy neither you, your spokesperson or any agent of the Federal or state government deemed it appropriate to even offer an explanation or consolation smacks an indifference difficult to believe.
Your Excellency, given your record of service, we are pretty sure you understand the consequences of these repeated state-sanctioned violence on innocent citizens. The Fulbe herders in Benue and neighbouring states have been pushed to the wall. They have been murdered, their property confiscated with reckless abandon, their homes burnt and razed to the ground, their basic rights trampled upon by the agents of both Benue State Government and the Federal Government.
We fear that failure of government to act responsibly will leave the survivors of these crimes with no option than to one day exercise their right of self-defense by whatever means available, something we believe can be averted if your Government takes the appropriate steps to stop future occurrence.
Prayers
Your Excellency, on behalf of our victim brothers, we pray that your government will undertake the following immediately:
1. Empaneling of an independent judicial commission of enquiry to investigate, identify, arrest and prosecute all individuals, officials, forces and agencies involved in the murder, expulsion, cattle rustling and extortion of pastoralists in Benue and neighboring States since 2017 when the Anti-Open Grazing Law was enacted and enforced in Benue State Government.
2. Immediate intervention to release thousands of livestock and innocent Fulbe herders illegally held captive by the police for extortion and torture by the Livestock Guards.
3. Identification, rehabilitation and payment of compensation to all victims whose rights have been violated in the course of enforcing the Anti-Open Grazing Law in Benue State.
4. Preventing the Livestock Guards from operating unconstitutionally outside the borders of Benue State and the abrogation of the body if found guilty of crimes against citizens.
5. Restoration of dialogue and communal harmony between herders and farmers in Benue, Nasarawa and Taraba States as a panacea for lasting peace in the affected States.
Above are our concerns on the subject matter. Please accept the assurances of our highest regard.
Thank you.

Signatories:
1.
2.
3.
Etc
[1/30, 1:18 PM] Sheick Waziri: 1. Khalifa Muhammadu Sanusi II 14th Emir of Kano and Horejo Tabbital Pulaaku International TPI.
2.Baba Usman Ngelzarma - National President - Miyetti Allah Cattle Breeders Association of Nigeria, MACBAN.
3. HE Isa Yuguda CON - Former Governor of Bauchi State and Horejo Tabbital Pulaaku International Nigeria chapter.
4. Salim Musa Umar President General Fulbe Global Development and Rights Initiative - FGDRI
5. Dr. Ibrahim Abdullahi - President Gan Allah Fulani Development Association - GAFDAN
6. Khalil Mohamed Bello - President Kulen Allah Cattle Breeders Association of Nigeria - KACRAN
7. Dr. Aliyu Modibbo Umar
8. Dr. Aliyu Usman Tilde
9. Senator Abubakar Gire
10. Prof. Muhammad Gurama
11. Prof. Munzali Dantata
11. Prof. M D Aminu
12. Prof. Bashir Usman
13. Prof. Yusuf Usman
14. Prof. M B Kawuwa
15. Hajiya Maryam Idris Othman
16. Babayola Muhammadu Toungo
17. Dr. Ahmed Shehu PhD
18. Dr. Usman Bugaje
19. Dr. Arabo Ibrahim Bayo
20. Dr. Umar Ardo Dabura
21. Dr. Ramatu Abarshi
22. Dr. Mohammed Dahiru Aminu
23. Dr. Umar Bindir
24. Hajiya Sutura Bello
25. Hajiya Khadija Ardido
26. Hajiya Halima Nyoman
27. Hajiya Maryam Uthman
28. Hajiya Hauwa Umar Aliyu
29. Dr. Abubakar Umar Gire - Wakili Fulbe Adamawa
30. Pharm. Aminu Alhassan kuba
31. Alh. Ibrahim Salihu
32. Dr. Ghaji Bello
33. Dr. Ahmad Chiroma
34. Arch. Musa Usman.
35. Alh. Sadiq Ibrahim Ahmed
36. Hajiya Zainab Hammanga
37. Arch. Idris Isa Bawa
38. Sadiq Ibrahim
39. Dr. Murtala Aliyu
40. Alh. Musa Waziri Kolere
41. Engr. Umaru Wakili fnse
42. Abubakar Lawal Boro
43 . Haj. Sumayya Abubakar Muhammad
44. Hajiya Raihanatu Isa
45. Lamido Aminu Aliyu Abubakar
46. Alh. M. B Lawan
47. Alh. Abubakar Jijiwa
48. Hajiya Kadiria Ahmed
49. Amb. Garba Gajam
50. Alh. Aminu Iyawa
51. Hon. Aminu Tukur
52. Engr. Bello Gwarzo