Saudi Arabia: Guinean wins International Prize for Arab Poetry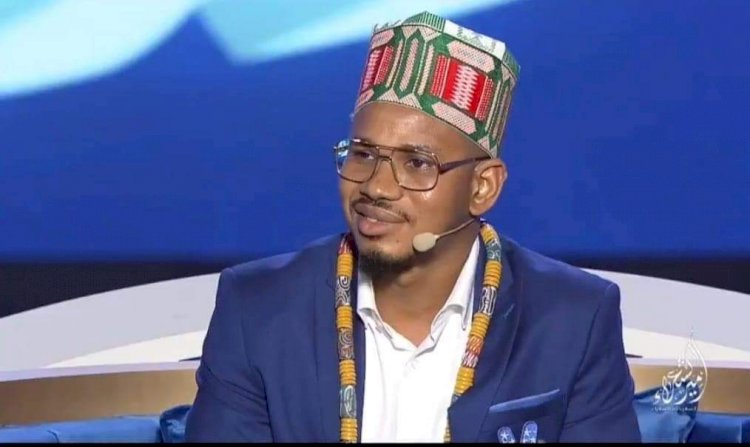 Mohamad Salih Diallo, grandson of Thierno Sadou Dalein from (1765 - 1854), wins the first international prize for Arab poetry in Saudi Arabia in front of 2000 candidates from all continents!
This Wednesday, July 7, the awarding of the international prize for Arab poetry called "Dr Abdourahmane Abdallah Al Machiq literary" prize in Saudi Arabia considered among the most important prizes for Arabic literature in the world, precisely in Saudi Arabia.
A native of Dalein, he won this award of excellence. Mohamad Salih Diallo is the grandson of Thierno Sadou Dalein from (1765 - 1854) from the region of Labé. Mr. Diallo is a laureate of Moroccan and American universities. He is also a Doctor of Islamic Finance and author of several books in Arabic published worldwide.
It is important to congratulate the Guinean school more particularly the winners from Franco-Arab schools in Guinea, through which the country wins excellent trophies of choice in all contests, competitions and prizes internationally through illustration from young Adama Sanoh who was the world laureate of the Holy Quran memorization in Kuwait last year, Sister Lawratou Diallo and Mohamed Camara in Malaysia. In addition, Mr. DIALLO in the United Arab Emirates, and Jeddah in Saudi Arabia.
It is the same for their contribution to the socioeconomic development of the country, especially the aspect of philanthropy in the care of orphans, the granting of improved wells, the construction of places of worship (mosques, homes of Islamic education ) and the promotion of peace and tolerance in our country. It is through their foresight and their involvement in the promotion of Islamic science that our territory is not threatened by fundamentalists or terrorists.
However, although Arabic speakers are neglected by the state and have not received support or scholarships for eleven years now, they continue to win prizes of excellence at the global level. They are thus the pride of the Guinean national at the international level through these many awards that go to Conakry. It would be wise to take an objective look at the valuation of Franco-Arab schools in Guinea given all these awards, but their importance and their contribution to our country. This undoubtedly makes Guinea remain this model country in terms of a tolerant and peaceful Islam.
This award is one of the greatest distinctions for the best poet in Arabic in the world in which all the countries of the continent participate. Guinea still demonstrates its tenacity to Arabic literature, something valued and inherited for centuries.
Congratulations to our compatriot Mohamad Salih Diallo who for this prestigious prize for Arabic literature in front of 2000 candidates from all continents.
Long live cultural diversity
Long live multilingualism
Long live the cultural and scientific mix
May Allah bless Guinea.