Inditex: Zara founder's daughter becomes fashion giant's chair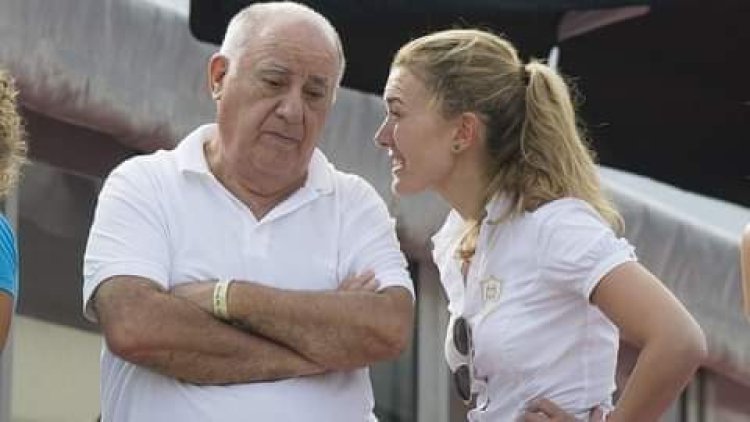 High Street fashion giant Inditex, which owns brands including Zara and Massimo Dutti, has appointed the founder's daughter as its new chairwoman.
Marta Ortega will replace Pablo Isla, chairman of Inditex since 2011.
Ms Ortega has been with the firm for 15 years, starting out as an assistant at its High Street brand Bershka.
"I have always said I would dedicate my life to building upon my parents' legacy," the 37-year-old said.
"I have lived and breathed this company since my childhood, and I have learned from all the great professionals I have worked with over the last 15 years," said Ms Ortega, adding that she was deeply honoured by the trust the firm was placing in her.
Ms Ortega has been credited with strengthening the retailer's brand image, having led several campaigns, including the launch of Zara's premium collections such as Zara SRPLS and Charlotte Gainsbourg by Zara.
Inditex was founded by Amancio Ortega with his ex-wife Rosalia in 1975 in Galicia, Spain.
Mr Ortega is one of the world's richest men, with an estimated net worth of $77.8bn (£58.3bn), according to Forbes. He was chairman of Inditex until 2011.
Inditex, whose brands also include Pull&Bear and Stradivariusm, has come to dominate High Streets around the world, with more than 6,600 shops globally.
Most of its clothing is made close to its Spanish headquarters or in nearby countries such as Portugal, Morocco and Turkey, helping the firm to achieve its famously fast reaction times to new fashion trends.
Analysis:
by Vivienne Nunis, BBC business reporter
Marta Ortega Pérez began working for Inditex on a shop floor in London 15 years ago.
Her new job will be as the company's chairwoman, helping steer a retail behemoth with nearly 7,000 stores, more than 8,000 factories and a market value of $100bn.
Is she the right person for the job?
She says she's grown up around the company and learned a lot in her time formally working there.
But others will see this more as a Spanish version of the hit HBO series "Succession", where family members are given preference for top jobs over better qualified members of the team.
Indeed shares in Inditex have fallen on news of the appointment.
Alongside new chief executive Óscar García Maceiras, Marta Ortega Pérez will face a number of challenges. At a time when consumers are becoming more aware of the environmental costs of fast fashion, Zara particularly is in an awkward spot - its reputation is built on bringing style trends to High Street stores quickly and cheaply.
There are also supply chain concerns. Just this week, authorities in the French city of Bordeaux rejected plans by a Zara store to double its floor space, over allegations the fashion label may have profited from the forced labour of Uighurs in China.
But the new chief executive and chairwoman are unlikely to be steering the Inditex ship without the help of founder Amancio.
When he resigned as chairman in 2011, he didn't put his feet up. Instead the man known as "The Boss" has remained very much involved in the company. Though now aged in his 80s, it's a fair bet he'll remain so, even with the appointment of the new executive team.
The group also announced the appointment of new chief executive Óscar García Maceiras on Tuesday.
He joined Inditex in March as general counsel and secretary of the board, following a career as a Spanish state attorney and in the private sector working for several Spanish banks.
Markets nervous about changes
Inditex shares fell almost 5% after the announcement.
Analysts at Kepler said outgoing chairman Mr Isla had driven Inditex's big international expansion over the past 17 years.
"We believe that the timing is not the best ... as we believe that both Marta Ortega and the CEO Oscar Maceiras have a lot to prove when it comes to their ability to run this big monster in the middle of the Covid crisis," it said.
Maureen Hinton, retail research director at GlobalData, says investors and analysts are "nervous" about Marta Ortega because she is not well known outside the fashion group, but she doesn't think it is fair to make assumptions about the future of Zara and its owner Inditex.
"They've got two people there who have relevant and long experience of the company - Carlos Crespo and Oscar Maceiras," she told the BBC.
"The current chief executive Carlos Crespo has moved over to become chief operating officer, so it's not like he's leaving the company. And they say Oscar Maceiras is good at team building."
She said talks about a succession plan had been underway at Inditex since Amancio Ortega stepped down in 2011: "It was something that was going to happen eventually."
Commenting on Ms Ortega's past performance at Zara, Ms Hinton said: "It seems to me she has more marketing experience than managing experience, but as chairperson she will be steering the direction of the company, rather than hands-on day-to-day management."
Source: BBC