Church of England to return two looted Benin Bronzes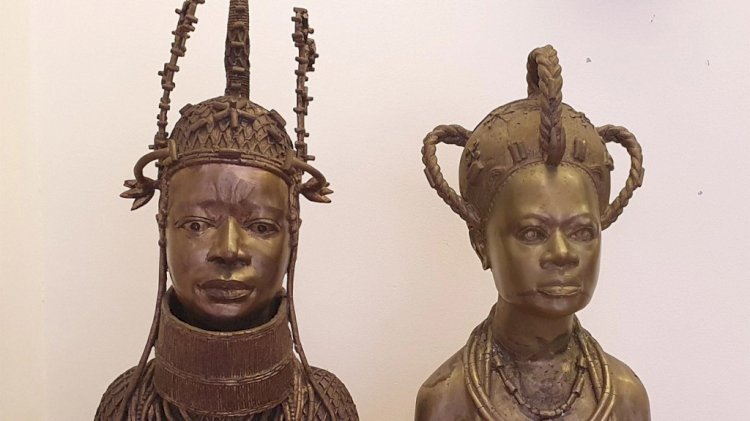 The Church of England which is in possession of some looted Benin Bronzes has promised to return them to Nigeria following growing pressure for the repatriation of these historical objects which were stolen during slavery.
According to claims by a spokeswoman of Lambeth Palace, the objects were gifted to Archbishop of Canterbury Robert Runcie almost 40 years ago. This revelation was made after the church was contacted by Digital Benin, an online project that traces institutions which possibly holds looted Benin Bronzes.
The church stated that, "We have recently been contacted by the Digital Benin project at the MARKK (Hamburg) who enquired about our collection of gifts at Lambeth Palace and if we had received any Benin kingdom objects as gifts over the years.
In response, we have confirmed to the Digital Benin project that we have two bronze busts, given to us by the Benin kingdom in 1982. These were gifted to Archbishop Robert Runcie by His Excellency Chief (Prof.) Ambrose F. Alli and the University of Nigeria, Nuskka.
We have offered for the two busts to be included in the Digital Benin project and eventually, returned to our friends in Edo, Nigeria where they may remain. We are currently in discussions with the EMOWAA, via the Legacy Restoration Trust, to arrange this."
Edo Museum of West African Art (EMOWAA) as mentioned by the church is a new dedicated space which is being built to contain the rich, regal and sacred objects of Benin's past. EMOWAA has been tipped to be the suitable destination for these looted objects which will soon be repatriated.
The Church of England is not the only institution in possession of these objects; about 5,000 of art works were stolen from Benin following the 1897 attack by British troops. These were distributed across public institutions with the Museums holding majority of them.
Few days ago, University of Aberdeen announced its decision and plans to return a Benin Bronze to Nigeria with George Boyne, vice-chancellor of the school stating that, "It would not have been right to have retained an item of such great cultural importance that was acquired in such reprehensible circumstances."
The Horniman Museum in Forest Hill is equally in the process of returning some of the objects; The Museum said, "We understand that for some communities whether in countries of origin or in the diaspora the retention of some specific objects, natural specimens or human remains is experienced as an ongoing hurt or injustice."
Many institutions and countries are taking steps to do the right thing; however, the growing concern from Africans is that, these countries should go beyond the arts of work and also repatriate stolen resources such as the Gold, Diamonds, Bauxite another precious minerals to the continent.