Anambra: Why Shops Are Still Shut Despite Sit-At-Home Cancellation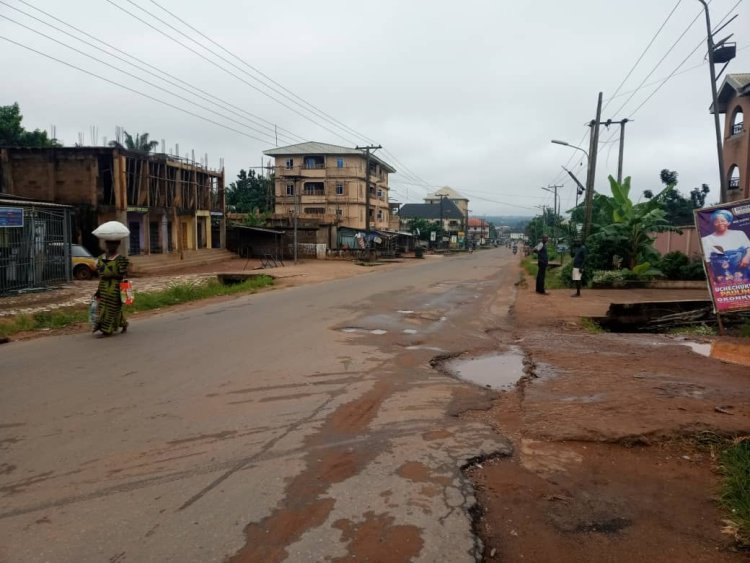 On assumption of office, the new governor of Anambra State, Professor Charles Soludo, asked residents to ignore the sit-at-home order by the IPOB and come out on Mondays to do their businesses, saying the order is destroying the state and South East economy, yet the people have remained indoors, obviously for the fear of the unknown.
Although the IPOB claims it has cancelled the Monday sit-at-home order, some people are said to be bent on observing and enforcing it to the fullest.
Daily Trust on Sunday also gathered that some members of the separatist group still send notices to market leaders not to open their shops, with a serious warning that there would be consequences if they do otherwise.
It is said that although businessmen and women are willing to go to various markets and do business, they are afraid of being attacked since there are usually no security personnel to protect them.
Some of the residents who spoke with our correspondents said they could not open their shops and markets on Mondays because if they lost any of their goods, nobody would help in replacing them.
They also claimed that the current security situation in the state was poor, adding that nobody would risk coming out to do business when security men are rarely seen in the streets on Mondays.
A resident, Mr Clement Orji, said he would not open his shop when there is no guarantee that if something happens to him he would get government's assistance.
He also said that since the EndSARS protest, the police in the state are very cautious and are not always in the streets.
"My brother, nobody will risk losing all he has laboured for in a second for coming out to obey government's order that is not backed with security.
"You cannot expect me to come out and open my shop, claiming that the IPOB has cancelled the sit-at-home order when in actual sense they are still enforcing it," he said.
Another resident, Anthony Uche, said everybody was afraid to go out and open their businesses because the government is weak and insensitive, adding that if the government is serious, they knew what to do. He said that obeying government's directive to ignore the sit-at-home order was like attempting to commit suicide.
An interstate transporter, Chidi Micheal, said it was only a madman that would put his vehicle on the road on Mondays in the South East as it stands today.
He said criminal elements had taken the advantage of the order to commit all kinds of crime, adding that until government does the needful, nobody will come out for business on Mondays.
"People are afraid of coming out; and their fears are justified based on what is happening. This my vehicle is where my entire family depends and; if it is burnt, my children will suffer and I don't want to gamble it.
"On Mondays you hardly see police patrol on the roads, and even when they are there, they cannot withstand the heavy ammunition of these people. In fact, I don't even blame them for keeping off the roads on Mondays because life has no duplicate," he said.
Daily Trust on Sunday learnt that in a bid to bring peace to the state, Governor Soludo recently inaugurated a committee on reconciliation and amnesty.
A sociologist who spoke with our correspondent said that given the situation at hand, nobody may come out for amnesty because most of the people are of the opinions that the Igbo are marginalised in the country and the only option is to support their Biafra agenda.
"There has been much indoctrination among the youth and it will be hard to de-radicalise them. In short, the problem has been established, it is only God that can help," he said.
A journalist who did not want his name mentioned said the IPOB had factions, which hardly agree on issues.
He said the leader of one of the factions, Simon Ekpa, does not agree with the idea of cancelling the sit-at-home order, while the Nnamdi Kanu group has announced its cancellation. It is also believed that there is an unidentified group being used by politicians to create problems in the zone.
"People are afraid because of the positions of the various factions. There were incidents where people who came out were manhandled by members of the IPOB. Nobody wants to have such experience.
"What they want is Biafra; they are not interested in Nigeria again. Some also enjoy the holidays, especially civil servants," he said.
A man who is sympathetic to the course of the IPOB, Mr Joel Achara, said they still observed sit-at-home because their agitation had not been addressed.
According to him, it is better to suffer now and be happy in the future.
"We are not interested in Nigeria again and we are ready to do anything to leave the country. Please nobody should sympathise with us. We are taking our cross and we shall succeed," he said.
The Anambra State Government has not constituted political officeholders, so at the time of filing this report, nobody was officially authorised to talk to the press on this matter