APRC says it will rule Gambia again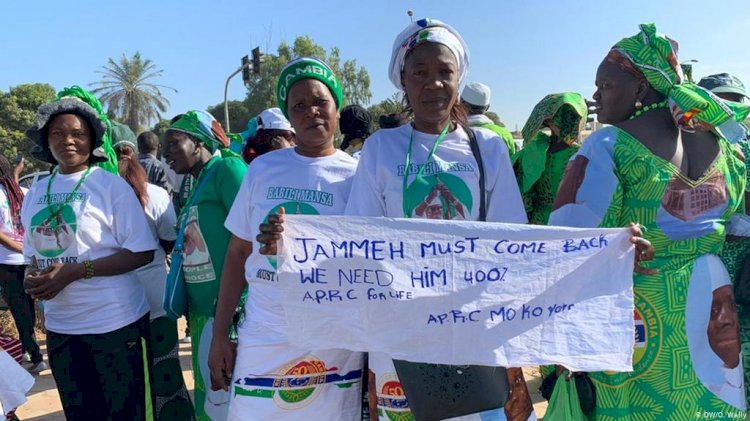 APRC
The Alliance for Patriotic Reorientation and Construction (APRC) party holds its biggest political rally in Brikama on Saturday in a show of strength.
The former ruling party has seen its fortunes changed in recent years. It lost the presidency and suffered a major defeat at the National Assembly elections. Its leader, former president Jammeh, is in exile in Equatorial Guinea.
The Brikama rally was billed as the APRC's political comeback and it biggest gathering since losing power in 2016. The party's spokesman, Musa Amul Nyassi, boasted that the APRC will rule The Gambia again.
"APRC is here to stay and we will come back to power and continue leading this country again. There is no doubt about that. Any political party that wants to be part of the next government must work with APRC. I am saying this because people are desperate, discouraged and frustrated.
"The turnout at the rally is a clear testimony that despite all the smear campaign, the APRC is growing bigger."
Nyassi dismissed claims that his party used to bring people from Casamance to vote for them during presidential elections.
"Supporters have now realised that it is not a crime for them to come out in public to support the party. They were scared before but now they are coming back. We have people from every region attending this rally.
"Gambians are beginning to know the truth. We all agree that all the projects this government is implementing were inherited from us. For two years they have not initiated anything. Their achievements are the killing of Haruna Jatta and three young men at Faraba. Security has been compromised. Go to NAWEC and find out how much we are paying to sustain Karpowership and the Senelec deal. This country has been sacrificed."
The party's interim leader, Fabakary Tombong Jatta, told the rally that "it is only the next presidential election that is between APRC and Yahya Jammeh from going back to State House."
"People do ask me whether Jammeh will come back or not. I want to say that people should ask when Jammeh will come back and not whether he will come back. This is his country and nothing can stop him from coming if he so desires."
Jatta renewed his call for the IEC chairman to resign immediately adding that after all the comments the IEC boss had made after Jammeh's defeat, they did not have confidence in him presiding over elections.
"I am on behalf of the APRC party and its supporters calling for the resignation of IEC Chairman in the interest of transparency and accountability."