Verbal war: Daddy Freeze not jobless – Ali Baba replies Pastor Ibiyeomie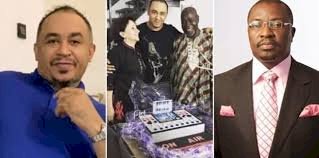 Veteran comedian, Ali Baba has joined several other Nigerians to lend his voice to the ongoing drama between popular media personality Daddy Freeze and man of God, Pastor David Ibiyeomie.
Recall the spiritual leader had publicly lampooned Freeze for daring to counter fellow man of God, Bishop David Oyedepo, who had said that women must submit to their husbands.
The Porthacourt based pastor while calling out Freeze in front of his congregation launched a verbal attack on him and also labelled him a bast*rd.
In reaction, comedian Ali Baba pulled up some pictures of Freeze and his parents and posted it on social media to counter the claims by Ibiyeomie.
"Pastor, emmm regarding that your question. Ehen, oops!!!, There he is… his father. I have met the Mum Twice. But I believe that's the Dad… will ask Freeze tomorrow. But if he is his father, can't there be a defamation case somewhere there? Asking for a friend," Ali Baba wrote as he shared the photo.