Ukraine conflict: Settled Ukrainians' relatives able to come to UK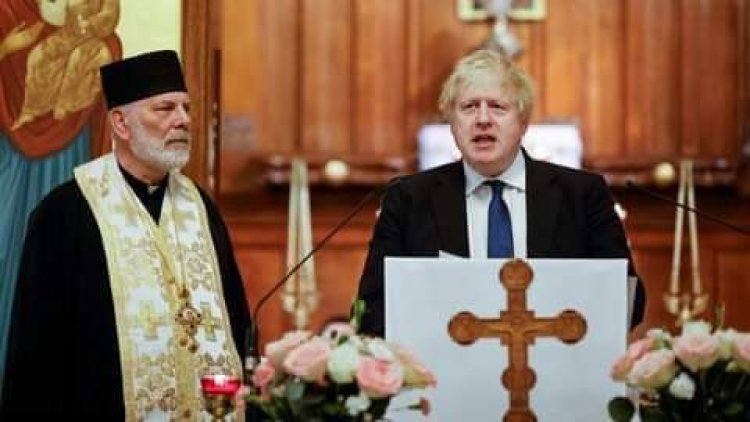 People who are settled in the UK will be able to bring their Ukrainian immediate family members to join them, the prime minister has announced.
Boris Johnson said the UK would not "turn our backs in Ukraine's hour of need".
Speaking to a Ukrainian cathedral congregation, he said he had never seen "so clear a distinction between good and evil" as the conflict in Ukraine.
He later announced a further £40m of humanitarian aid for the country.
The government has been facing growing calls to waive visa rules for Ukrainians seeking sanctuary in the UK amid the ongoing Russian invasion.
Before the latest announcement, only those Ukrainians who were deemed to be "dependants" of those already in the UK were being guaranteed entry.
And European Union member states have supported plans to take in all Ukrainian refugees for up to three years, with no need for them to apply for asylum.
Downing Street said the change in UK policy would "benefit many thousands of people who at this moment are making desperate choices about their future".
Speaking to the media, Mr Johnson said: "We want to be as generous as we possibly can, and certainly we want people who have relatives in Ukraine to be able to bring them over as fast as possible.
"We want to make sure that we have routes for people fleeing disaster, war, persecution in Ukraine to come here."
That statement came separately from his visit to the Cathedral of the Holy Family in London where he spoke to a Ukrainian congregation, telling them the UK would do "everything it can to help economically, politically, diplomatically, militarily".
He said the people of Ukraine were facing "the darkest times in modern memory" and described Russia's invasion as a "barbaric and unprovoked attack".
Mr Johnson told the congregation of the Catholic cathedral that Ukrainians were neighbours with the UK, through shared ideals, as well as literally - with hundreds of thousands having come to live and work in Britain over the decades.
"I'm going to stress that there is no hostility in my heart towards the Russian people, none whatever - quite the reverse," he said.
"My heart aches for the Russian parents who are already losing their children in this vicious and appalling war - just as it aches for the civilians and the people of Ukraine."
He added that there was "no possible excuse" for the Russian leadership who chose "this path of violence".
Analysis by Mark Easton, home editor
Britain finds itself well behind Europe in its offer of sanctuary to Ukrainians fleeing the war.
The prime minister has insisted the UK is "way out in front" in its willingness to help, and Foreign Secretary Liz Truss said the government was "urgently" looking at what more it could do.
But what has emerged is a scheme to assist family members of Ukrainians already in the UK, far short of the open-door approach of countries in the EU.
The Refugee Council has said the UK government's response looks mean-spirited and unwelcoming to desperate people.
The Home Office has been resisting calls to establish a safe route, saying Ukrainians fleeing the war should get visas to work and study in the UK in the normal way, through the points-based immigration system.
The PM spoke to Volodymyr Zelensky on Sunday, telling the Ukrainian president that he would do "all he could" to ensure further military aid reaches Ukrainian forces, Downing Street said.
Mr Johnson also praised the "heroic" resistance of the Ukrainian people.
Mr Zelensky told the prime minister that the next 24 hours will be a "crucial period" for his country.
The government's change on refugees came on a weekend when Labour described its stance as "immoral" and called for more to be done.
Enver Solomon, chief executive of the Refugee Council, welcomed the move from the UK government but said it fell "well short of what is needed" and looked "mean spirited" in comparison with the EU.
"The government must show it cares and immediately establish a safe route, so all Ukrainian families, who through no fault of their own have been forced from their homes, can easily apply for a humanitarian visa to travel to the UK," he said.
Analysis by Chris Mason, political correspondent
Reflections and prayer. Anger and anguish.
Some of those gathered at the Ukrainian Catholic Cathedral in central London wore the blue and yellow Ukrainian flag as a shawl.
Others wiped away tears.
Everyone wore the pained expression of their homeland violated.
The government here has promised to help more refugees come to the UK.
Nowhere near enough, though, say opposition parties.
The invasion of Ukraine poses so many profound questions.
For those there, for those here and for governments grappling with how best to respond.
In a tweet on Sunday Scotland's First Minister Nicola Sturgeon said the Home Office must give entry now on humanitarian grounds "to any Ukrainian seeking refuge in the UK", and to "sort paperwork later."
Shadow home secretary Yvette Cooper said it was "shameful" of the government not to help other relatives "in a terrible European war like this".
She tweeted that the "Home Office must immediately extend this to wider family members and then they must set out a broader sanctuary route so UK also does its bit to help other Ukrainians too".
On Sunday evening Mr Johnson answered questions about a range of issues connected to the Ukraine conflict. He said:
If President Putin wanted to negotiate or withdraw "that's very good news", but said he had "doubts" about it
The Russian leader's comments that he was putting Russia's nuclear deterrent on high alert were a "distraction" from the struggle his troops were facing
Broadcaster RT was "peddling" material which was "doing a lot of damage to the truth" and Ofcom should look at if it was infringing UK rules.
Elsewhere in the UK there have continued to be acts of solidarity with Ukraine including demonstrations in Wales, London and Scotland.
Source: BBC