UK-based Nigerian engineer picks second wife, advises men to marry more wives to save the north from 'destruction'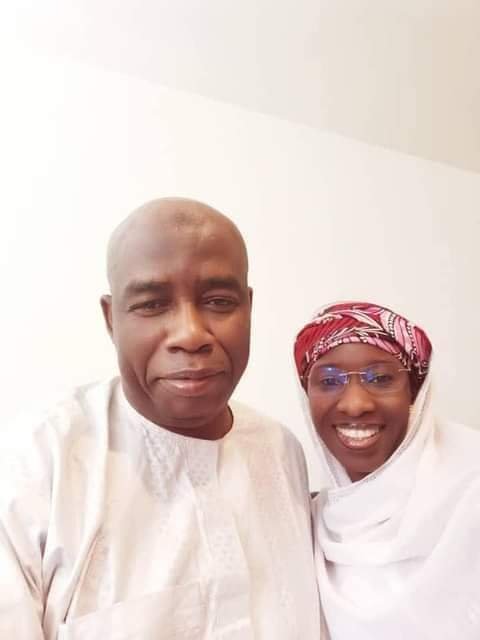 A UK-based Nigerian engineer, Dr. Idris Ahmed, who marriied a second wife few days ago has advised Northern men, to take more wives in order save the north from destruction.
The former Coventry University UK, lecturer, married Maryam Buba Lamu, on November 20, in Kolere ward, Mubl North Local Government Area of Adamawa state.
With his First Wife
Taking to Facebook on Tuesday, November 24, he mentioned the reasons he took a second wife. He also thanked his first wife, Hajiya Zaina Abdullahi, for her support.
According to Dr. Idris, who wrote in Hausa, one of the ways to save the north from destruction is by marrying more wives.
He also advised women to fear God and allow their husbands marry more wives. Read his post below:
"The reason why I get married again!
"Peace be upon you people. Welcome back to this event. May God guide us. Amen. Amen. Friday, 20/11/2020, at the house of late Senator Buba Lamu, in Kolere Mini, I was married to Hajiya Maryam Buba Lamu.
"We thank you for all the greetings and wishes you sent us through this stage and telephone. May God keep our relationship. May Allah reward you with his best. Amen. Amen.
"For those with habits, adding more marriage is a must, especially if you are a northerner. God will destroy many troubles for us, and they will torment us. This is the state of emergency. Family is the pillar of the community. If you have a habit of doing it, then you think you are a wise man, so you will not marry again, I swear your dream is useless, it doesn't work. May God help us to understand. Amen. Amen.
"Jews and Nasara have won the sword until they see our back. They are fighting for us to fight against our family, by Boko Haram, Kidnappers, Armed Robbers, and other terrorists. By destroying our religion and culture, they are using Northern television station 24, to Radio Dandal Kura, and their kind.
"Oh people, in the north we have a lot of good wives, and those who want to get married, but there are no men who have the heart to marry. Most of the men who have more characteristics fear their wives, because they run away from what follows! May your people be destroyed!
"I am advising our husbands with good character, please for the sake of the prophet, we should increase marriage, to help save the people. Women, fear God and let your husbands add more marriage. This is the jihad. Oh Allah, make us stronger than our hearts. Amen. Amen.
"Oh God guide us on this purpose of saving the people. Oh God save the north from the evils of Jews and Victory. Amen oh Hayu Ya Kayyum."