Six Killed, Properties Burnt As Gunmen Attack Ondo Villages
At least six local farmers and traders have been murdered by suspected gunmen in Arimogija and Molege communities in Ose Local Government Area of Ondo…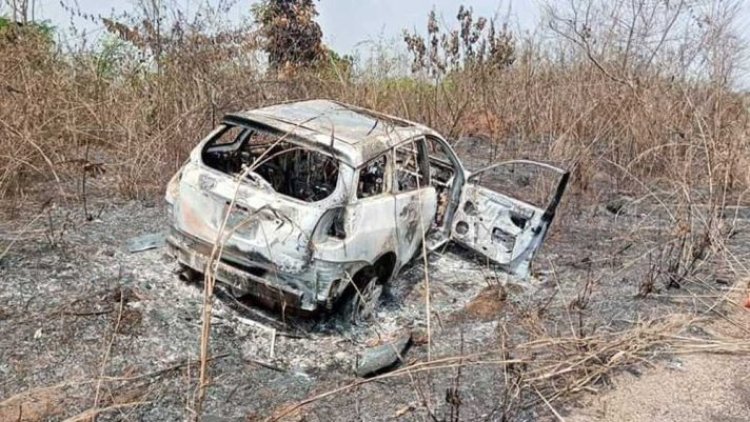 Burnt car at scene of attack
At least six local farmers and traders have been murdered by suspected gunmen in Arimogija and Molege communities in Ose Local Government Area of Ondo state.
A community leader, Mr Owolafe Folorunsho, who confirmed this to newsmen on Sunday, said the traders were killed by the marauders while returning from Akure, the state capital.
"They laid an ambush, attacked the traders who were coming from Akure, and killed all the occupants before taking away their money and setting their vehicles and motorcycles on fire," Mr Folorunsho said.
According to him, the gunmen have been launching an attack on the communities at night using sophisticated weapons.
Mr Folorunsho said the recent attack which happened last week Thursday night was triggered by the effort of the farmers to repel the continued wanton destruction of their crops by the gunmen.
.
He said, "The gunmen have continued to invade our farmlands at night, harvest our crops to feed their cattle. At times, they will come during the day, force us to uproot the cassava by ourselves at gunpoint, and command us to cut them into pieces to feed their cows.
"In order not to take laws into our hands, we reported this act of economic sabotage to the appropriate authority who took prompt action to chase them out of the farming areas only for them to come back and attacked us again."
He added that the assailants are gradually taking over four camps; Molege, Ugboruwen, Elerinta, and Adedigba, in the local communities.
Confirming the incident, the traditional ruler in the community, the Onimoru, Oba Rotimi Obamuwagun lamented the unwholesome atrocities of the gunmen in the local communities
He explained how they destroyed four hectares of cassava farm belonging to one of his subjects who borrowed money from a commercial bank to finance his farming business.
Visiting the troubled villages at the weekend, the Chairman of Ose Local Government, Prince Adekunle Dennis expressed his concerns over the security situation in the Ose Local Government Area of the state.
Dennis said the people must ensure they work with the government and the security agencies in urgently checkmating the excesses of the assailants in the local areas.
When contacted, the Police Public Relations Officers in Ondo, Mrs Funmilayo Odunlami-Omisanya, said that the police were already investigating the matter.
She added that security agents have been drafted to the affected communities to restore normalcy and prevent further attacks.