RURAL-URBAN MIGRATION: Gov. Zulum To Model Local Government Headquarters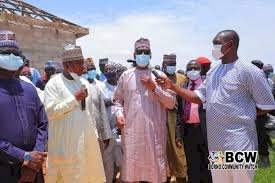 In his efforts to address the rapid rural-urban migration; leading to the overpopulation of the state capital Maiduguri. His Excellency the Executive governor of Borno State Prof. Babagana umara Zulum mni today inspected township road project in Beneisheikh the headquarters of Kaga Local government area where he directed the construction of mordern shopping complex which he said is inline with the Government efforts to remodel local government Headquarters to became urban areas so that it will reduce the pressure on the capital city.
The Governor also inspect construction of 200 and 500 houses in Ngamdu and Auno respectively. While in Ngamdu the governor promised to embark on back to school program with a view to address the raising number of out of school children.
In all the construction site visited the Governor express satisfaction and call on them to meet to dateline.
*BORNO COMMUNITY WATCH*