President Barrow Enters Jimara to Rock Star Welcome by 1000s of Jubilant Supporters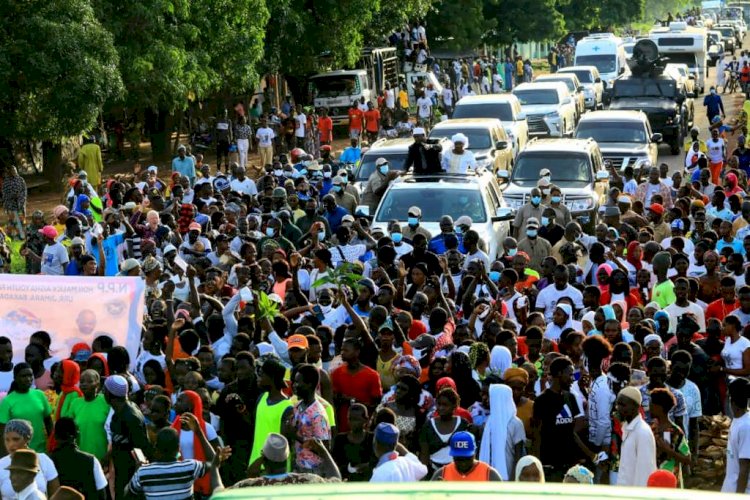 The Secretary General and Party leader of the National People's Party (NPP), President Adama Barrow arrived in his native village of Mankamang Kunda Thursday afternoon ahead of the 'ten thousand political rally' on Sunday in Jimara Bagadagi.
President Barrow arrived in Jimara to a historic and rousing welcome by thousands of enthusiastic NPP supporters chanting , drumming, dancing and singing, NPP deputy spokesman Seedy Njie said in a statement.
The NPP stalwart official added: "Thousands of youths and hundreds of motor bikers rode along the Presidential motorcade from Sarre Mansally village to Mankamang Kunda in an emphatic show of love and support to a son who ushered in unprecedented development that stands the test of time.
"The jubilant crowd is cited as the largest ever welcome accorded to a leader in recent times by the people of URR. This according to political pundits and experts is indicative of the readiness of the people of URR to re-elect President Adama Barrow with an overwhelming majority on December 4th, 2021 Presidential Election as a token of gratitude for the mammoth infrastructural developments vis-à-vis URR roads, bridges and his massive rural electrification programme.
"The elated President accompanied by Her Excellency, Lady Sajor Mballow-Barrow in appreciation of the tumultuous welcome, waved and smiled to thousands of NPP supporters who lined up the streets throughout the period.
"The President was received at his home by URR Imams who recited the Holy Quran and prayed for his personal wellbeing and a resounding victory come December, 2021