In my heart, I am Palestinian': How Maradona is mourned in the Middle East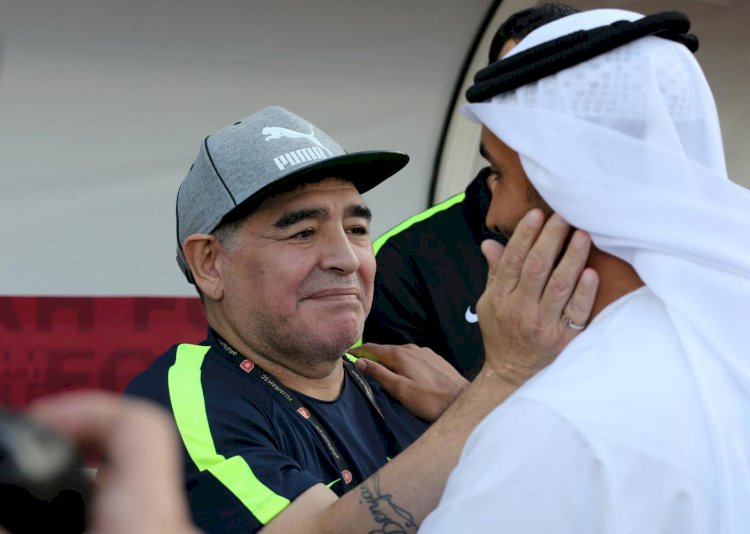 The 60-year-old died after suffering a heart attack in Argentina whilst recovering from recent brain surgery (AFP/Karim Sahib)
The footballing legend played games and coached against Arab teams and was an unapologetic supporter of the Palestinian cause
The Middle East has gone into mourning with tributes pouring in for Argentinian football legend Diego Maradona, a staunch supporter of the Palestinian cause, whose death was announced on Wednesday.
Considered one of football's greatest players, the 60-year-old died after suffering a heart attack at home in Tigre, Argentina whilst recovering from recent brain surgery to remove a blood clot.
The former Barcelona, Napoli, and Boca Juniors star had 91 caps, scoring 34 goals, before retiring from competitive football at the age of 37 in 1997.
His most infamous international goal would come to be known as the "Hand of God," after he scored against England by striking the ball with his hand in the 1986 World Cup in Mexico.
Unapologetic Palestine supporter
Maradona has been hailed as an anti-imperialist, left-wing socialist who has supported progressive movements and who unapologetically supported Palestine.
He previously described himself as "the number one fan of the Palestinian people" and in 2014 during Israel's offensive on the besieged Gaza Strip that killed over 2,200 Palestinians, he described the bombardment as "shameful" whilst expressing outrage over the attacks.
During a meeting in Moscow in 2018, Maradona met Palestinian President Mahmoud Abbas and told him the famous words whilst embracing him: "In my heart, I am Palestinian."
In 2015, Maradona was reportedly in negotiations with the Palestinian Football Association to coach the Palestinian national team during the AFC Asian Cup.
Palestinian poet Mahmoud Darwish, who described football as "the arena of expression... in the dungeon of Arab democracy" and "a breathing space that allows the crumbling nation to heal around a common place", wrote an article about the Argentine player after the 1986 World Cup final.
In the article, Darwish talks of Maradona's poor childhood, his love of football, and his father's sacrifices, describing Maradona as someone who "you will not find blood in his veins, but missiles".
Former coach for the Palestinian football national team, Jamal Mahmoud, shared a picture from his last meeting with the star who was given the Palestinian football team's jersey.
Translation: The best to ever entertain the world with football is gone. Maradona receiving the jersey of the national Palestinian football team in an old event that I met him in.
Hamas spokesman Sami Abu Zuhri tweeted his condolences to Maradona's family and to fans globally.
"We are so sad for the death of one of the greatest footballers, Maradona, who is known for his support of the #Palestine cause," he wrote.
Syria and the Gulf
In the seventh year of the Syrian civil war, Maradona also expressed his opinions on the US's role in Syria in an interview stating: "You don't need to go to university to know that the United States wants to wipe Syria out of existence."
In the Syrian town of Binnish, in Idlib province, artist Aziz Asmar paid homage by erecting a mural in the footballer's honour.
In 2011, he created a buzz of excitement in the Gulf after signing a lucrative deal to manage Al-Wasl, putting the United Arab Emirates club on the international stage and unprecedented limelight on Asian football.
However, the euphoria was short-lived and after a turbulent 14 months in charge he was fired in July 2012 with Al-Wasl ending their season in eighth place.
Former Argentine international and coach in the UAE, Gabriel Calderon, said later: "As a coach in UAE, he knew that it would not be easy but although he was the centre of attention with the media, he just loved football. He had many happy memories of his time in UAE and I know that the fans there loved him too."
He spent the next few years as a sports ambassador for Dubai and then took up another Emirates coaching role in 2017, taking over second division side al-Fujairah in 2017, describing it as an opportunity that "opened the doors when all others were closed".
However, after failing to secure promotion he left the following year.
Translation: They were beautiful days. Unforgettable memories which will enter history that the best touch of football was here at al-Fujaira. Goodbye, legend.
Infamous goal
Meanwhile, a number of people paid tribute to the footballing legend by recalling his visit to Tunisia in 2015 where he met with referee Ali Bennaceur, who had refereed the game between Argentina and England, and gifted him a T-shirt bearing the words "To my eternal friend Ali."
During the meeting, Bennaceur told reporters that he doubted the validity of Maradona's infamous 51st-minute goal but described his second strike in the game as a "masterpiece", and which was later voted as the "Goal of the Century".
"We had a good time, I told him that that day, it was not Argentina who won, but him, Maradona," Bennaceur told AFP. "He was a genius, a football legend. As a referee, I did not allow myself to close my eyes even for a second when following him, because he was capable of anything."
A year after the World Cup, Maradona donned Saudi club Al-Ahli's shirt in Jeddah to help celebrate the club's 50th anniversary in a game against Brondby of Denmark, scoring two of the five goals to secure Al-Ahli's win.
The club paid tribute to the footballer on Twitter describing him as a "legendary icon of football".
Maradona, who was marred with health problems following years of drug and alcohol abuse, also scored for Argentina in a friendly against Morocco in 1994, which would prove to be his penultimate goal for his country after failing a drugs test at the that year's World Cup.