How I Escaped Third Robbery Attack – POS Operator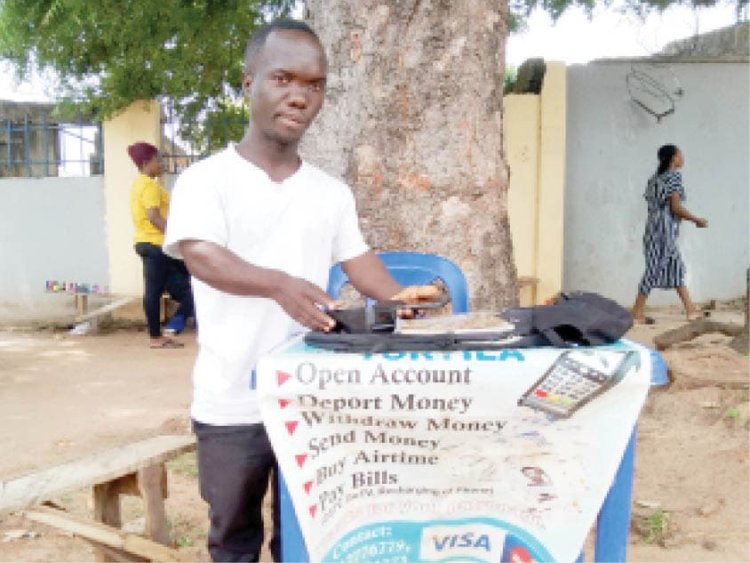 Aza Ngusha Israel is a 21-year-old Point of Sale (POS) operator in Nasarawa State. He started the business to raise fund to continue his education after acquiring a National Diploma in Accountancy from the Isa Mustapha Agwai Polytechnic, Lafia.
His decision to start a POS business had led to several threats to his life, which included being robbed twice. Ngusha is one of the POS operators in Lafia that robbers had turned to a cash cow due to their vulnerability.
POS is a fast-rising business in many communities in Nigerian. The few number of Automated Teller Machines (ATMs) encourage the use of the system for financial operations.
These operators are easy targets for robbers and hoodlums who take advantage of the cash in their possession.
Israel said that several times, the attacks had made him reconsider his decision to establish the business. He said that hardship and his future plans would have been aborted if he had left the business; hence he had to remain in the business despite the threats.
He said that when he started the POS business, some suspected armed robbers invaded his business centre and catered away the sum of N30,000. He said that after the first attack, he thought the hoodlums would not return, but he was wrong, noting that a month later, they resurfaced, attacked him and collected a total amount of N20, 000 at gunpoint.
"POS operators in Nasarawa State are not safe. Our lives are always at risk. These are the challenges we have been facing. Robbers and hoodlums don't always allow us to operate peacefully. I want to believe that the high rate of unemployment across the country is responsible for this unholy act," he lamented.
He said that because of the high crime rate against POS operators, he had to readjust his operating hours. "When I started this business, I would close for the day between 8pm and 10pm, but now, I cannot stay beyond 6pm due to the nefarious activities of armed robbers and hoodlums."
Emphasising why he has continued the business despite the dangers in it, he said, "I am into this business to enable me further my education. If not my uncle, I wouldn't have gone to school to obtain my National Diploma programme in Accounting. I lost my father at an early stage, but my mother is still alive. We are four and I am the third born.
"It was lack of fund that hindered me from starting my HND after graduating in 2020. It is from this little business that I take care of my younger ones, including my mother.
"I was motivated to establish the POS business in November 2021 with the aid of my uncle because I was staying idle at home after my ND programme. I didn't want to leave the burden on my uncle, who is also taking care of his immediate family."
He appealed to the state government to address the issue of insecurity in the state.
Israel further said some of the robbers used charms and guns to threaten him. He said the early closing hours had also not helped him as he was attacked last Tuesday.
"I was attacked by some armed robbers about 6pm. It was God that saved my life, with the aid of security personnel around Ombi 1, if not, I would have been killed," he said.
He said some hoodlums attacked him at gunpoint at 6pm last Tuesday in the Ombi 1 area of Lafia Local Government Area after he closed for the day.
Daily Trust Saturday had reported that police operatives from the Nasarawa State command had arrested a fake naval officer, fraudster and notorious criminal identified as Nasiru Ahmed in Karu Local Government Area.
The spokesperson of the command, DSP Ramhan Nansel, while parading the suspect recently in Lafia, said he usually dressed in full military camouflage of the Nigeria Navy and approached POS operators at different locations within Karu, under the guise of conducting transactions, during which he would send fake bank alerts into his victims' mobile phones.