Ganduje Built 200 Fulani Houses,Takes Responsibility for Educating 74 Fulani Children to Turkey to learn how to process milk.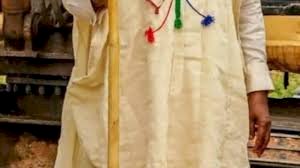 – In the future there will be a school, a hospital, a police station.
By Faizu Alfindiki
The governor made this known on Saturday during the inauguration of 200 Fulani Rugag Houses in Dansoshiya Village, Kiru Local Government Area of ​​Kano State.
The government has built a four million liter dam for the benefit of Fulani pastoralists who cannot go out to fetch water.
We are inviting Fulani herdsmen from all over Nigeria to come to Kano to enjoy the new Government Ruga program.
Houses built by the government, have all the amenities including water, pastures, milk processing plants and markets.
Governor Ganduje expressed concern over the long suffering of herdsmen who, according to him, have suffered in Nigeria through loss of life, theft, of their cattle and so on.
The Fulani are not known for their violence, but because of the hardships they are allegedly thrown into, they are forced to take revenge.
Today you see Fulani committing robberies, kidnappings and other heinous acts, so there is a need to establish more and more ranches," he said.
He said the reason for this was that a gallon of milk was more expensive than a gallon of oil, which clearly showed that the Fulani were not poor, nor were they fools.
Most of the nomads with dangerous weapons come from Mali, Cameroon and other African countries," he added.
Zubairu Ibrahim, speaking on behalf of the Fulani beneficiaries, the Secretary of the Miyetti Allah Association of Kano State, commended the Governor for fulfilling his promises regarding the Ruga Housing project.
He assured the governor that the houses would be used properly.
#Faizualfindiki
Special Adviser Public Affairs
Kano Government House
3rd,Sep, 2020.