FUDECO, together with other Fulbe organisations in Kaduna State, issue a Statement on the peace efforts in Zangon Kataf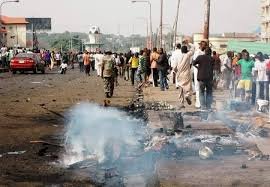 PRESS RELEASE BY THE COALITION OF FULBE (FULANI) ORGANISATIONS IN KADUNA STATE ON THE ZANGON KATAF PEACE AND RECONCILIATION SUMMIT
Issued on Tuesday 25th August, 2020
Gentlemen of the Press,
On Saturday 22nd August 2020, a one day Summit of Stakeholders involving representatives of Atyap, Fulbe and Hausa communities with a Theme "Exploring ways and means of achieving and sustaining lasting peaceful coexistence in the chiefdom" was held at the Maryamu and Yakubu Foundation Multi-Purpose Hall, Unguwan Wakili, Zangon Kataf LGA, Kaduna State. The Summit was convened by the Paramount Ruler of the Atyap Chiefdom, Mr. Dominic Yahaya.
During the Summit, various issues relating to the violent conflicts in the Chiefdom were discussed. At the end of the deliberations, a communiqué was issued summarizing the key decisions arrived at during the Summit.
A joint meeting of various pastoralists' organizations was held on Tuesday 25th August 2020 at the office of Mobgal Fulbe Development Association in Kaduna to review the proceedings and discuss the content of the communiqué of the Summit.
Following discussions, the Pastoralists organizations resolved to:
i) Strongly support His Royal Highness, the AgwaTyap, the Kaduna State Government and all the peace loving people of Zangon Kataf LGA to work towards enthroning lasting peace and stability in the affected areas.
ii) Strongly support the work of security agencies in preventing criminal and violent actions by cooperating with the agencies in their work.
iii) Remain resolute in pursuance of the path of peaceful resolution of all forms of disputes irrespective of the provocations by saboteurs and other persons of ill-intent who would work towards derailing the positive interventions of the Paramount Ruler and other peace loving patriots.
iv) Appeal to all other stakeholders including tribal organizations, religious organizations, politicians and the media to refrain from making frivolous and false accusations particularly against the Fulani Pastoralists; and
v) Appeal to stakeholders including peacebuilding organizations, humanitarian bodies and other people of goodwill to support the initiatives of restoring peaceful and harmonious coexistence in Zangon Kataf Local Government.
Our organizations wish to acknowledge the efforts of the State and Federal Government for the deployment of additional security personnel in the Southern Kaduna Senatorial Zone with a view to preventing violent crimes and unnecessary conflicts. We reiterate in strong terms our call on the government and security agencies not to relent in their efforts towards apprehending perpetrators of violence to serve as deterrence to intending perpetrators.
Thank you.
Ahmad Mairiga Yandeh (08032185272)
Chairman, Mobgal Fulbe Development Association MOFDA)
Haruna Usman Tugga (08065984125)
Chairman, Kaduna state Chapter, Miyetti Allah Cattle Breeders Association of Nigeria (MACBAN)
Abbas Jafaru Julde, (08035164075)
Chairman, Kaduna state Chapter; Bandiraku Fulbe Youth Association of Nigeria
Barrister Abubakar Ibrahim Naseh (08028390919)
Coordinator, Kaduna state Chapter; Fulbe Development and Cultural Organisation (FUDECO)
Ardo Idris Gundaru
Chairman, Kaduna state Chapter; GAn Allah Fulani Association of Nigeria.