EXCLUSIVE: Irigwe Youths Kill 25 Fulani Travellers In Jos, Over 50 Missing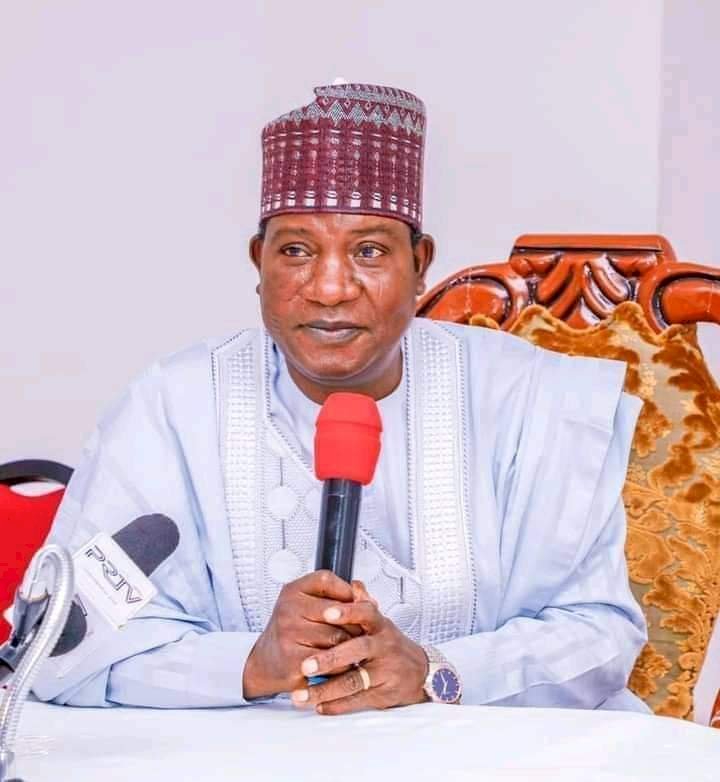 At least 25 Fulani travellers were on Saturday buried after they were intercepted and killed by suspected Irigwe militia in Jos, Plateau State, authorities and witnesses said.
The incident happened at about 10.30am around Gada-Biyu – Rukuba road area in Jos, the state capital.
Daily Trust gathered that about 50 of the travellers who were moving in a convoy of 5 hummer buses are unaccounted for at the time of filing this report, while at least 14 who sustained various degrees of injuries but escaped are being treated in hospitals.
Contrary to claims that the attackers were bandits, police authorities in Plateau State described them as "suspected Irigwe militia."
The assailants reportedly dragged the victims out of their vehicles which were trapped in gridlock and then killed many of them using machetes, daggers, knives, stones and other dangerous weapons.
Saturday's attack was carried out about two weeks after two people were killed when youths blocked the same Gada-Biyu highway.
Two trucks, one carrying cattle, were burnt to ashes. Attacks and reprisals have become common in Plateau State of recent, depleting the gains recorded following the restoration of peace by the incumbent government.
Governor Simon Lalong last night imposed a curfew on Jos North, Jos South and Bassa LGAs between 6pm and 6am.
Victims of latest attack
Our correspondent in Jos gathered that the victims of Saturday's attack were Fulani mostly born and brought up in Ondo and Ekiti states who were returning home after attending the annual Zikr (prayer session) organized by Sheikh Dahiru Usman Bauchi to mark the commencement of Muharram, the new Islamic New Year.
It was learnt that while moving in a convoy of five buses, the innocent travellers were intercepted while passing through Rukuba Road in Jos to avoid the congestion around the city centre.
They reportedly ran into a congregation of some members of the Irigwe community who were moving six corpses from Plateau Hospital for burial.
Plateau State Police Command in a statement confirmed that 22 lives were lost in the attack and identified the culprits as "suspected Irigwe youths and their sympathisers."
The State Police Public Relations Officer, ASP Ubah Gabriel, said in a statement: "22 Islamic faithful were intercepted and killed.
"They were travelling in a convoy of five buses and returning from the Annual Zikr prayer in Bauchi State and heading to Ikare in Ondo State. Unfortunately, 22 persons were killed and 14 injured in the attack.
"Upon receipt of the report, a team of police personnel, the military and other sister agencies were immediately mobilised to the scene where 21 victims were rescued and six suspects arrested," he said.
He said the Commissioner of Police, Edward Egbuka, and GOC 3-Division, Major General Ibrahim Ali, have visited the scene and ordered for a discreet investigation to fish out other perpetrators of the act.
Our correspondent who visited the Plateau Specialist Hospital observed that the 25 corpses deposited had been macheted with many showing head trauma.
A funeral prayer according to Islamic rites was held for the 25 victims within the hospital premises before they were conveyed to the Dadin Kowa burial ground in Jos South for burial.
Speaking with Daily Trust, the Secretary-General of Jama'atu Nasril Islam (JNI) in Plateau State, Alhaji Sani Mudi, said the remains of the victims were buried at the Dadin Kowa Cemetery to avoid escalating tension within Jos centre.
Mudi, who was at the Janazah (funeral prayer) for the victims, condemned the attack and called for calm among residents. He also urged security agents to fish out the perpetrators.
A resident of Jos, Mohammed Sani, accused security operatives in Jos of looking the other way when it was obvious that a disaster was about to happen.
"Over 3,000 Irigwe natives including men and women carried out an illegal procession for many kilometres. They took corpses from Plateau Hospital, passed through Ibrahim Taiwo Police Headquarters, Polo Ground and then Gada-Biyu.
"They were wailing, crying and singing war songs. They caused a serious gridlock along the route and emotions were high. Processions have been banned by the Plateau State government because of the tension in the state but nobody stopped the Irigwe. Security operatives should know that allowing open procession is a recipe for calamity," he said.
Some survivors of the attack
We await action from government – Dahiru Bauchi Foundation
The Sheikh Dahiru Usman Bauchi Foundation has condemned Saturday's attack on the Tijjaniyyah disciples.
The foundation said their members do not take laws into their hands and therefore will watch and see what the government will do to bring the perpetrators to justice.
The chairman of the foundation, Sayyadi Ibrahim Sheikh Dahiru, said in a statement issued on Saturday that many people had travelled to Bauchi from Kwara, Kogi, Ekiti and other parts of the country for the Muharram prayers.
Ibrahim described as "worrisome" the gruesome murder of their members.
"Unfortunately, the government cannot guarantee the security of innocent citizens travelling to other parts of the country peacefully," he said.
He prayed to Allah to forgive the deceased and give their families the fortitude to bear the irreparable loss.
MACBAN, GAFDAN want perpetrators fished out
The Miyetti Allah Cattle Breeders Association of Nigeria (MACBAN) puts the number of those killed at 29.
A statement issued by the National Secretary of MACBAN, Baba Othman Ngelzarma, stated that the travellers were from Ondo State and returning after visiting Sheikh Dahiru Bauchi.
Ngelzarma said the travellers had been attacked without any provocation and condemned what he described as "senseless violence" on travellers in Plateau State.
"We call on the security agencies to fish out perpetrators of this dastardly act as this is coming barely two weeks after trucks carrying livestock and foodstuffs were vandalized at the same location.
"Plateau, which enjoyed peace in recent times, is seeing an escalation in the run-up to local by-elections and this is unacceptable. We believe those behind this dastardly act are known and must be brought to account," he said.
The state chairman of the association, Nura Abdullahi, said they were concerned about the fate of the remaining victims who were yet to be accounted for.
"Our concern now is that out of 90 persons in the five buses, only 25 dead bodies have been recovered with 10 others that are injured. We are demanding that the state government and security agencies recover the remaining 55 persons," he said.
The Gan Allah Fulani Development Association of Nigeria (GAFDAN) in Ekiti State called on the government at the federal level to improve the security of lives and property in the country stressing that people should have a sense of safety when they travel from one destination to another.
The Secretary of GAFDAN in Ekiti State, Ibrahim Toyin, while condemning the attack on their members, said: "those killed were from Ayedun-Ekiti, who went for a religious function."
He called on the Ekiti State government to contact the Governor of Plateau State to see that those who killed their member were brought to book.
Victims from my state – Akeredolu
Governor Rotimi Akeredolu of Ondo State on Saturday said the 25 travellers killed in Plateau State were indigenes of Ondo State.
In a statement signed by his Chief Press Secretary, Richard Olatunde, the governor while calling for calms said the true identities of the victims will soon be unravelled and urged that nobody should take laws into their hands.
The governor said from the report he received from Plateau State Governor, Simon Lalong, the incident was a case of mistaken identity.
"The victims, according to preliminary reports, took a route where crisis between Muslims and northern Christians had ensued for some time, and that they may have been possibly mistaken for aggressors. Accordingly, either of the two feuding groups in the area could be responsible in this regard.
"I have spoken with my brother governor in Plateau, and he has assured me that the situation is under control. I want to plead with our people to remain calm. From the report I gathered, it is clear some were killed while many others who are injured have been taken to the hospital for medical attention.
"I also want to commiserate with the family of all those who lost their lives in this unfortunate incident. We mourn the departed and feel the pains of their loved ones," he said.
Lalong worried
Meanwhile, Governor Lalong has condemned the attack and warned those bent on fomenting trouble in the state to desist as his government will not allow any form of lawlessness to disrupt the peace.
Lalong said he had directed security agencies to swiftly identify and arrest the perpetrators.
He said attacks on innocent citizens no matter their backgrounds will never be tolerated in Plateau State and stressed that those found to be behind such attacks will be dealt with decisively to serve as deterrence and restore public order.
While commiserating with the families of those affected, the governor assured all law-abiding citizens that security has been beefed up around the area as well as the entire metropolis to forestall further breach of the peace.
Buhari orders manhunt of attackers
The Presidency has condemned the attack.
This was contained in a statement issued by a presidential spokesman, Garba Shehu.
"It is widely known that Plateau State has been one of the states affected by herder-farmer clashes, which have, in a significant way, been curtailed following the intense peace-building efforts of the administration of Governor Simon Lalong.
"However, to be clear, this is not an agriculturalist-on-pastoralist confrontation – but rather a direct, brazen and wickedly motivated attack on members of a community exercising their rights to travel freely and to follow the faith of their choosing.
"With the evident preparedness of their attackers, it is clear this was a well-conceived and prearranged assault on a known target, location and religious persuasion of the travellers not an opportunist ambush.
'The Presidency stands steadfast with both Christians and Muslims at this time in condemnation of this latest attack and expects and insists that justice is swiftly – but fairly – delivered to the perpetrators.
"Make no mistake about it: in line with my commitment to protect all Nigerians, I have ordered our security agencies to fish out the perpetrators of this gruesome massacre of innocent travellers and bring them to justice," President Buhari said in the statement.
From: Ado Abubakar Musa (Jos), Ahmed Mohammed (Bauchi), Bola Ojuola (Akure), Raphael Ogbonnaiye (Ado-Ekiti) & Muideen Olaniyi (Abuja) - via Daily Trust.