Do not debate with Shaik Abduljabbar, the result may be bad, Dr. Ahmad Gumi warns the Nigerian Government and islamic clerics in Nigeria.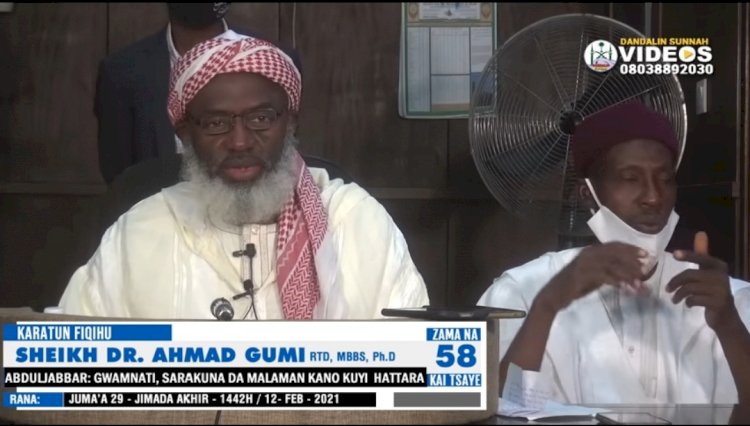 Dr. Ahmad Gumi warns the Nigerian governement and the islamic clerics in Nigeria not to engage Shaik abduljabbar in islamic debate, the result may not be Good, this came in few days after another salafist scholar, Dr. Sani Umar Rijiyar Lemu also step out of the debate too.
If we can remember for a very long time, shaik Abduljabbar has been accused of informal comments on some hadiths in islam, which he claims exists in the most famous hadith in islam, such as Sahihul bukhari, Sahihul muslim and Dabarani.
Both sides have been calling for a debate so that Abduljabbar should show them the hadiths that he claimed to have sighted, in the process the attention of Gov. Abdullahi Ganduje was drown in which he acted with full force by banning Shaik abduljabbar from preaching in kano and beyond, this decision that some people accused the government of denying abduljabbar a free trial, atleast the accuser should be allowed to defend him amonst the islamic scholars and the court of law
Abduljabbar has been in a battle of words between His own blood brother; Shaik Qaribullahi Nasiru kabara and the Salafist Scholars in Nigeria for more than a decade.
During shaik jafar's lifetime he has been in war of words with Shaik Abduljabbar, after shaik jafar was assasinated after preaching against Bòko haram in 2007, Shaik Abduljabbar was arrested and detained 3 times, he was detained in Kano, he was detained in lagos, he was also been detained in Abuja, all by shaik jafar's loyalists.
Thesame set of people like Shaik Abdulwahab Abdallah, the closes friend to late Shaik jafar, was among the leading critics of shaik Abduljabbar who are championing that abduljabbar should be banned and prosecuted.
Leaked audio where shaik Abdulwahab Abdallah says shaik Abduljabbar should be killed not for clerics to debate with him.
There exist a leaked audio where shaik abdulwahab abdallah was heard discussing with one of their students from Niger republic that it is proper for shaik Abduljabbar to be assasinated, not for clerics to be in a debate with him.
The issue of Abduljabbar and the Salafist islamic scholars and his blood brother remains on the public interest.
~Yazeed Umar