Covid-19 in Mali: Prime Minister Moctar Ann goes to the front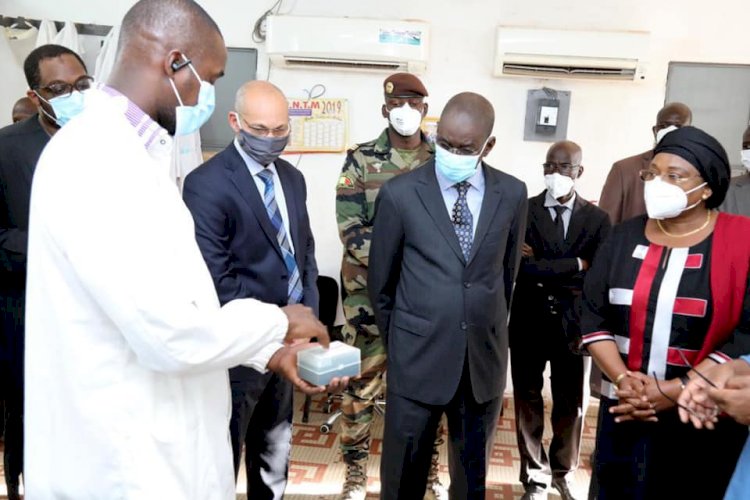 The Prime Minister, Head of Government, Mr Moctar Ouane, visited, this Monday, December 14, 2020, the National Institute of Public Health (INSP) and the hospital in Mali. He was accompanied for the occasion by the Minister of Health and Social Development, Dr. Fanta Siby.
At the INSP, the first stage of the visit, the Head of the Malian Administration carried out the screening circuit for Covid-19. He said the visit is intended to take the pulse of the Covid-19 pandemic in Mali. Mr. Moctar Ouane congratulated and praised the work "of women and men who fight relentlessly through the performance of tests under honorable conditions. "
The prime minister added that of 500 daily tests at the start of the pandemic, nearly 2,500 are being carried out daily today and that the Government is ensuring that there is no shortage in this area. He added that the Government has already ordered screening kits and amplification reagents to the tune of 933 million francs, part of which has already been delivered. Delivery will continue in the next few days.
The Head of Government then went to the hospital in Mali. On site, he visited the care services for covid-19 patients with a capacity of 107 beds.
At the end of the visit, Mr. Ouane paid tribute to the health personnel who are fighting a heroic fight against this pandemic. He brought them the warm greetings of the Government and expressed his gratitude for their dedication.
Finally, the Head of Government declared that all premiums due to health personnel will be paid as soon as possible. "Instructions have been given for the measure to be immediate," he concluded.
At the end of the visit, the Head of Government handed over materials to the hospital. This donation, worth 80 million francs, includes among other things surveillance monitors, care trolleys, mattresses….
Source: CCRP / Prime Minister