We'll Continue To Seek Ways To Improve Electricity – Minister Of Power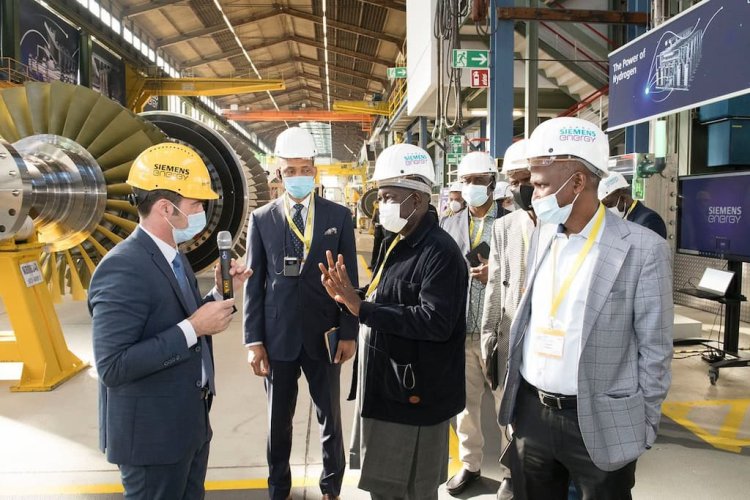 He said this when he rounded off a trip to Germany, with a visit to the Frankfurt factory of Siemens Energy company.
The Federal Government ordered some components for the upgrade and improvement of Nigeria's electricity from Siemens.
According to a statement by the ministry, during the visit, the minister met with top management of Siemens and senior German government officials.
Aliyu reiterated the determination of Nigerian government to continue seeking ways of improving electricity supply, pointing out that a milestone has been reached in the effort to realize the partnership on electricity between the federal government and the German energy firm Siemens – under the Presidential Power Initiative.
"The minister's visit was part of efforts of President Muhammadu Buhari administration to modernize, upgrade and stabilize electricity supply in Nigeria.
"During the visit, the minister expressed confidence in the commitment of Siemens to Nigeria's power sector transformation and urged the German firm to fast track the delivery of orders placed by Nigerian government for the implementation of first phase of the plan that is aimed at achieving 25,000 megawatts by 2025.
"The minister noted that delivering stable electricity is a priority of current Nigerian government and government is investing in the efforts to modernize Nigeria's power infrastructure for economic growth.
"Nigeria's Ambassador to Germany Ambassador Yusuf Maitama Tuggar noted that the visit of the minister of power Engr. Abubakar D. Aliyu to Germany is yet another sign of the total commitment of President Muhammadu Buhari to improving electricity supply.
"While receiving the Minister and his delegation at Siemens Energy factory in Frankfurt, the global energy giant's Vice President for Regional Sales Christoph Menger said that Siemens is committed to timely delivery of Nigeria's orders."
On the Minister's delegation were Mr. Kenny Anuwe, Managing Director of FGN Power Company – which is the special purpose vehicle for the implementation of the Presidential Initiative on Power, and Engr Mustapha Balarabe Shehu, Head of the Project Management Office of FGN Power Company was also part of the delegation.