Refugees: Zulum Addresses stakeholders on global compact, advocates resettlement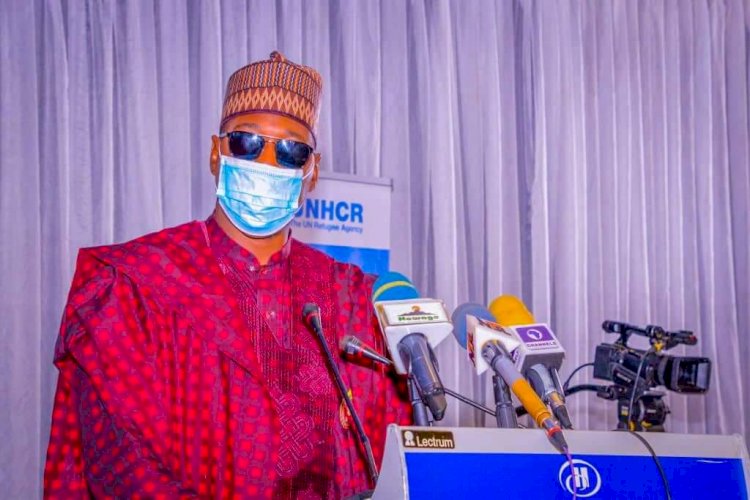 Borno State Governor, Professor Babagana Umara Zulum delivered a key note address at the stakeholders meeting on the implementation of global compact on refugees. The meeting took place at the Congress Hall of the Hilton Hotel, Abuja.
Governor Zulum in his address urged UNHCR a UN refugee agency to support in returning Borno residents that are taking refuge in the neighbouring Cameroon and Niger Republic. The said most of the refugees have been agitating to return to their communities to pick up the pieces of their lives.
The Governor also said, many communities have been resstled in last couple of months, he noted the state government is not forcing anyone to return but people are going back to their communities voluntarily.
The Global Compact on Refugees is a framework for more predictable and equitable responsibility-sharing, recognizing that a sustainable solution to refugee situations cannot be achieved without international cooperation. the GCR indicators framework
It provides a blueprint for governments, international organizations, and other stakeholders to ensure that host communities get the support they need and that refugees can lead productive lives.
It constitutes a unique opportunity to transform the way the world responds to refugee situations, benefiting both refugees and the communities that host them.
Also spoke at the meeting was UNHCR country representatives to Nigeria, Chansa Kapaya said, the global compact on refugees has four (4) key objectives they are ;
1. Ease the pressures on host countries;
2. Enhance refugee self-reliance;
3. Expand access to third-country solutions;
4. Support conditions in countries of origin for return in safety and dignity.
Other speakers at the meeting include, the minister of Humanitarian Affairs and Disaster Management, Hajjia Sadiya Umar Farouq.