Guinea:Women of Ratoma announce protest on the eve of Alpha Condé's inauguration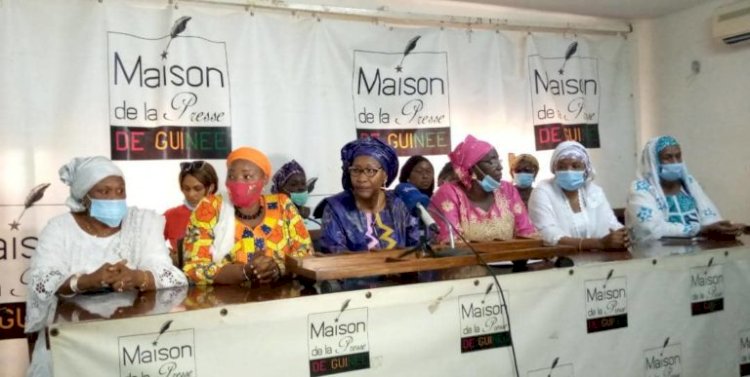 Tired of seeing Guineans being killed on the Hamdallaye-Bambeto-Cosa-Wanindara axis, opposition women from Ratoma commune intend to pound the pavement on October 14 to make themselves heard.
The decision to take to the streets was formalized in a statement read on the sidelines of a conference they hosted at the Conakry Press House. The march will take place on October 14 on the route from the Bambeto roundabout to the Bellevue heliport.
"Tragic events have occurred particularly in the commune of Ratoma. Serious violations of human rights, looting of material goods, rapes, arbitrary arrests, restrictions on freedoms have been perpetrated, '' said Hadja Fatoumata Binta Diallo on behalf of his opposition peers.
The women of Ratoma point out that since the end of the presidential election on October 18, 2020, Rat 'Ratoma commune has been under siege by the defense and security forces, which are the source of indescribable violence.
"Today in Ratoma, women are not allowed to go to the market to feed their families. Elders and imams are not allowed to go to the mosque for traditional prayers. Young people are not allowed to go to school. Children are no longer allowed to go and buy bread at the risk of being arrested or killed, '' said Hadja Fatoumata Binta Diallo.
Recalling that the electoral crises have left some 50 dead, this former MP says that the women of the opposition do not want to remain silent about the situation prevailing in Wanindara.
"We, the women of Guinea, condemn with the utmost energy the intolerable and unacceptable destruction of these human lives. We deplore this trivialization of Guinean life by our authorities, '' she assures us.
They require serious judicial inquiries to shed light on the case of deaths recorded in the post-electoral violence, before calling national and international opinion on the socio-political situation to witness with a `` special emphasis on the municipality of Ratoma and with the risk of implosion of the country that it can generate ''.
Abdoulaye Bella DIALLO, for VisionGuinee.Info