Photojournalist Captures President Barrow Waving At Small Crowd From Window Of His Car As He Returns To The Country From Niger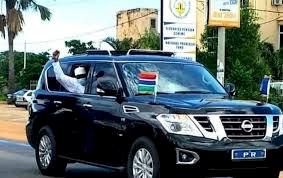 A photojournalist showed his brilliance Tuesday afternoon by capturing President Adama Barrow waving at a small crowd on Bertil Harding Highway while travelling back to State House from a trip abroad.
President Barrow left the country on Sunday for Niamey, Niger to take part in a summit of Ecowas leaders.
Photojournalist Ebou Waggeh snapped the president near Social Security and Housing Finance Corporation Tuesday afternoon. The president's fisted hand could be seen up in the air from the window of his car as he drove past.