Palliatives: Why Photograph Of Gov Fintiri Is On Bags Of Rice – Aide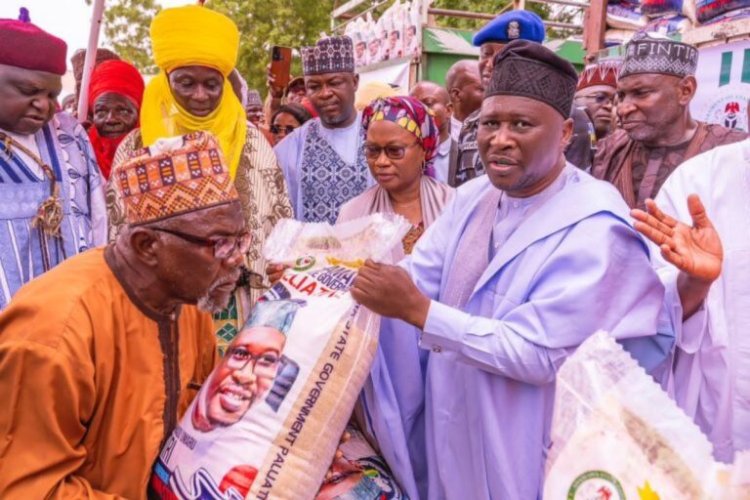 Edgar Amos, Chief of Staff to Governor Ahmadu Fintiri of Adamawa State, has defended the decision to put the picture of the governor on bags of rice distributed to the public as palliatives.
Due to the hardship occasioned by the removal of fuel subsidy, the Federal Government had released money and food items to states.
Governors have been distributing the items and handing out money to residents of their states, though there has been a controversy on the worth of the things being given out.
In an interview on Channels TV, Amos said the picture of the governor was put on sacks of rice to ensure that the food items were not diverted or sold on the black market.
He said, "It is an argument for those who are already comfortable, by the way we see the photographs of Tinubu in all the offices of the country, whether you voted for Tinubu or not he is the president of Nigeria and you have his photographs.
"This is the governor of Adamawa State, whether you voted for him or not you have his photographs in offices, by the way, it has advantages, it means that somebody who wants to go and sell it in the market will not do so because it is already branded. It is a way of checking the abuse in the process.
"And this is the governor that is loved by the people, so you see picture of the one you love and eat the rice from the bag, so be it. Who do you think his photographs will be on the rice and it will be better sell for instance?
"Anybody who is hungry and is questioning the photographs on the bag of rice is not hungry man, definitely he is not, I don't think the hungry man will question the photographs on the bag of rice."