Nigeria Air: After Ethiopian Airlines Grabs 49% Stake, MRS, SAHCO, Other Local Firms Manage 46%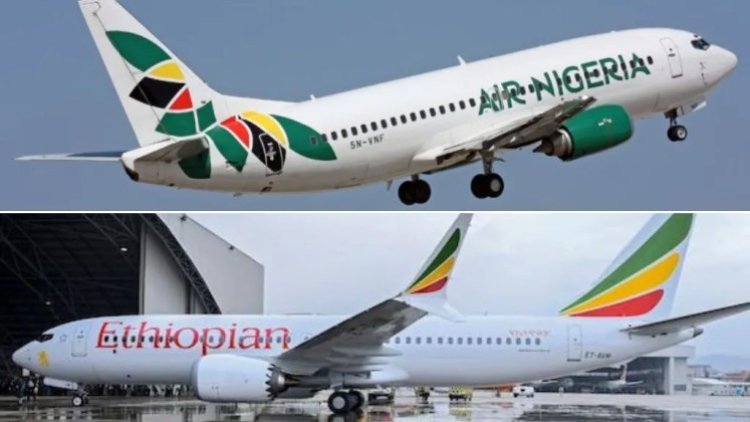 A
s Nigerians await the takeoff of Nigeria Air, transaction records have shown that the minority shareholders after the federal government with 46 per cent stake are Nigerian firms comprising MRS (also in the energy industry), SAHCO (aviation handler) among other investors.
Ethiopian Airlines alone takes 49 per cent of the stakes making it the largest decision maker for the planned national airline. The Federal Government of Nigeria, however, retains 5 per cent.
"After a careful, detailed and ICRC governed selection process, Ethiopian Airlines (ET) Consortium has been selected as preferred bidder, offering an owner consortium of 3 Nigerian investors MRS, SAHCO and other institutional investors (46 per cent), FGN owning 5 per cent and ET 49 per cent," stated one of the transaction records.
The much-anticipated Nigeria Air, the Nigeria's national carrier, is gradually gaining traction as the federal government said it is fast tracking the delivery of the national carrier that has been in the works actively in excess of seven years.
Going by the presentation by the Minister of Aviation, Sen. Hadi Sirika, Nigeria Air may be delivered before 2022 comes to a close or by the first quarter of 2023. The minister has promised the national carrier will take to the skies before May 29, 2023 when the lifespan of this government will expire.
But before Nigeria Air comes alive, here are more details extracted from various transaction records for the airline which is a Public Private Partnership (PPP) project.
According to its expected operational plan, Nigeria Air will be launched with three Boeing 737-800 under a dry lease arrangement, starting in the first instance, with a shuttle service between Abuja and Lagos. Other domestic destinations will follow thereafter and perhaps regional and international flights.
According to the documents, the Infrastructure Concession and Regulatory Commission (ICRC) approved all the Outline Business Case (OBC) while the investors will develop a Full Business Case (FBC) for the ICRC and the Federal Executive Council to approve within six to eight weeks.
Already, Nigeria Air has been granted Air Transport License by the Nigerian Civil Aviation Authority (NCAA) but is expecting Air Operator Certificate (AOC) from the NCAA. However, officials said it will fly without the AOC.
To commence the operations, a transaction note shows that all investors comprising Ethiopian Airline, the Nigerian investors and the minority holder – federal government, should be collectively staking $350 million (about N151.8 billion).
As its operations expand, the investors will grow the airline's fleet to 30 aircraft and international operation could begin within two years.
It was also learnt that the first aircraft is ready to arrive in Abuja for the further work and NCAA inspection, demo flights and audit as part of the AOC requirements.
Already, Nigeria Air has an interim management team already working. The interim executive team has prepared, with the support of FAAN, the Terminal C at the Abuja Airport and finalized a contract with MMA 2 terminal in Lagos, for the operation of an initial shuttle between Lagos and Abuja.
It was also revealed that a signature-ready contract has been finalized with Ethiopian Airlines for three Boeing 737-800 with a 16 Business Class and 150 Economy Class configuration.
Nigeria Air Limited will work directly with ET to provide three B737, initial crews and engineers, while NAL is recruiting 737 rated experienced captains, first officers and cabin crew, as well as aircraft engineers.
Nigeria Air considers China-made jet
Another development to note about the new national carrier according to a Reuters' report is that Nigeria would consider buying China's newly-certified C919 passenger jet as it grows the country's fledgling carrier Nigeria Air to 30 planes by around 2025.
The global news platform quoted the Aviation Minister Hadi Sirika as saying the new airline would have a mixture of Airbus (AIR.PA) and Boeing (BA.N) planes, but added the carrier is also willing to look at the Chinese narrowbody jet, which Chinese regulators certified last week Friday.
"We haven't looked at that C919. But if it's as good as the others then why not," he told Reuters on the sidelines of the United Nations aviation agency's triennial assembly in Montreal, Canada.
On Friday, China hailed the development of its first medium-haul passenger jet as the embodiment of the country's drive towards self-sufficiency, with safety approval awarded to a plane that aims to challenge Western aircraft giants for orders.
The first C919 aircraft, designed to compete with popular single-aisle models made by Airbus and Boeing, will be delivered by the end of the year, state Xinhua News Agency said.
It remains unclear when the plane might be certified by the United States or Europe, opening the way to sales in most foreign markets, but industry analysts say it will be up to a decade before China can seriously tackle the existing Boeing-Airbus duopoly.
"China and Nigeria have a very cordial and friendly relationship with mutual benefits," Sirika said.
For decades, China has loaned billions of dollars to Africa to build railroads, power plants and highways as it deepened ties with the continent while extracting minerals and oil.
Nigeria, Africa's most populous nation, is the top importer of Chinese goods, hoovering up $23 billion worth in 2021.
Despite cloned portal, recruitment ongoing
Despite reporting a cloned recruitment portal this week, the management of the airline has revealed that over 20,000 applications have been made.
It first announced the recruitment of qualified crew members and other workers on September 23, calling on B737 captains, first officers, senior cabin crew and cabin crew, and engineers to apply for the job in Abuja or Lagos.
In an update through a statement by the special assistant to the aviation minister, James Odaudu, the national airline company said: "Management appreciates the unprecedented level of interest shown by Nigerians in the airline which has resulted in the receipt of over 20,000 applications for positions in the organisation so far, and wish to state that the recruitment process for other positions will begin in due course."
It also warned about fake recruitment websites. "All those concerned are therefore advised to ignore such announcements or invitations, as responding to, or dealing with them in any way, will be at their own risk."
For now, candidates should know that no recruitment interviews or tests have been scheduled.
"All such announcements or invitations for such should be disregarded as they are the handiwork of fraudsters and scammers," NAL noted.