Buhari, The Military, Ortom: Blood On Your Hands
When a woman was killed by a policeman in Lagos last month, the whole country erupted in outrage, and rightly so. Last Tuesday, 38 Fulani…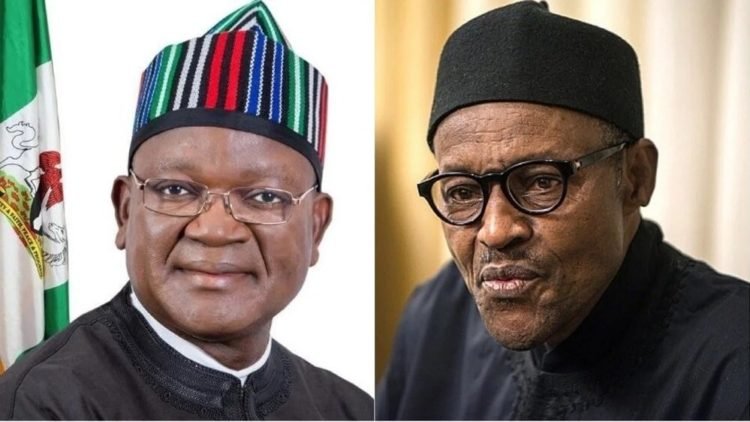 When a woman was killed by a policeman in Lagos last month, the whole country erupted in outrage, and rightly so. Last Tuesday, 38 Fulani men were gunned down in cold-blood by a military drone in Rukubi community of Doma Local Government Area of Nasarawa State, but there has been not a whimper of protest from almost anyone. Just a day before, airstrikes by the Nigeria Airforce reportedly killed "scores of persons", as one newspaper put it, at Galkogo community, in the Shiroro Local Government Area of Niger State. That too went almost without any notice.
Perhaps some Nigerian lives are more equal than others. But the massacre at Rukubi was not the first, and not even the tenth time Nigerians of northern extraction would be shelled to death near their homes, farms or internally displaced persons' camps by Nigeria's military authorities in the excuse of fighting terrorism. Immediate culpability for this most gruesome murder goes to the military authorities, who, up to till this moment, have remained dishearteningly silent. That the military authorities think they can get away with silence on so callous an attack is itself an indication of how worthless they presume the lives of certain categories of Nigerians. The military have got away with silence and terse reaction severally in the past, only to come back to kill again, and again.
When will this stop, or rather when is the next strike and how many will be killed?
According to a tally put together by this newspaper, 260 civilians have been killed by military airstrikes in 13 separate incidents since 2014. Five of those attacks have occurred in the northeast state of Borno, where a total of 116 people were killed between March 2014 and September 2021, including the air raid on an IDP camp in the village of Rann in which 53 internally displaced persons were killed in June 2017. Two attacks each occurred in Niger and Zamfara states, with a total of 95 fatalities between 2019 and last week. One attack each were in Yobe, Katsina and Nassarawa states. A total of 49 people were killed in those separate incidents, including the 38 Fulani men who died in the latest incident last Tuesday.
It is remarkable that of these 13 incidents of military attacks on Nigerians, all but one occurred under the watch of President Muhammadu Buhari between 2017 and this year. Yet, the President has scarcely responded in a way that will forestall a recurrence. Not a single investigation into any of these attacks has been completed or made public, if any was ever ordered at all. No wonder, the incidents keep rising and the dead keep piling up. The President's general silence on matters of life and death of innocent Nigerians is the unfortunate example which the military authorities have duly followed. And by that reasoning, the President shares even greater culpability than the military chiefs he appointed.
Let no one be in any doubt, we condemn terrorism in any form. We also, appreciate the difficulties of fighting it in an environment such as ours, as we have acknowledged on these pages several times before. But the Federal Government must realize that the challenge of fighting terrorism must be balanced by the higher demands of respect for the human rights of citizens, particularly the right to life. The rate at which innocent civilians in Northern Nigeria are routinely gunned down in the name of the fight against terror has reached unacceptable levels and we are compelled to speak out—since no one else would—because in no other part of this country would such repeated incidents and increasing death toll be allowed to pass so quietly each time.
But if military authorities and the presidency bear culpability, one for repeatedly and increasingly shelling down innocent civilians, and the other for doing nothing about it each time, so too does the Governor of Benue State, Mr Samuel Ortom in this latest instance. For nearly eight years now, Ortom has used the powers of his office to target Fulani pastoralists, a very tiny minority in his state. He has passed punitive laws that are designed to economically emasculate and make life intolerable for them. He often speaks only the language of war and conflict, not of peace and belonging that his exalted position demands. He has built ethnic militias and sought to arm them with AK-47 rifles to further his ignoble ambition of ethnic cleansing in a federal Nigeria where all citizens have the right to live in every state of their choosing. He has represented the minority Fulani in dehumanizing and discriminatory language as "invaders", "killers", and "terrorists", and the majority citizens of the state as victims, even though it is the pastoralists who are routinely killed by questionable military airstrikes.
Last Tuesday's killing of the 38 Fulani, who had just paid a fine totalling N29 million to assuage one of Benue's new punitive laws, is the direct result of Ortom's intense and ceaseless profiling. For how long will the Federal Government and the National Assembly tolerate Ortom's demagoguery? For how long will military chiefs keep mum as their men pull the trigger on innocent Nigerians? For how long will President Buhari continue to keep mum even after a dozen such incidents under his watch? The blood of the dead and the tears of the living demand answers, and a stop to it all.
Source Daily Trust