Security Prioritized, Borrowing Exceeds 3% Threshold … 10 Highlights Of 2022 Budget Speech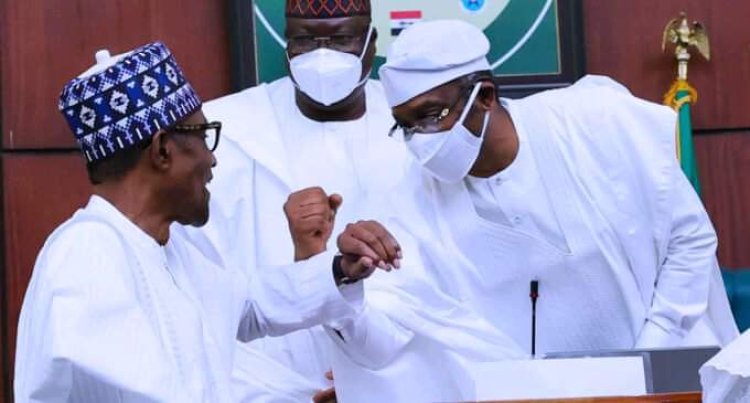 President Muhammadu Buhari on Thursday presented an appropriation bill of N16.39 trillion — the total expenditure of the federal government in 2022.
The bill christened 'Budget of Economic Growth and Sustainability' was laid before a joint session of the national assembly.
A breakdown of the budget shows that N768.28 billion was earmarked for statutory transfers, N6.83 trillion for non-debt recurrent costs, N792.39 billion for overhead cost and N5.35 trillion for capital expenditure.
Here are key highlights of the budget presentation:
KEY PARAMETERS
a. Conservative oil price benchmark of 57 US Dollars per barrel;
b. Daily oil production estimate of 1.88 million barrels (inclusive of Condensates of 300,000 to 400,000 barrels per day);
Advertisement
c. Exchange rate of four 410.15 per US Dollar; and
d. Projected GDP growth rate of 4.2 percent and 13 percent inflation rate.
REVENUE PROJECTION
The federal government estimated revenue at N17.70 trillion in 2022.
Total federally distributable revenue is estimated at N12.72 trillion in 2022 while total revenue available to fund the 2022 budget is estimated at N10.13 trillion. It includes grants and aid of N63.38 billion as well as revenues from 63 government-owned enterprises.
Oil revenue is projected at N3.16 trillion, non-oil taxes are estimated at N2.13 trillion, and independent revenues for the federal government are projected to be N1.82 trillion.
SECURITY AS TOP PRIORITY
The president reaffirmed that defence and internal security continue to be the country's top priority.
"We remain firmly committed to the security of life, property and investment nationwide. We will continue to ensure that our gallant men and women in the armed forces, police and paramilitary units are properly equipped, remunerated and well-motivated," Buhari said.
"The 2022 budget is also the first in our history, where MDAs were advised on gender-responsive budgeting. These are part of critical steps in our efforts to distribute resources fairly and reach vulnerable groups of our society."
2022 PROPOSED SPENDING
A total expenditure of sixteen point three-nine (16.39) trillion Naira is proposed for the federal government in 2022. The proposed expenditure comprises:
Advertisement
a. Statutory Transfers of N768.28 billion;
b. Non-debt Recurrent Costs of N6.83 trillion;
c. Personnel Costs of N4.11 trillion;
d. Pensions, Gratuities and Retirees' Benefits N577.0 billion;
e. Overheads of N792.39 billion;
f. Capital Expenditure of N5.35 trillion, including the capital component of statutory transfers;
g. Debt Service of N3.61 trillion; and
h. Sinking Fund of N292.71 billion to retire certain maturing bonds.
FISCAL DEFICIT OF N6.26 TRILLION
The total fiscal operations of the federal government result in a deficit of N6.26 trillion.
The government plans to finance the deficit mainly by new borrowings N5.01 trillion, N90.73 billion from privatization proceeds and N1.16 trillion drawdowns on loans secured for specific development projects.
BORROWING EXCEEDS THE 3 PERCENT THRESHOLD SET BY FISCAL RESPONSIBILITY ACT
The proposed borrowing represents 3.39 percent of estimated GDP, above the 3 percent threshold set by the Fiscal Responsibility Act, 2007.
Justifying the borrowing, Buhari said countries have to overshoot their fiscal thresholds for economies to survive and thrive.
"We need to exceed this threshold considering our collective desire to continue tackling the existential security challenges facing our country," he said.
Last year, the government also exceeded the borrowing limit.
Zainab Ahmed, minister of finance, budget and national planning, had stated the COVID-19 pandemic as a reason for such action.
The fiscal responsibility law provides a limit of 3 percent debt threshold for debt sustainability. The Act allows the president to "exceed the ceiling if there is a clear and present threat to national security or sovereignty of Nigeria".
INCREASE DEBT-TO-GDP RATIO TO 15 PERCENT BY 2025
The president said the federal government is targetting to increase the revenue-to-GDP ratio to 15 percent by 2025 from its current 8 percent.
"At that level of revenues, the Debt-Service-to-Revenue ratio will cease to be worrying. Put simply, we do not have a debt sustainability problem, but a revenue challenge which we are determined to tackle to ensure our debts remain sustainable," Buhari explained.
"Very importantly, we have endeavoured to use the loans to finance critical development projects and programmes aimed at improving our economic environment and ensuring effective delivery of public services to our people.
We focused on:
a. the completion of major road and rail projects;
b. the effective implementation of Power sector projects;
c. the provision of potable water;
d. construction of irrigation infrastructure and dams across the country; and
e. critical health projects such as the strengthening of national emergency medical services and ambulance system, procurement of vaccines, polio eradication and upgrading Primary Health Care Centres across the six geopolitical zones.
TAXATION
Buhari said the government will improve revenue mobilisation in 2022 to achieve the following objectives:
a. Enhance tax and excise revenues through policy reforms and tax administration measures;
b. Review the policy effectiveness of tax waivers and concessions;
c. Boost customs revenue through the e-Customs and Single Window initiatives; and
d. Safeguard revenues from the oil and gas sector.
PUBLIC-PRIVATE PARTNERSHIP
The government said it would strengthen the frameworks for concessions and public-private partnerships (PPPs). It stated that capital projects that are good candidates for PPP by their nature would be developed for private sector participation.
It tends to look at opportunities in green finance such as Sovereign Green Bond Programme and leveraging debt-for-climate swap mechanisms.
FINANCE BILL 2022
According to the president, the Finance Bill 2022 is under review. He said once completed, the Finance Bill would be submitted to the national assembly to be considered alongside the 2022 appropriation bill.
The Cable