Nigeria Needs Massive Investments To Avert A Deepening Crisis In Education
By Cristian Munduate Thirteen-year-old Ibrahim was abducted from school in north-west Nigeria in late 2020. Gun-toting men attacked his school around midnight and abducted him…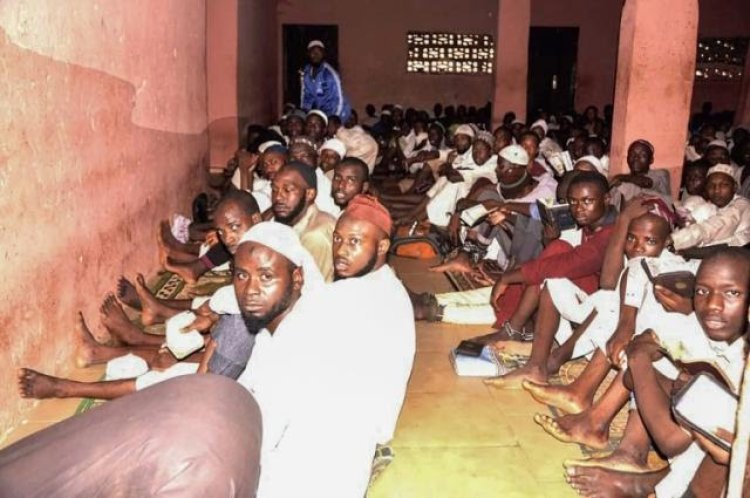 Hundreds of men and boys were found being held in atrocious conditions in a Kaduna compound described as a religious school and rehabilitation centre
By Cristian Munduate
Thirteen-year-old Ibrahim was abducted from school in north-west Nigeria in late 2020. Gun-toting men attacked his school around midnight and abducted him and his classmates. They spent one week in captivity before being rescued. "Ibrahim is not going back to that school, nor any other school soon," said his traumatized father.
Like Ibrahim, far too many Nigerian children today are not in school, and for those who are, far too many are not getting the kind of education they need to be successful in life. This needs to change.
With an estimated 10.2 million children out of primary school and 8.1 million out of junior secondary school, Nigeria has one of the world's highest rates of out-of-school children in the world. One in three children in the country is not in school and Nigeria's out-of-school population accounts for 15 per cent of the global total.
Aound 66 per cent of all out-of-school children are in the north-east and north-west where schools continue to be attacked and schoolchildren abducted. This has caused learning disruption for 1.3 million children because of precautionary school closures in 2021. Between 2017 and 2021, 84 schools were attacked by armed groups, 29 of these attacks were carried out in 2021. In 2021 alone, 1,446 schoolchildren and 24 teachers and other school staff were abducted by armed men in the north-west.
Furthermore, for those children who make it to the classroom, most do not learn sufficiently. In fact, 75 per cent of children aged 7 to 14 years in Nigeria cannot read a simple sentence or solve a basic math problem. Poor learning fuels school dropout, depriving children of their fundamental right to quality education.
Early childhood education, which paves the way for learning at school and throughout life, is out of reach for most young children in Nigeria. Only a little more than a third (38 per cent) of children between the ages of 3 and 5 attend early childhood learning programmes.
Behind these massive challenges is low public education financing.
Between 2001 and 2017, Nigeria allocated on average 1.97 per cent of GDP per year to education, below the global recommended benchmark of 4 to 6 per cent. While 10.1 per cent was allocated to education at federal and state levels in 2022, there is a still a long way to go to reach the international benchmarks of 15 to 20 per cent of national budgets spent on education. Regressive spending patterns also show that salaries account for 90 per cent of total recurrent spending, leaving less than 10 per cent for quality learning support.
Due to this chronic underinvestment, there is only one junior secondary school for every five primary schools and a shortage of 175,000 teachers in basic education across the country.
As we embark into a new year, we can turn this challenge into an opportunity with the right investments. By improving access to quality and inclusive education for all children, including providing life skills, digital skills, and 21st century job skills for adolescents, we can build the next generation of young Nigerians who will transform the country. And we will also be able to unlock positive economic and security impacts that will be felt the world over.
To give some ideas of what can be done, in Nigeria, among other interventions, together with partners, we are supporting two models that can make a difference: Reading and Numeracy Activity (RANA) and Teaching at the Right Level (TaRL).
RANA works to improve teachers' capacities to provide quality literacy and numeracy for girls and boys in grades 1 to 3. TaRL targets schoolchildren from grades 4 to 6 with focused and tailored support in reading and math depending on their learning level.
RANA and TaRL are delivering promising results for children. Children participating in the TaRL pilot, for example, saw their reading and math skills improve dramatically. Children able to read a whole paragraph increased from 14 to 45 per cent while those who could do a simple subtraction rose from 11 to 59 per cent in the space of a year. These models now need to be introduced across the country to benefit all children in Nigeria.
UNICEF welcomes the Government of Nigeria's pledge to increase annual domestic expenditure on education by 50 per cent over the next two years and 100 per cent by 2025 and improve school safely and quality of learning. It is only with a significant increase in expenditure and more efficient planning, budgeting and delivery of education through tried-and-tested interventions such as RANA and TaRL that Nigeria can create a generation of educated young people able to contribute to one of Africa's largest economies.
UNICEF calls all citizens, communities, families and different actors and sectors to commit to education. Education for children is the responsibility of all adults. All children in Nigeria have a right to education, which is the key for their development and the prosperity of Nigeria.
Source Daily Trust