Interrogating IPOB's Emma Powerful Threat To Spill Blood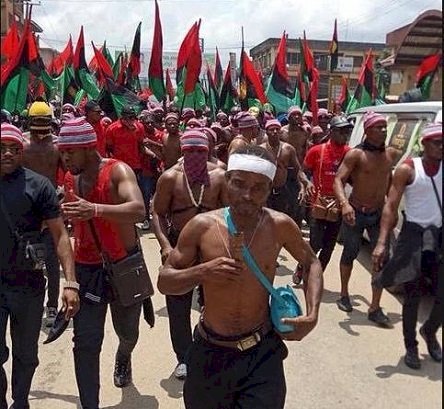 The threat to murder in cold-blood by one Emma Powerful, media and publicity secretary of the Indigenous Peoples of Biafra (IPOB) of any Igbo who neglects his warning is certainly going too far and should not be ignored, except we have finally descended into anarchy, where the powerful – as the little fascist, Mr. Emma Powerful as he called himself – can drag people out for merely disagreeing with him or his organization and have them dispatched to their ancestor as he boasted. He did not seem to boast empty; as the mayhem that is enveloping the South East region of Nigeria is obviously orchestrated.
Bereft of the understanding of the simple Igbo leadership etiquette, where a leader is "Onye-oje ozi," or servant of his people who builds consensus through extensive consultation, the Emma Powerful' who prefer a thuggish title of "Onye-ike," whose basic instrument is coercion, intimidation and now threat to murder the same Ndigbo, who he claim to champion their cause. For a man so intolerant and wired to effortlessly shed blood to advance his cause, the question is who would really want to live in a Cave Republic run by bloody thugs.
The historical Biafra was not a choice made by Ndigbo; it was rather the only available option forced on Ndigbo at the time at a particular time in history, which they braved out with enormous heroism and sacrifice to defend and uphold. Biafra was not so much rebellion as it was a resistance to affirm the right of a people not only to exist but to live in dignity.
The historical Biafra was a line of safety drawn so that all of the Igbo people then, brutally persecuted who crossed into, can live in relative safety.
The declaration and the struggle of the historical Biafra was not a show piece or a profit-making enterprise for which the current purveyors are curiously engaged in. Prior to the declaration of Biafra in 1967, the Eastern consultative assembly, a formidable representative and consultative body of all shades of opinions in the eastern region, given the circumstances of the time unanimously agreed and gave their authority to the declaration. And that was why the war to defend the young republic was a widely shared enterprise of Ndigbo and even other non-Igbo ethnic nationalities in the region, who made unforgettable sacrifices.
Even as the war ended, with the collapse of Biafra, and national reconciliation, Ndigbo returned to project Nigeria without malice and with considerable determination and courage, to enable it work.
The context of contemporary Nigeria's crises and deepening fissures is on account of a neo-capitalist state hobbled by the backwardness and fetter of the productive forces, shackled and unable to reproduce the material basis for its existence. As the contemporary Nigeria's state grows hollow and enters a melting point of atrophy and lethargy, the basic units consisting of ethnic nationalities and other civic, cultural and religious entities struggle for a space of self-preservation, expression and recreation.
In the overall, it is easier to brandish a secessionist flag, without an iota of understanding of the critical socio-economic infrastructure on which a viable state can be constructed. Africa's newest state, South Sudan is still tragically in the intensive care unit, leaving the larger number of her population in worse condition than the earlier condition before a brand new state was created.
There is nothing to indicate that the current loud canvasser of Biafra has any insight into what a state establishment and construction is all about. Even as the independent state, the yearn for are not in insight, the authoritarian and fascist streak of its purveyors like the threat of the Emma powerful that whoever disagrees with him would be dispatched to meet his ancestors are already evident.
Ndigbo is quite sophisticated to be led by thugs and touts, who lack the simple understanding that Igbo political culture and framework is basically consultative. The little dictator Mr. Nnamdi Kanu, who does not know any village in Igboland, besides his own, claims the leadership of Igbo nation as entitlement, a people, whose lives he hardly understood, except for the inflow of donations from its diaspora.
The media and publicity secretary, Mr. Emma, the 'Powerful' through arrogance and petty fascist impunity has done more damage to the Igbo basic framework of consultation and consensus.
Only a thuggish organization issues threats of murder and destruction to those who disagree with it. But this latest threat issued by Mr. Emma, 'de powerful' to dispatch to ancestors; Ndigbo who refused to fall in line with him, is going too far. .
Charles Onunaiju writes from Abuja