Kaduna Serving Councillor Arrested with AK-47, Ammunition.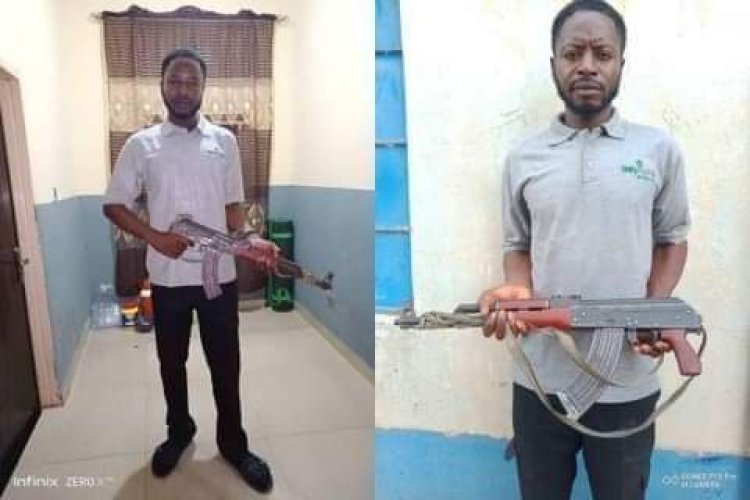 A serving member of the legislative council of the Soba local government area in Kaduna state has been alleged arrested with an AK – 47 rifles loaded with six rounds of ammunition.
The police authorities in Kaduna state said he was intercepted on a motorcycle by operatives on patrol in Giwa Local Government Area.
Kaduna Police spokesperson, Mohammed Jalige explained that in the course of the investigation, the councilor confessed he was bound to deliver the said firearm to bandits.
The suspect Abdulrahaman Adamu represents kinkiba ward in Soba local Council and the incident occurred on the 9th of May at about 8PM.
The Commissioner of the Kaduna State Police Command Yekini Ayoku has ordered a full-scale investigation to unravel others involved in the act.
Giwa local government area has come under severe terrorist attacks in the past six months with more than 150 people reportedly killed.

Giwa Local Government is one of the Local Governments that have been worst hit by the insecurity that has pervaded Kaduna State for some time now.
In March of this year, Bandits killed People in Six Villages of the Local Government while 23 Other People were also killed in the same period between the 26th and 30th of March.
His arrest would also be seen as a major success for the Security Forces in the State with the issue of Collaborators a major one that has defied many solutions.
The State Government and Security Agencies in the State have always alleged that collaborators have made it more difficult to bring than the alarming insecurity in the State.
The Recent attack by Bandits/Terrorists on the Kaduna-Abuja passenger train has been attributed to the work of collaborators.
The State Governor Nasir El-Rufai who has vowed never to negotiate with Terrorists and instead called for a carpet bombing of Bandits/Terrorist enclaves in the State will be a happy man following this arrest, especially following allegations before now of the complicity of some government functionaries in the means that insecurity has become in the NorthWest.