Going to the United States doesn't guarantee a license to heaven, Mallam is making Kaduna great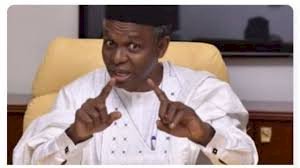 By Friday Damian
I call on the folks celebrating the travel ban to show us the achievements of those Governors or politicians that have lived and toured the United State over the years.
It is exigent that we compare the infrastructural development in those regions they supervise(d) to that of Kaduna and Kano.
Only then, you will understand that a lot of persons are out there exhibiting crass gullibility to issues beyond their comprehension and they wallow as wailers in their unfathomable illusions.
Again, if going to the United State doesn't guarantee a licence to HEAVEN, then why yell unnecessarily? It's more dignifying that you SHUT UP and stop exposing your fetid mediocrity in this space.
Mallam is making Kaduna great. Dividends of democracy is what matters now.
Nigeria is our home.
There is no place like home.
READ MORE: http://www.kadunapoliticalaffairs.com/2020/09/opinion-going-to-united-states-doesnt.html