Gambia:Deputy Speaker of the National Assembly Seedy SK Njie's Statement at the 146th Inter-Parliamentary Union (IPU) Assembly in Manama, Bahrain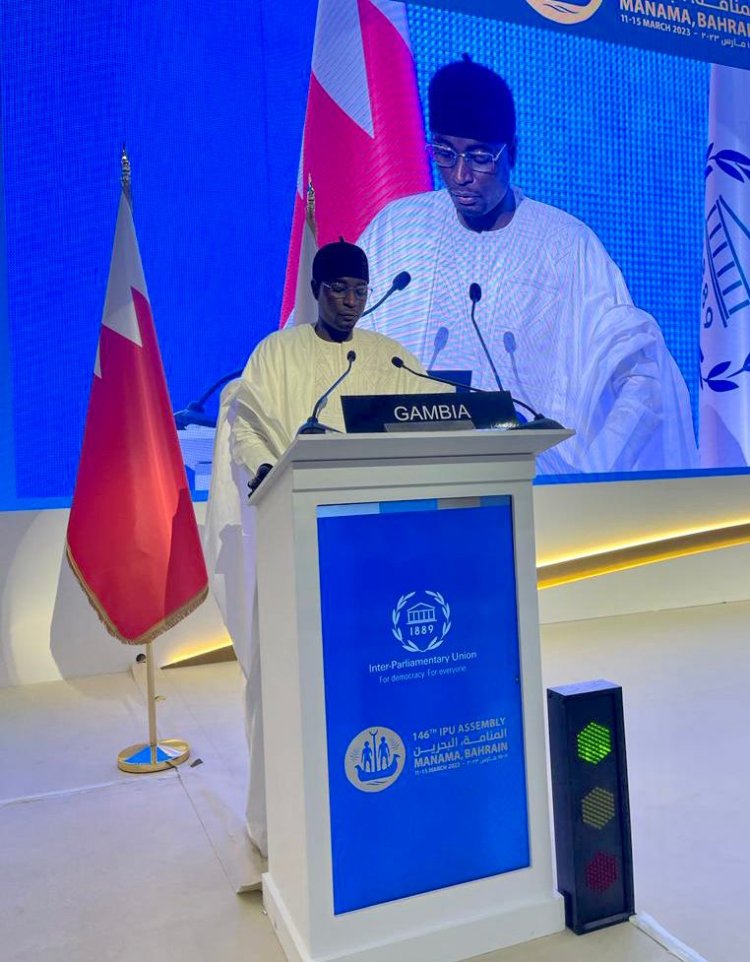 Statement:
Your Excellency, Mr President,
This important conclave under the theme "Promoting Peaceful Coexistence and Inclusive Societies: Fighting Intolerance" is indeed timely and shows a clear manifestation of the prominence the IPU as one of the largest international parliamentary platforms continues to ascribe to, in promoting democracy and world peace in the face of declining peace, intolerance, and discriminations around the world.
Mr President, Distinguish delegates,
Whiles acknowledging the promulgation of universal accords, treaties, and conventions that promotes and safeguard fundamental human rights, freedoms, and justice, it is essential for all of us as stakeholders in the broader ecosystem of democracy to foster inclusive societies where rights and liberties are upheld for a more cohesive, democracy and peaceful coexistence among citizens of the world.
Mr. President, distinguished delegates,
I would like to remind ourselves as people of faith of one of the most common sayings of God enshrined in his holy books sent to mankind "that he has created us into tribes and nations only for us to know each other". This verse teaches tolerant and what is very fundamental is that our diversities in culture, race, colour, language, ethnicity, religion, gender, or political affiliations should only serves as divergent in opinions and beliefs and should strengthen us to coexist in peace and harmony as humans.
Meanwhile, for some of us as Muslims must always live to remember that the Prophet Muhammed, Peace be Upon him (S.A.W) was argued to have propelled the first ever model of democracy in human history by promoting peaceful coexistence.
Therefore, promoting inclusive societies to fighting intolerance, social and economic-inequalities, and discriminations is an incumbent duty not only on us as politicians and Parliamentarians but on all citizens for a just and peaceful world, for it is the surest way of continuous and sustained development of our constituents globally. This is the only way forward if we really want to weather through successfully in today's world of hostilities, polarizations, and divergent interests.
Mr President, Distinguish Delegates,
In today's globalised world characterised by conflicts, and geopolitical interests, it has been a year since Russia invaded Ukraine, and sparked a conflict that has generally affected all nations and countries directly or indirectly, and affected living conditions of people we represent. It has contributed to the rise and hike of prices of commodities and inflations of all economies worldwide while ordinary people suffer daily. Sadly, Innocent civilians have been cruelly caught up in the conflict, with thousands of lives lost and millions displaced since February 24th, 2022, and the actual numbers likely to be much higher.
Therefore, Mr. President, the only option worth promoting is to end the year long-war between Russia and Ukraine, Since the second half of 2021, there has been a sharp hike in energy prices in Europe and worldwide. The price of fuels has further risen because of the war, which has also led to concerns related to energy supply globally. Furthermore, Russia's invasion of Ukraine is likely to result in the isolation of the world's 11th-largest economy and one of the biggest producers of grains, wheat, barley, corn, and cooking oil. The immediate global implications will be higher inflation, lower growth, and some disruption to financial markets as deeper sanctions take hold while, the longer-term fallout will be a further debilitation of the system of globalised supply chains and integrated financial markets that has dominated the world economy since the Soviet Union collapsed in 1991.
Mr President, Distinguish Delegates,
While the war continues to cause devastations around the world; we must not forget to commend significant players like that of Turkiye and the United Nations for brokering a deal last summer to allow Ukrainian grain to pass through the Black Sea. The leadership of Turkiye must be specifically applauded for also mediating the negotiations of prisoner swap involving nearly 300 prisoners, a crucial step to saving lives and preventing further violation of human rights resulting from the war. Up till date, President Erdogan continues to maintain his role "as an active channel of communication" and "a reliable mediator" in the eyes of both parties without compromising the principles of International Law on territorial integrity. My delegation and I urged this body, the United Nations General Assembly and Security Council to take its responsibility and begin serious negotiations to bring the two countries together and engage in direct dialogue to ending this conflict immediately in the interest of international peace, justice and tolerance.
Mr. President, Distinguish Delegates
At the national front, the Gambia's Constitution, provides an entrenched bill of rights: safeguarding people's liberties, fundamental human rights, freedoms of associations and of beliefs that are necessary in a democratic society; whilst recognizing our religious differences and traditional norms for an inclusive society where tolerance is guaranteed.