Council of Fullah Tribal Heads in Sierra Leone Pays Courtesy Call on Vice President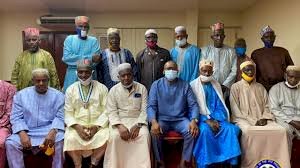 Council of Fullah Tribal Heads in Sierra Leone has paid a courtesy call on Vice President Dr. Mohamed Juldeh Jalloh to register their appreciation of his support to the Fullah community in the country.
The delegation of about 16 elders comprising Alhaji Monorma Bah and other community leaders, businessmen, religious leaders, academics was led by the chairman of the Council, Alhaji Mohamed Sajor Jalloh, who also doubles as the Fullah Tribal Head in the Western Area.
All of them serving as tribal headmen in the various districts across Country, the council members further thanked the Vice President for his support and respect for the Council.
They also expressed satisfaction with the agenda and programs of the New Direction government, particularly the free quality education and the proper organization of the last two Hajj, the annual Islam pilgrimage to the holy city of Mecca in Saudi Arabia.
In his response, Vice President Dr. Juldeh Jalloh admonished the Council and all elders of the Fullah community present to continue to work together and support the government.
"I want to encourage you to respect the law and work with your respective counterparts in your localities. I promise to introduce this Council to His Excellency President Dr. Julius Maada Bio, where you will have the opportunity to also thank him in person for his good work and vision for Sierra Leone," he said.