Canada: demonstration against the killing of the Fulani in Guinea by the cruel president, Alpha Condé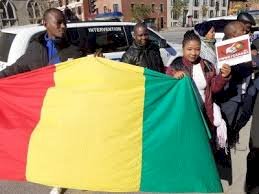 At the finish, more than 500 people responded this Saturday, October 26, 2019, at the call of the organizers of the protest against the barbarism of the current president of Guinea. Gathering at Emile Gamelin Square in Montreal at noon, the demonstrators marched to the Place de la Radio-Canada on René Levesque Boulevard. During this parade, the protesters repeated words like: gassata, Kpele etc. which means in national languages, enough is enough and they do not want him anymore. Many speakers spoke at the arrival of the crowd in front of the imposing Canadian institution.
The latter strongly deplored the intention of President Conde to seek a third term that may be more deadly than the previous two. They reiterated that they do not want him anymore and that it is time for him to give way to another one that we hope would be better.
Others also denounced the carnage, the massacre and the murder of the Guinean people. Some have pointed out the ethnic character of this planned and executed killings by the authorities, because all the victims are Fulani or Fulbe. Genocide or cleansing against the Fulani was often agitated.
Canadian authorities have also been invited to stand beside the people who mourn their deaths since the cruel and deadly President took over in 2010. Let us recall that Canada and Quebec have enormous vital interests in this country. Indeed, it is in Kamsar that the CBG and Rio Tinto Alcan heat tons of bauxite that go by boat in Europe, the United States and aluminum factories from Quebec to Canada.
Gondiel Ka
chronicler
Kibaaruji Pulaagu International
Montreal, Canada