Atiku's Palliatives reached to the p'ple intended to in Jada, c'ttee did a good job-Adamu reacts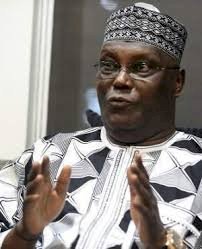 A rainstorm has destroyed over two hundred and fifty houses in Jada,Jada Local Government Area of Adamawa State which attracted the humanitarian gesture of former Vice President Alhaji Atiku Abubakar.
Atiku's Son,Adamu confirmed to our reporter in Yola that the two thousand bags of cement and the three hundreds bundles of zinc have evenly Distributed to those intended to because the committee in charge of the Distribution did a honest Job.
Adamu who reacted because of some reports trending in the internet that the palliatives caused a serious disharmony among the people of Jada because the committee members diverted some of the materials.
Adamu said he flagged off the Distribution and Left the rest of to the Committee whose work I later heard through many people, especially elders and stakeholders that it was well carried out.I thank them for doing a good job.
Atiku who is presently Adamawa State commissioner of works worried over the unconfirmed, unwarranted stories trending in the internet that the palliatives caused a lot of serious rancour,a disharmony because some people were literally denied the gesture.
He said there was nothing as such but wondered why people should politicise issues even when there is no cause to do that.
"For God sake why are people not have good reasonable thinking of what will build us as a nation? But reduced to wailers and alarms blowers over Petty issues? Why should People bring in politics even with issues partaining to life? I don't think is good for us in this nation.
"You need to see how People's houses were destroyed in Jada, my own local government because of a wild wind last two weeks. The point is that my Dad did this to sympathise with them and to feel their pains as an elder in the land.
"My Father in all honesty he was moved with a compassion to reach out to them and did that not to gain any Political point,but for God sake and for the people to feel a sort of relief,I thank God it went on well and no cause of alarm.
"You know in a situation like this People whose houses were not affected and are not part of those in the list to receive the intervention support may bring in nagging complains,and the truth is that we can't reach out to all people in Jada." Atiku said
He also confirmed that the executive Governor of the state,Rt Hon Ahmadu Umaru Fintiri donated five million Naira to the affected People and another five hundred thousand naira was given by him and the other commissioner.
He said this is going to be shared across both especially if confirm that others were not able to get the first intervention.