Ajaokuta-Kaduna-Kano gas pipeline will revive moribund industries in the North – NNPC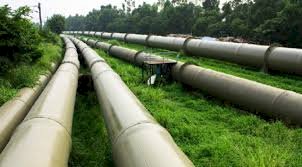 The Ajaokuta-Kaduna-Kano, AKK, gas pipeline project will provide the needed energy to revive the moribund textile and other industries in northern part of the country, says the Nigerian National Petroleum Corporation, NNPC.
The NNPC Group Managing Director, Mele Kyari, stated this in Kaduna on Thursday, at the ongoing 41st Kaduna International Trade Fair, organised by the Kaduna Chambers of Commerce, Mines and Agriculture, KADCCIMA.
Mr Kyari, who was represented by the Managing Director, Kaduna Refining and Petrochemical Company, Ezekiel Osarolube, said that NNPC was doing everything possible to extend gas supply to northern part of the country.
"Construction work on the AKK Pipeline, which is designed to move gas to power industries in the Northern corridor is billed to commence in the second quarter of this year.
"Upon completion, we envisage that the AKK project will make gas cheaper and provide more environment-friendly fuel to power most of the moribund textile companies in Kaduna and Kano.
"This will revive the industries and create job opportunities for our teeming youth," he said.
He described NNPC as the "chief enabler" of the Nigerian economy, through its various interventions in critical sectors of the economy.
He said that the corporation has over the years guaranteed seamless nationwide supply and distribution of petroleum products.
"The sanitised fuel supply and distribution network has thus far banished the ugly episodes of petroleum products scarcity and snaky fuel queues across the country.
"With reliable fuel supply system in place, commuters, businesses, transporters and other stakeholders can now engage in fruitful commercial endeavours without the perennial monster of fuel scarcity.
"This is a clear demonstration of how the corporation enables business activities in the country," Mr Kyari said.
The NNPC boss commended KADCCIMA for organising a hitched-free international trade fair in the last four decades, describing it as a "huge contribution" to the national economy.
He said that the fair has offered the NNPC a unique opportunity year-after-year to interact with its numerous clients and share experiences, successes and challenges.
According to him, the theme of the fair, "Unlocking Nigeria's Economic Potentials through Regional Integration", aligns with NNPC's focus of linking all the regions together with cost-effective energy.
"This we hope will unleash respective potentials for national economic growth."