FULANI YOUTH LEADER,BLAST FULANI LEADERS SAYING " THE ONE AND ONLY SOLUTION LEFT FOR YOU IS "UNITY" __COMR AHMAD MUHAMMAD LAMIDO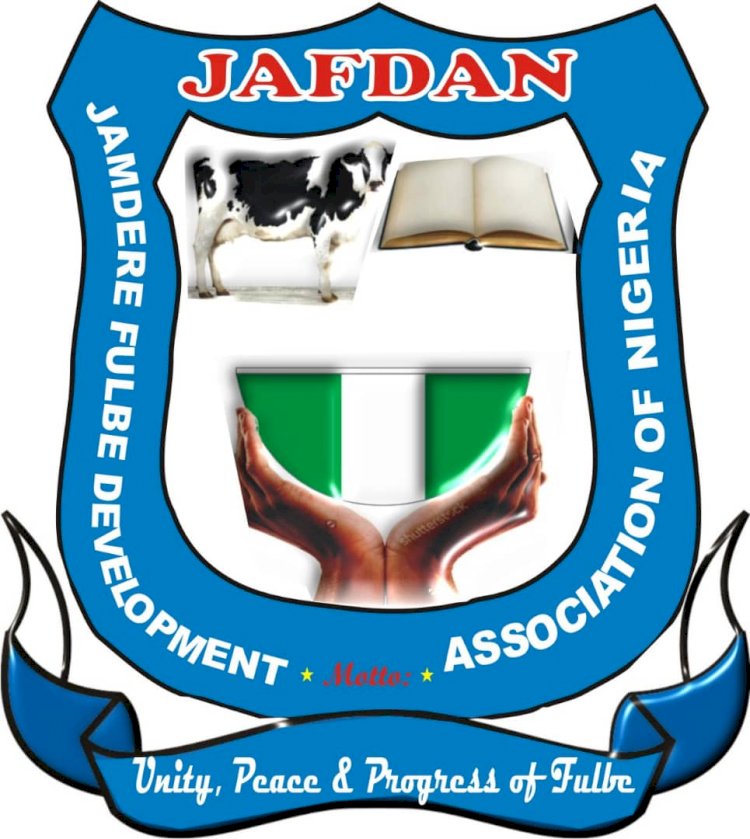 Jamdere Fulbe Development Association of Nigeria (JAFDAN)' Logo
The National President of Jamdere Fulbe Development Association of Nigeria (JAFDAN) Under the leadership of Comrade: Ahmad Muhammad Lamido made a call to all Fulani's leaders, Stakeholders and youths to Unite and form a strong bound. This, no doubt is the only solution that will elevate us from this systematic persecution, to stay strong and be able to scale through all the evil obstacles. He urge fulanis to be resilliant and aid in developing of their communities that lack all the require Social and political amenities.
Comrade Lamido urges Fulani Youths and Stakeholders to promote peaceful coexistence across the Nation.
He lamented that "We have so many Fulani that occupy an important position in so many sectors of governance, that are suppose to be mirror of Fulbe all over the nation. To subside their hardship by bringing social amenities down to grassroots of Fulani communities but the reverse is the case.
It's hassling to see the numbers of Herders whose herds were rustle and their households raided down on daily basis but none of those so call Fulanis ever come out on air to condole with a strong condemnation voice to such an evil acts.
It's unfortunate, that we found ourselves in a generation that careless of Fulani Herder's existence. When they're stroke the enemies would behave as if nothing have Happened but if they embark on retaliatory act of vengeance they whole country would standstill in condemnation of entire Fulani's race. Those in a strategic position should strive to help subside the great pains of Fulani's herders. it will bring unity and harmony in our midst.
with the potentiality to produce 10millions Voters, fulanis are not minority but we have failed to work it to our advantage. Today we haven't have a standard Nomadic Projects in Nigeria. Sincerely speaking, Fulanis are left behind in almost all the spare of life.
Shame on those that are Using the Name Fulbe Association for their own selfish interest. They parade Fulanis name only to eat and bellyful and to have a thick pocket but they lack genuinely concern toward the pains and plead of the suffering fulbe. We won't support you neither are we allow you to continue your deceptive shameful manners.
Comrade Lamido insisted that the Fulani issues are very complex and if the Fulani Leaders continue with their lackadaisical attitude and fail to rise up to expectations...then we're all done for good.