1,000 Of Us Rendered Jobless, Say Looted Ilorin Shoprite Workers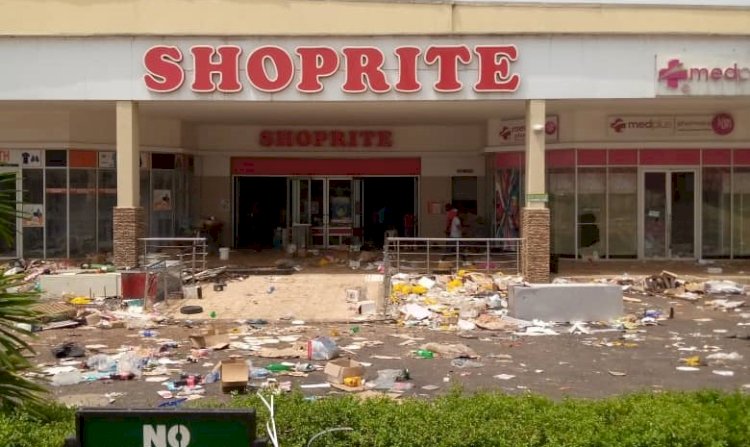 Some workers of Shoprite Stores located in Ilorin City Mall in Ilorin, the Kwara State capital have decried the recent looting of the stores by hoodlums, saying they have been rendered jobless by the action of the looters.
Daily Trust reports that the mall which also hosts several other businesses was looted dry last Friday when the looters broke into the premises along date road
According to eyewitnesses, the hoodlums invaded the premises armed to the teeth and looted everything inside the Shoprite Mall.
One of the workers who spoke to Daily Trust on phone said they got to work the following day to find an empty store.
"They did not only loot everything and left the store as big as it is empty, they also destroyed everything. Those people are indeed heartless and wicked," the worker, a sales attendant, said.
It was also learnt that the looters destroyed the camera room of the store and went away with the gadgets to avoid being captured.
There are fears that the looting might have insider's involvement, according to the source.
The worker who preferred anonymity as she was not authorized to talk to the press said they got to work today to clean up the empty store.
She lamented that the looting might have rendered all the workers which are about 1000 jobless.
"You can imagine how long it would take to restock the store. Even the hoodlums went to the backyard and broke into the containers. Also, they carted away 400 bags of flour which were just supplied to us. Also our uniforms, our shoes were also taken away.
"I didn't know Ilorin could be this worse, some people are even jubilating when a lot of people have been rendered jobless."
The state governor, Abdulrahman Abdulrazaq has announced a N500m intervention for business owners whose businesses were looted during the looting spree.
Meanwhile, the state Police Command has arrested 144 suspected looters in connecting with the crimes. Spokesman of the command, Okasanmi Ajayi confirmed the development in a chat with Daily Trust.