The Gambia on the track to meet the universal access to electricity target by 2025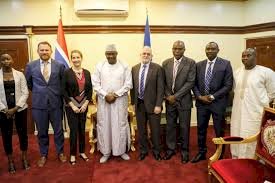 During a courtesy call on President Adama Barrow at the State House, Mr Charles J. Cormier, Practice Manager for Energy of the World Bank Group revealed that The Gambia is among four West African countries working to meet the energy target 2025.
Recalling what used to obtain when he visited The Gambia in 2017, Mr Cormier said the electricity crisis prompted NAWEC to draw an emergency rescue plan that development partners, donors and government of President Adama invested in.
Today, he added, there has been a remarkable improvement with the electricity supply resulting in fewer power cuts in the country.
The World Bank has invested $175 million in the national energy plan, out of a $400 million planned budget, which represents 40%. He revealed.
In the National Development Plan, the energy sector is one of the priority areas with the goal of achieving the UN Sustainable Development Goals on Energy (SDGs) by 2030.
President Barrow urged the World Bank Group to help build Nawec's local capacity to effectively manage the company and ensure increased access to electricity by all Gambians.