Presidential election in Ivory Coast: Macron asked Ouattara to step down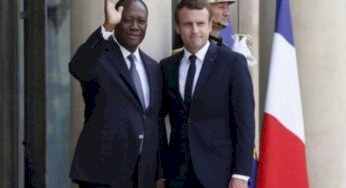 After Macky Sall, French President Emmanuel Macron received his Ivorian counterpart on September 4. A meeting that comes at a time when Alassane Ouattara, candidate for his own succession, is at the heart of a heated controversy in Côte d'Ivoire.
The Jeune Afrique newspaper, which provides the information, claims that Emmanuel Macron has asked his counterpart to withdraw from the presidential election to avoid socio-political troops.
"The French president suggested to Alassane Ouattara (ADO) to postpone the ballot in order to allow him, as well as Laurent Gbagbo and Henri Konan Bédié, to step down. This delay would in fact give him the opportunity to facilitate the opening of a dialogue with his two main opponents and to find a successor to make the "generational change" initially promised, "reveals the weekly.
According to the newspaper, Alassane Ouattara refused.
A meeting which also sparked several comments in Cote d'Ivoire. While some pro-Ouattara newspapers claim that this tête-à-tête was very successful, other media insist that he was humiliated in France