No More Penalties For Mahrez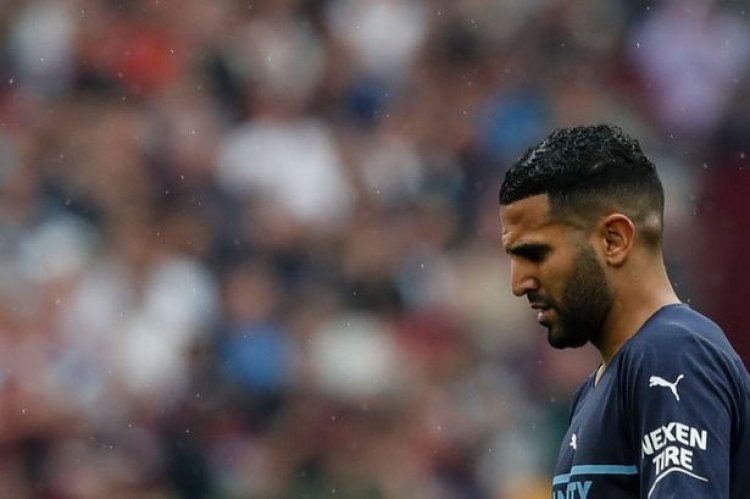 After another training session during which the Manchester City players took turns in taking penalties, it has been decided to remove Riyad Mahrez from taking spot kicks. Mahrez missed from 12 yards in the match against Dortmund last week and that was the second time he had missed in consecutive matches. Pep Guardiola has decided to hand responsibility to either Kevin de Bruyne or Erling Haaland. Mahrez has so far missed four penalties this season. Interestingly City have missed 25 of the 80 penalties awarded since Guardiola took over at the Etihad Stadium.
Graham Potter only took over Chelsea a month ago and so far he has enjoyed a good team atmosphere in the dressing room. That could change according to one of my inside sources. When Potter was in charge at Brighton he rarely played the same eleven for consecutive matches and he has continued to do that since joining Chelsea. He has given 19 different players a starting role and used six different formations. That might have worked at Brighton but Chelsea have some big stars and Ronaldo's problems at Manchester United highlight what can happen if you suddenly upset your best players. It is a fact that the most successful teams have a winning formation and stick to it so the players know exactly what they are expected to do. Arsene Wenger's winning Arsenal side played 4-4-1-1, Chelsea's winners under Antonio Conte played 3-4-3, the best Manchester United team played 4-4-2 and Pep Guardiola's Manchester City have mostly lined up as 4-3-3. Many of the top players do not like change and want stability in the team selection. Potter's good start to his Chelsea career has shielded him from too much comment but last weekend's loss at Brighton has highlighted his possible achilles heel. The manager started Raheem Sterling and Christian Pulisic as the two wing-backs with the most natural in those positions, Ben Chilwell and Cesar Azpilicueta on the bench. Both Sterling and Pulisic are natural striking forwards and as wing-backs they did not help defenders Trevor Chalobah or Marc Cucurella who were both pulled apart by Leandro Trossard and Pascal Gross for Brighton. The point is that if Potter does a complete change again the coaching staff believe that visiting Arsenal could break them down. The manager has spent much of the week with his most loyal assistants and deciding what formation to start and by tackling that problem they have admitted that all is not settled at Stamford Bridge. Mikel Arteta has different problems to consider on Sunday, despite the Gunners heading the Premier League table. The first 15 matches have seen Arsenal score 11 goals inside the first 25 minutes. Arteta's task this week has been to discover why his team tend to fade in the second half. After the interval against Leeds and Southampton they didn't manage one shot on target! Defensively their performance level also dropped. Unlike Chelsea eight Arsenal players have started every match and many have also played on Thursdays in the Europa League. Gabriel Jesus is one of those players and his dynamic, aggressive play at the beginning of the season helped to propel Arsenal to the top of the league however he has not scored in five matches. Training is what winning is all about and several coaches reckon they now know how to beat Arsenal. Southampton for instance switched to a back five mid-game and cut out the potential of Xhaka and Martinelli down the left-hand side. As one of the Arsenal team told me, playing at the weekend and then travelling abroad in the Europa league prevents training days and Arsenal are left to work with videos and physical recovery. This week they played at home against Zurich however planning and training for that match prevented focusing on Chelsea this weekend. Whichever manager has best worked out his strategy will win the game.
Haaland could play against Fulham
Pep Guardiola is hopeful that Erling Haaland could be fit to play against Fulham on Saturday. Haaland injured his foot during Manchester City's 0-0 draw with Borussia Dortmund last week and missed the 1-0 win against Leicester. He has scored 22 goals in 15 matches since his £55million move from Dortmund. Guardiola said this week, "He feels better compared to Saturday, Sunday and Monday, he feels better but he's still not 100 per cent. There's no point in risking him but hopefully, after training we can have him available against Fulham." I understand that if Erling does not feel fully fit, Julian Alvarez will step in as the lead striker.
Klopp say he is not tired and trusts his team
Liverpool coach Jurgen Klopp has reacted strongly to comments that his ageing team is nearing the end of its life and needs to be revitalised in order to compete with the top clubs. The two bottom Premier League clubs have beaten Liverpool in consecutive matches and fans are calling for changes. Liverpool's starting eleven have Virgil van Dijk, Mohamed Salah, Roberto Firmino and Thiago Alcantara all over the age of 30 years. Klopp responded, "If you think it is all over for this group of players, that is not 100% fair." Klopp also reacted to suggestions that he is tired and said he is perfectly fit to carry on and there are no problems. He said, "People look at me and say I am tired but I am not. My job is to be here when we have to go through a really tough period and I will do that with all I have and if possible more. Now is a rough time, no doubt about that and no one is thinking life is great but there is only one chance to face it and go for it and that is what we will do." Many are blaming Klopp for not addressing his midfield problems. Fabinho has been well below his best form this season and this has put pressure on both Van Dijk and TrentAlexander. Liverpool should take out their cheque book and offer Borussia Dortmund a huge payday to bring Jude Bellingham to Anfield. Hosting Tottenham on Sunday will again be a test for the Liverpool defence when they take on Kane and Son.
Pep convinced City will be top by Christmas
Pep Guardiola was in a good mood after the victory at Leicester and was explaining why his Manchester City side would probably be top of the league after the World Cup. "I know the calendar," said Pep. What he meant is that Manchester City's rivals have difficult matches between now and the Christmas continuation of the Premier League. Chelsea host Arsenal this weekend, Tottenham entertain Liverpool and Chelsea also have to travel to much improved Newcastle. City have four home games before Qatar which include matches against Fulham and Brentford. Their rivals can easily drop points whereas Pep is convinced they will not and a top of the league position is the prize.
Was signing Costa worth it?
It is hard to fathom what makes Diego Costa tick. Often brilliant, sometimes too aggressive and always a threatening character to any defender, he is also known to switch off, lose concentration and end up getting frustrated and doing something stupid. Head butting Brentford's Bertie Mee and getting sent off was just such an example. After spending eight months without a club it was obvious that getting fit for Premier League action was paramount but he knuckled down and proved that he was ready for action. He displayed sharpness against Brentford showing a feint to go past Mee and putting in a low hard shot which tested goalkeeper David Raya. However, all that hard work and impressive display was wasted when he got himself sent off. Now he is suspended until Boxing Day and misses several matches and Wolves fans and possibly the interim coach Steve Davis are wondering if signing him was worth it.