My Bill On Hijab Complies With Nigeria's Constitution – Rep Sa'idu Abdul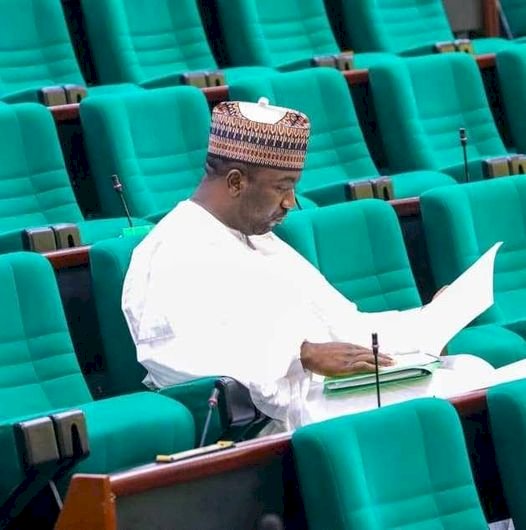 Sponsor of the "Religious Discrimination (Prohibition, Prevention) Bill, 2021," Sai'du Musa Abdul (APC, Bida/Gbako/Katcha Federal Constituency of Niger State, in this interview with Daily Trust, punctured claims that the proposed legislation was against the 1999 Constitution. He also responded to other allegations trailing the bill, which recently scaled through a second reading at the House of Representatives.
There have been mixed reactions to your bill. While some are in support, others see it as a provocative and controversial bill. What do you really want to achieve with it?
I think I need to give a background because I am a firm believer in project Nigeria. Of course, we appreciate the fact that there can't be any development without challenges. What is most important is that, when faced with challenges, to bring it to bear, to bring it forward to discuss it and proffer a lasting solution and progress from there. I also appreciate the fact that, religious issues are very sensitive, not only in this clime, but across the globe. But, it doesn't matter how sensitive they are, I feel we must discuss so that we make progress. We can't continue to foot drag in our drive to take this country to the next level. I am of the generation that feels that certain things are supposed to have been settled as far as our drive in nation building is concerned. This is one such issue.
Our intention really is not to give prominence to a particular religion over others. What we are out to achieve is to stop discrimination against any religion. We are talking about religion, be it Islam, Christianity or traditional. What we have set out to achieve is to ensure that the letters and provisions of the constitution are respected.
We are not trying to introduce anything new to the system. What we are saying is already enshrined in the Constitution. Sections 39 and 42 are very clear on the freedom each citizen of this country enjoys. We are just trying to make it more explicit to provide a legal framework for people to enjoy the freedom enshrined in the constitution.
You just said your bill is enshrined in the 1999 Constitution, but in its editorial, a national daily, while quoting section 10 of the constitution, said the bill is unconstitutional, provocative and as such, it should be rejected. What do you think of this?
I am sure the editorial board of that newspaper did not pay attention to the content of the bill. I have seen many write ups for and against the bill. What I observed so far is that, many people have not really taken time to peruse the document. Once they go through, they will be able to appreciate what we set out to achieve. People tend to be biased in this country when they want to talk about issues of religion. From what I stated in my opening remark, we are not out to give any religion prominence over others. They need to check the provisions that I stated, sections 39 and 42 and possibly get to the position of reconciliation between sections 10 as spelt out in the various sections of the constitution.
What is the focus of the bill?
We actually built it on the premise of the experiences of some religious faithful over the years. Let me make one issue clear: discrimination is circumstantial. There are instances where you have a Christian in a Muslim dominated environment where he would be discriminated against. And there are instances where we have a Muslim in a Christian dominated area being discriminated against because of his or her religious belief. There is this particular case of a Muslim lawyer, Firdaus Amasa, and there were so many cases, which, to my understanding, if in a way shouldn't be an issue in the Nigeria of today. So, we said better late than never. We may not have had the courage to discuss it in the past, we want to give the country an opportunity, given my privilege as a representative of the people today, for us to come together and look at those issues once and for all.
Can you tell us the correlation between the bill and the raging controversy on hijab in Kwara State?
Interestingly, at the time we conceived this bill, I think the issue of Kwara was not in the fore. We came about this idea in 2019. In fact, I was a bit taken aback when I saw that because I felt people percieve the proposal as a response to what is happening in Kwara State. But really and truly, we conceived this idea since 2019. Because I have had people coming to me with interest to work in certain departments of government, but because of their religious beliefs they felt the system will not accommodate them. We have women in the North particularly today, who are interested in working for the military. They are interested in working in departments like the security service. The Constitution has guaranteed them rights to practice but because of their religious beliefs, the social system is not giving them that opportunity. The focus is about public institutions now. We are particular about public institutions, so I think this should be the starting point.
Is there any plan to suspend the bill in view of calls by the Christian Association of Nigeria (CAN)?
I think we are looking at it from the point of the country having an opportunity to discuss an issue that has been a clog in the wheel of its progress. I don't think we are going to withdraw the bill. Apart from that, we will engage critical stakeholders. As I speak with you, tomorrow; (today, Tuesday) I am supposed to have an engagement with the Christian Association of Nigeria. I think what has been lacking is this drive to build consensus on proposals. We have a proposal, we believe in it and it may be the magic wand in terms of the solutions that we have been craving for. But no matter how good you think a proposal is, taking it to critical stakeholders is more important. What we are doing now is to reach out to stakeholders. Like I said, we are starting with CAN tomorrow by the grace of God, and hopefully, we will reach out to others and by the time we reach the phase of public hearing, we would have built the consensus for us to really get at it, appreciate it as a solution to what we have been facing for quite some time now.
Some are saying why now when you have the petroleum industry bill and other vital bills that will turn around the country's economy?
I think these bills can actually go side by side. We have 360 members of the House, and of course, each is expected to come up with different proposals that will find solutions to some of the challenges we are facing as a country. You talked about PIB, which is to take care of the gaps in a particular sector in the country. What we came up with is to put it into context, to appreciate it not based on its face value. We have to look at it as even more important than some of those things. No matter how we do it, or how we want to quickly develop this country, there are issues that are very significant, that we must settle before we can enjoy our development drive. These are some of such issues. As I have stated over and over again, they have become a clog in the wheel of our progress. There are many things that we would have achieved if we had addressed these problems. So, I want Nigerians to appreciate it from that perspective. There can't be a better time to do a good thing than now.
Source Daily trust