Kenya Inaugurates Security Operation Against Bandits In Northwest Region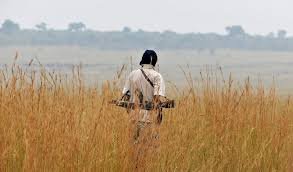 Kenyan security personnel on Tuesday launched a security operation against bandits in northwestern counties of Baringo, Laikipia and Turkana that were inhabited by pastoralists.
George Natembeya, the Rift Valley regional commissioner, said multiple attacks in the troubled region forced the state to carry out an operation to weed out criminals and retrieve illegal firearms in the hands of the civilians.
Natembeya said the government early this month suspended an operation to mop up guns from residents in the volatile northwest counties after local leaders called for a ceasefire.
He said interventions by political leaders who had requested for a one-month ceasefire as they engaged the locals had failed to bear fruit.
"Political leaders drawn from Baringo, West Pokot and Turkana requested that we allow them to conduct a one-month peace campaign and voluntary disarmament.
In spite of their efforts, at least four attacks have been reported in the past two days,'' said Natembeya.
"We cannot allow bandits to unleash terror on innocent civilians. We have decided to go for them now that they don't want peace.''
Governors from West Pokot, Turkana and Baringo counties in March had requested the state to suspend security operations and lift curfew occasioned by rising bandit attacks that had destabilised a region renowned for recurrent droughts and food insecurity.
Fred Matiang'i, the cabinet secretary for the Ministry of Interior & Coordination of National Government, on March 23, accepted the request for suspension of security operation by the three governors and gave them one month to engage local civilians and forge a way forward for sustained peace.
Natembeya said that tribal attacks have continued in the region in spite of political leaders holding several meetings to look for a ceasefire.
Clashes between the rival cattle-herding pastoralists in the region were common, with herders often carrying guns to protect their animals. (Xinhua/NAN)